Ready for Some "Laverne & Shirley?" Penny Marshall's Favorite Episodes Air on MeTV Sunday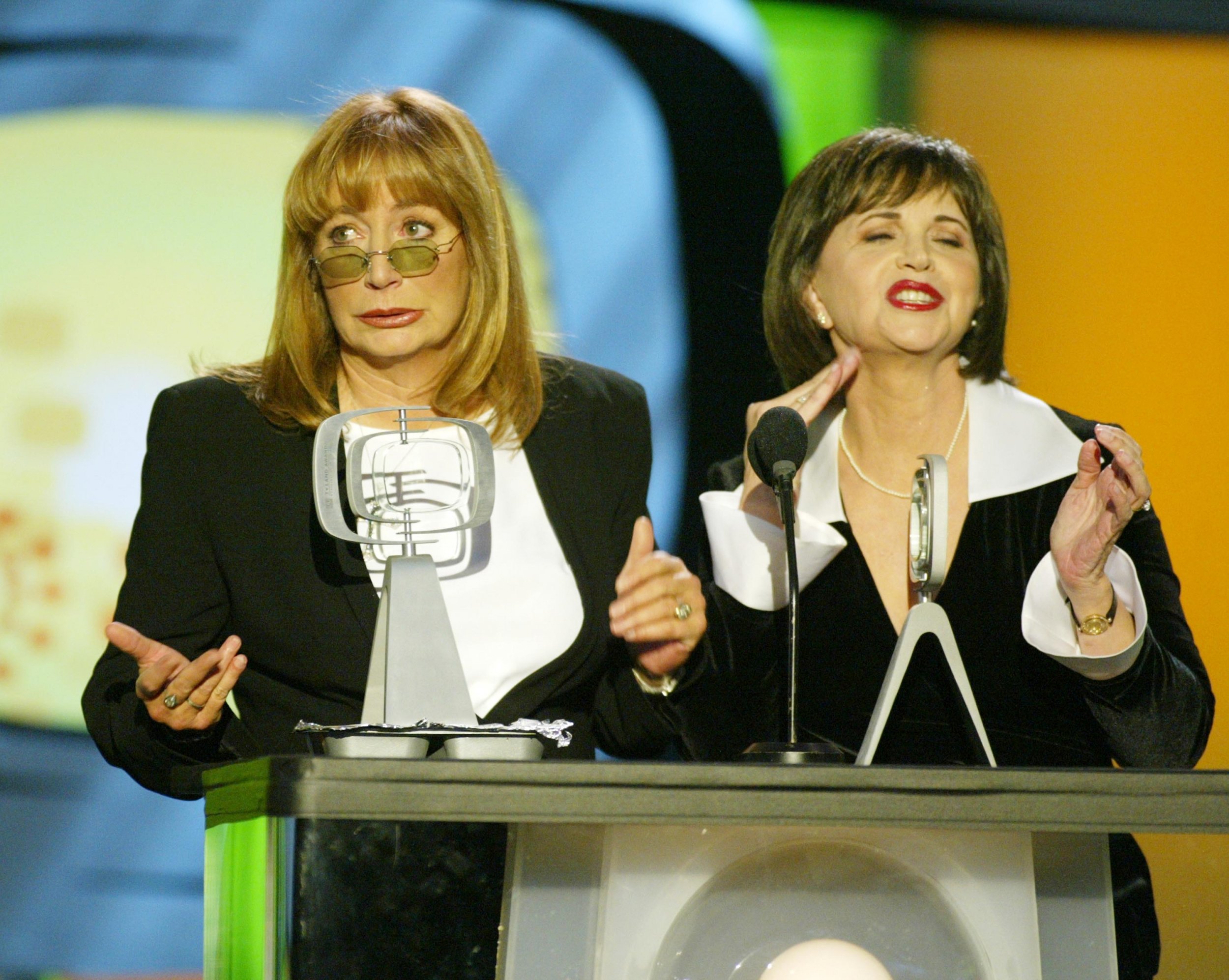 Paying tribute to the late director and comedian Penny Marshall, MeTV airs eight of her six favorite episodes from Laverne & Shirley on Sunday, Dec. 23.
Laverne & Shirley aficionados of the 1970s sitcom will relish her selections, including two timely Christmas episodes. The mini-marathon starts Sunday at 12 noon CST on the nostalgia channel MeTV, available for free via flat-screen antenna.
Marshall, who made her mark as TV's Laverne but who went on to success as a pioneer woman director of blockbuster films Big and A League of Their Own, died Monday after suffering from complications of diabetes. She was 75.
Marshall selected six of her favorites in a 2015 interview, according to TV Insider. Among them are such tantalizing holiday fare as "Come, All Ye Bums" and "Christmas Eve at the Booby Hatch (AKA Oh, Hear the Angel Voices)."
As the wise-cracking, droll Laverne with counterpart Cindy Williams as her naïve partner-in-crime Shirley, the comedian-turned-director cut her teeth as Oscar Madison's girlfriend on the original The Odd Couple and as Fonzie's love interest on a double date in Happy Days, which ran from 1974 to 1984.
As any Garry Marshall fan will tell you, Laverne & Shirley was a 1976 spinoff of the wildly popular Happy Days and ran for eight solid seasons. Garry, Penny's older brother, created Happy Days and was one of three Laverne & Shirley creators. Both nostalgic series took viewers back to the 1950s-era sensibilities, when car hops and bobby sox ruled.
But Laverne & Shirley focused on two single working-class women during the 1950s and 1960s – and the mayhem they created while navigating the world of work, dating and other adventures.
Penny Marshall and Williams picked up where TV pioneer Lucille Ball left off in the physical comedy department. One minute they rebuffed the romantic advances of neighbors Lenny and Squiggy; the next minute they fired up the dance floor with boyfriends and Ron Howard of "Happy Days" fame.
Marshall, well liked in Hollywood, transformed into a big-time director with the huge box office success of Big, starring Tom Hanks in 1988, and the ground-breaking A League of Their Own in 1992.
Marshall made history as the first woman to direct a film, Big, that grossed more than $100 million.
In A League of Their Own, also starring Hanks but other big names in Geena Davis and Madonna, Marshall promoted her love of sports, especially the real-life All-American Girls Softball League. The Rockford Peaches of Rockford, Illinois, debuted in 1943 during World War II. The league celebrates its 75th anniversary this year.
Garry Marshall died in 2016.