Conservative Group Reverses Course on #NeverTrump, Explain Reasons Why After 'Hypocrisy' Accusations, Mockery
A conservative group named in honor of former Republican President Ronald Reagan is being accused of hypocrisy after reversing course on their #NeverTrump stance from 2016.
The establishment Republican Party group now called "The Reagan Battalion" flip-flopped on their years-long vow to "never" support Donald Trump's presidency dating back to the GOP presidential primaries in 2015-2016. The group, which primarily exists on Twitter, threw their full support behind Trump's 2020 reelection campaign this week despite standing staunchly against him in 2016, frequently criticizing him for his first few years in office and helping to bring down several "alt-right" media figures who helped elect Trump.
The conservative social media aggregate's complete reversal of values comes after several name changes -- formerly StopTrumpPAC and ConAgainstTrump -- and their diminishing stance against Trump's presidency over its first two-and-a-half years. On Monday, they blasted the 2020 Democrats for going too far left as part of the reason behind their compromising of so-called conservative values.
"Here is why we will be supporting Trump: We ain't paying for your loans. We don't want to be forced to purchase insurance at the DMV. We ain't giving a cent to those 'unwilling to work.' We like our farting cows. We don't want to pay $5 for a gallon of gas," reads the widely derided tweet from The Reagan Battalion.
The pro-Trump tweet marks a complete reversal from their stance during the 2016 presidential election against former Secretary of State Hillary Clinton.
Newsweek subscription offers >
"We will never ever Support Donald Trump! not now, not ever! #NeverTrump is a pledge!" the group tweeted on May 1, 2016. "#NeverTrump is more than just a hashtag, it's a pledge!"
The Reagan Battalion handle went through several other Republican candidates who they said better represented traditional conservative values before finally caving in and backing Trump this week. As Trump pulled ahead in the GOP presidential primaries during the spring and summer of 2016 the group stood behind Senators Ted Cruz and Marco Rubio. The group, which once called itself, "Conservatives Against Trump," made its last stand against Trump in 2016 by throwing its support behind Independent candidate Evan McMullin.
However, the anonymous figures who run the account have opposed Trump's trade war with China and placing tariffs that hurt any U.S. allies. The group has also pushed back against fringe, far-right groups which have attached themselves to the Republican Party including the alt-right and neo-Nazis. In 2017, the Twitter account, which has nearly 100,000 followers, was instrumental in ousting right-wing provocateur and Trump supporter Milo Yiannopoulos from the good graces of establishment conservatives.
The group's Monday tweet was met with widespread scorn and mockery, "Never means never, hypocrites!" reads one top reply. "At least one of us stick to our principles #VeteransAgainstTrump"
But other social media followers stood in support with the group's sudden pro-Trump change: "I totally get the easing of this statement. The Democrats went crazy and lurched so far left that they are pushing people to Trump. Dems better go moderate," reads one top response.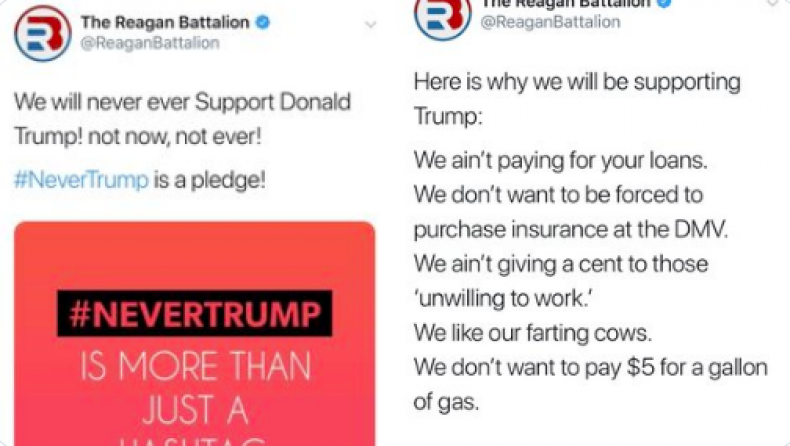 Conservative Group Reverses Course on #NeverTrump, Explain Reasons Why After 'Hypocrisy' Accusations, Mockery | U.S.