As Easy Fire Approaches Reagan Library, Grass-Eating Goats Could Be Key to Protecting Pieces of History
The Ronald Reagan Presidential Library is at risk of damage after another wildfire sparked to life in California's Simi Valley on Wednesday.
The Easy Fire prompted evacuation orders and forced the library to close until the area is out of danger.
Library executive director John Heubusch told KLTA that the fire's "flames are licking right up the hills, right up to the parking lot."
Heubusch told KTLA that he feels the location's parking lot could be the library's salvation as the concrete is not as susceptible to wildfire as grass, shrubbery and trees.
The library, which houses valuables including Air Force One, a steel beam from the collapsed World Trade Center, a piece of the Berlin Wall and an Oval Office replica, was constructed like a fortress with the wildfire danger in mind. The Easy Fire is not the first to threaten the library, and its staff have welcomed about 300 goats from the Ventura County Fire Department's vegetation management program to chomp on dry grass ahead of the fire season.
Goats "help reduce the severity of fires by removing excess fuel," according to a statement obtained by The Los Angeles Daily News last year.
The library did not immediately respond to a request for comment from Newsweek on Wednesday about other protections built for the library in case of fire, and how at risk the items contained inside are in.
Library spokeswoman Melissa Giller said a "fire break" zone where goats ate up the vegetation is protecting the structure.
"We feel really safe," Giller told CNN. "I know the way the winds are shifting, fire is unpredictable and it is moving very quickly but ... if the flames do crest, the fire break exists."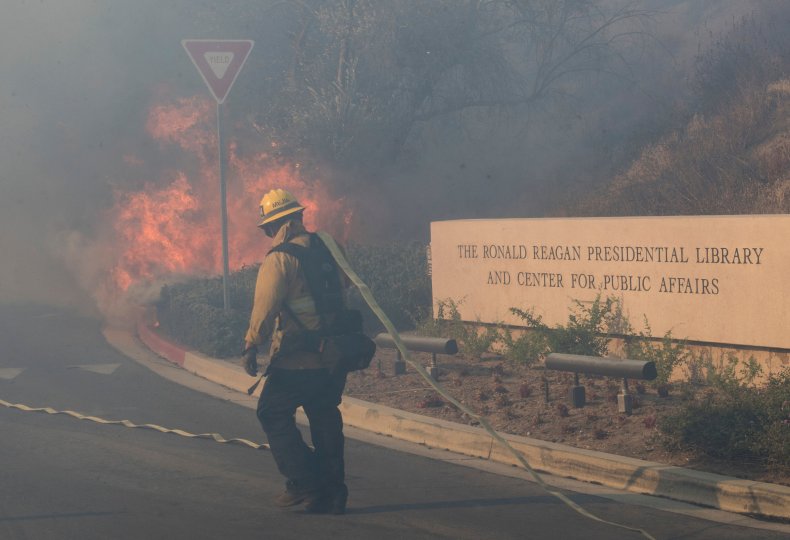 Library officials told The Los Angeles Times that they make sure that open space around the structure is clear and take other measures to protect it against burning.
The Easy brush fire started just after 6 a.m. and has scorched more than 400 acres.
The library, which contains the burial sites of President Ronald Reagan and first lady Nancy Reagan, has also been evacuated
In 1993, two years after the Regan Presidential Library opened, the Reagan family thanked firefighters for defending the library from another wildfire.
"Many years ago, we lost our old ranch in Malibu to fire. When those winds start to blow, the same could happen to any one of us. We live in a place with unique terrain that's continually touched by fire," the president's daughter Maureen Reagan said. "And thank God we have unique and special men and women that are trained to stop those fires when they threaten people."