Reagan's 'Tear Down This Wall' Speech Resurfaces With Gorbachev's Death
Former President Ronald Reagan's 1987 speech urging Soviet leader Mikhail Gorbachev to "tear down" the Berlin Wall has resurfaced following the death of Gorbachev.
Gorbachev died at the age of 91 in a Moscow hospital on Tuesday following a "long illness," according to Russian state media. As the final leader of the Soviet Union, he was known for increased diplomacy with Western leaders including Reagan and for ushering in a series of political reforms that preceded the breakup of the Soviet Union and its eventual dissolution in December 1991.
One of the most notable events that ultimately led to the collapse of the union was the November 1989 destruction of the Berlin Wall, which had divided the democratic West German enclave of West Berlin from Soviet-controlled East Berlin and East Germany since 1961.
In a West Berlin speech delivered near the Brandenburg Gate on June 12, 1987, just over two years into Gorbachev's tenure as general secretary of the Soviet Communist Party, Reagan praised the Soviet leader's reforms as "coming to understand the importance of freedom" before famously urging him to bring down the wall.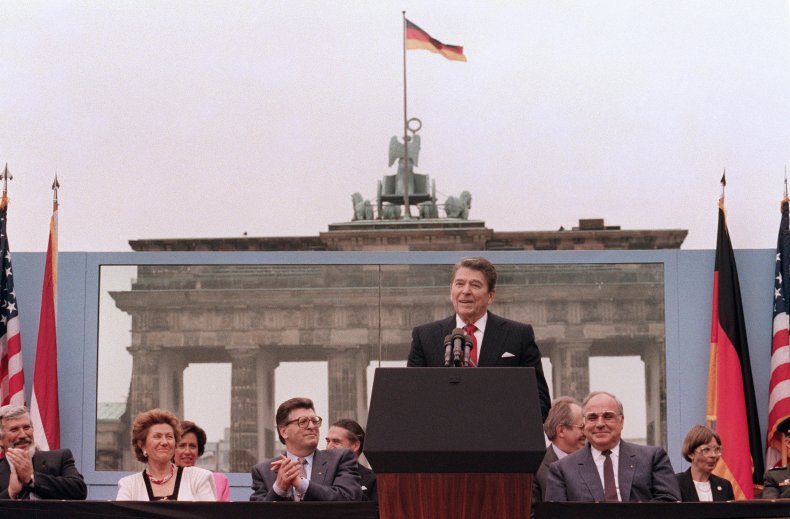 "We welcome change and openness," Reagan said. "We believe that freedom and security go together, that the advance of human liberty can only strengthen the cause of world peace. There is one sign the Soviets can make that would be unmistakable, that would advance dramatically the cause of freedom and peace."
"General Secretary Gorbachev, if you seek peace, if you seek prosperity for the Soviet Union and Eastern Europe, if you seek liberalization: Come here to this gate," he continued. "Mr. Gorbachev, open this gate! Mr. Gorbachev, tear down this wall!"
Video clips from the speech were shared by many on social media after news of Gorbachev's death emerged on Tuesday.
While some have credited Reagan's speech with bringing down the Berlin Wall, the dismantling of the wall can be traced more directly to a string of events that were inadvertently set off by Gorbachev's reforms. A wave of anti-Communist political revolutions in Eastern European countries followed the reforms, while the wall fell following massive protests inside East Germany.
Reagan's speech achieved widespread notoriety only after the wall fell. It was initially received with criticism, especially in the Soviet Union, where state news agency TASS called it "an openly provocative, war-mongering speech, in the spirit of the times of the Cold War."
"We were not impressed," Gorbachev said of the speech to an American audience in 2012, according to Radio Free Europe. "We knew that Mr. Reagan's original profession was actor."
Gorbachev was awarded the Nobel Peace Prize in 1990 for his part in thawing the Cold War and playing a "leading role" in "radical changes in East-West relations," which included his hands-off response to the dismantling of the Berlin Wall.
Although Reagan's speech eventually became one of the best-known of his entire presidency, the most famous part of the speech—the "tear down this wall" line—was almost excised.
According to a 2012 Wall Street Journal article by Reagan speechwriter Peter Robinson, U.S. officials urged the president to remove the line before delivering the speech. Reagan refused, saying that "the boys at State are going to kill me for this" but that including the line was "the right thing to do."
Ronald Reagan Presidential Foundation and Institute board Chairman Fred Ryan said in a statement obtained by Newsweek that the institute was mourning the loss of "a man who once was a political adversary of Ronald Reagan's who ended up becoming a friend."
"President Reagan was a devoted anti-communist who was never afraid to say what needed to be said or do what needed to be done to bring freedom to people who were living under repressive regimes," Ryan said. "It was General Secretary Gorbachev with whom President Reagan would finally have that long-sought opportunity to form a relationship which led to a lessening of tensions between Washington and Moscow, and eventually to meaningful arms reduction."
"Against all odds, 'Ron and Mikhail,' as they eventually came to call each other, had found a way to make the planet safer together," he continued. "As President Reagan wrote in his handwritten personal diary about the two men's initial correspondence, '[it] showed what was to become the foundation of not only a better relationship between our countries, but a friendship between two men.' ... Our thoughts and prayers go out to the Gorbachev family and the people of Russia during this difficult time."
Update 08/30/22, 11:50 p.m. ET: This article was updated with additional information and background.