The Real Angelyne Calls New Peacock Series About Her 'Painful to Watch'
Angelyne is one of Peacock's biggest new arrivals, but not everyone is a fan of the limited series, including one person in particular: the real Angelyne.
"I've seen the trailers and they're painful to watch. It's not me. Do you feel my energy? It's not me," Angelyne told Newsweek.
The series stars Emmy Rossum in the title role, with whom Newsweek recently spoke about the series. In that interview, Rossum described her longtime admiration for the real Angelyne, and how proud she was that Angelyne was compensated adequately for offering the rights to tell her story.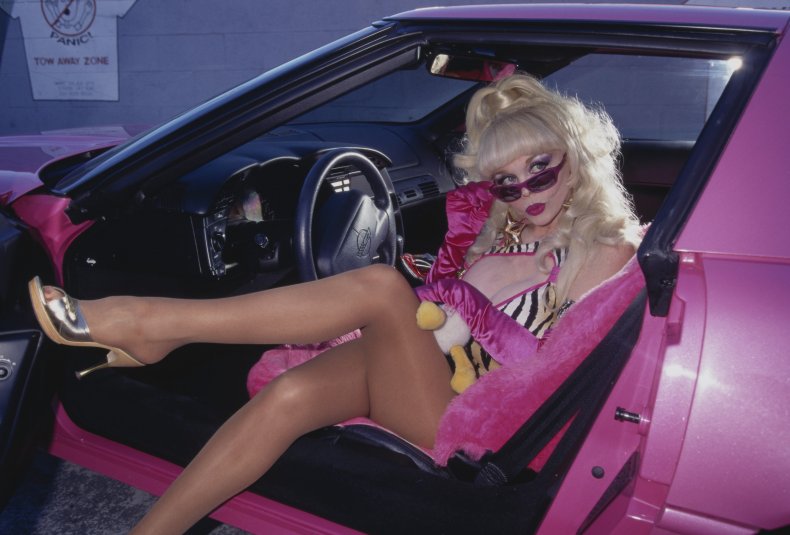 "She agreed to grant us her life rights and the ability to rerecord all of her original songs, recreate her iconic billboard images and poses, just so many things about her," Rossum told Newsweek. "And for me, for whom pay equity has been such a huge part of my journey and story, it was incredibly important to me that Angeline be compensated for her participation in the production and also her contribution to pop culture for the last however many decades. So it was very meaningful to me that that happened."
A spokesperson for Universal Content Productions and Peacock echoed Rossum's praise for Angelyne.
"This series has embraced the legend and legacy of Angelyne from its inception. There have been no bigger advocates for celebrating her than Emmy Rossum and the producing team, who approached the storytelling with love, admiration and respect. We were happy to have Angelyne on board during the creative process and are very proud of this show," they said.
What follows is an abridged version of Newsweek's conversation with Angelyne. To hear the full conversation, listen to Newsweek's Parting Shot with H. Alan Scott:
It seems like maybe you're not so happy about the portrayal of yourself in this Peacock original series. How are you feeling right now?
Well, first of all, you can hear my voice, and there's a huge difference. I don't sound like a man. And I have a very soft energy to myself.
I feel that that's not coming across in my portrayal, and I believe that no artist who would like themselves misrepresented. I was just trying to inspire the world with pink.
And you know, it's a love-hate relationship. Okay, so maybe I like the attention, but I love Angelyne.
When this project first came your way, you agreed to [grant Peacock] your life rights. What was that decision process like for you?
It took a long time, a lot of convincing from a certain person that they're going to do a great job and they're not going to let anybody down—and crying and pestering and making me feel sorry for them because they love me so much. And I just feel like that was not true.
And who was the person you were working with in brokering this deal?
The actress [Emmy Rossum]. She approached me on it.
I just feel like [what she said] wasn't true. I mean, obviously, you know, she doesn't sound like me—I don't have a Boston accent. The singing is... I couldn't even listen to it.
You know, the bottom line is this: I know she tried. But she just couldn't cut it.
I appreciate the attention I'm getting. Really. I know that it's going to come my way, so that the world can see who the real Angelyne is. Nobody on this planet, in the universe, can do Angelyne, and can do what I've been doing. The magic that I send out to people when they meet me or when they see me is transformational.
And I don't think a little TV show is transformational. Maybe entertaining. But it's not the real me. I'm confident that it's going to lead to people knowing who the real me is, and therefore they'll be inspired. It's not about, you know, millions of dollars. It's about the art.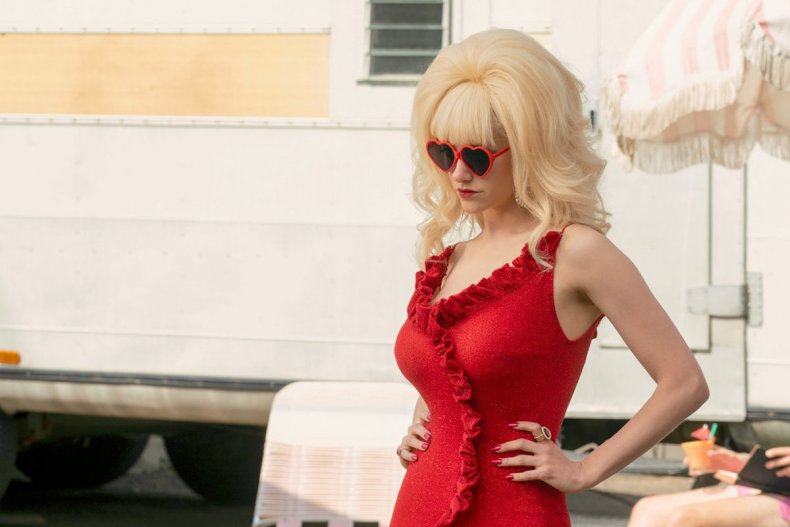 It's probably a jarring thing to see someone else play you and I can imagine that being shocking for you, in a way. Is that right?
That's the exact word that some of my lawyers used when they heard [Rossum's] voice. They said "jarring." But, you know, she's trying to do the best she can.
It does feel like there is a lot of love for you from the actress, Emmy Rossum, and from the production, and from fans in general. I like that you see that it does come from a place of love.
Okay.
Do you see that? How do you feel about that?
I believe that that is a fact. I just... It's like a kindergarten play. They don't understand the professor. I'm the professor. They don't understand. I'm watching these little kids make the show about Angelyne, and perhaps it's a stepping stone and guide to the real textbook dictionary of who I really am. People have to allow me the latitude to spread the energy across the world. Because I think we do need a lot more pink around, don't we?
Have you seen the Peacock episodes?
No, I've seen the trailers and they're painful to watch. It's not me. Do you feel my energy? It's not me. It's just... it looks like a drag queen could do a better job. But [Rossum] tried so hard on it. I know she suffered over it. I've seen drag queens a lot more gorgeous, and get the moves down way better.
It's a flat image. No sex appeal. It's just flat. I can't watch it. No, I'm not going to sit through one boring thing with a lot of pink, drama and cuteness in it. I'm not gonna watch it. I'm busy making my own film anyway.
I know that people in Los Angeles love you, but for the rest of the world to discover Angelyne, not everyone can come to Los Angeles. And so, for this show, to sort of be a vessel to get people to Google you and learn more about you and see your work and see your upcoming films—it's a really great opportunity, in a way.
You know, I'm sprinkled around the globe. If you go to any country in the entire world, I've [done shows in] every country in the world. I have. In Denmark, in South Africa, in Bulgaria. If you ask a person in those countries, "Do you know what she does?" He says "no," she says "no," you can just ask, as far as 10 people back on that street, [one] will know who I am.
So if they're sprinkled [around the world], maybe the show could ignite this. But I'm protective of this energy. I'm protecting the universe, the humans, the animals, whoever. I feel like I've influenced so many things, that I don't want that to be misrepresented.
Listen to H. Alan Scott's full conversation with Angelyne on Newsweek's Parting Shot. Available on Apple Podcasts and Spotify. Twitter: @HAlanScott.
Update 5/20/2022, 7:15 p.m.: This article has been updated to include a response for a spokeperson for Universal Content Productions and Peacock.