'Real Housewives of Atlanta' Season 12 Cast, Release Date and Everything Else You Need to Know Before Bravo Series Premiere
The Real Housewives of Atlanta are returning to Bravo for yet another round of explosive drama. The 12th season of the reality series is set to debut on Sunday.
The new season marks the return of Kenya Moore, who appeared on the show for six seasons before making her exit in Season 10. The new mom officially received her peach (given to the main cast members) and will appear in Season 12 along with Nene Leakes, Cynthia Bailey, Kandi Burruss, Porsha Williams and Eva Marcille.
From the looks of the Season 12 trailer, all the women seem to have moved on from all the battles and blowouts they endured last year. The trailer teased good times ahead for the women, and they were seen riding floats at New York City's Pride March and shaking their tails while covered in jewels and feathers at Trinidad's annual Carnival celebration.
Fans will also get to see the cast's new moms in action with their sweet babies, as both Kenya and Porsha welcomed daughters with their respective partners last year. Meanwhile, Eva is happily expecting her third child.
The fun times won't last long, though. Plenty of drama was teased in the Season 12 trailer, and it seems storms are on the horizon for just about all the women.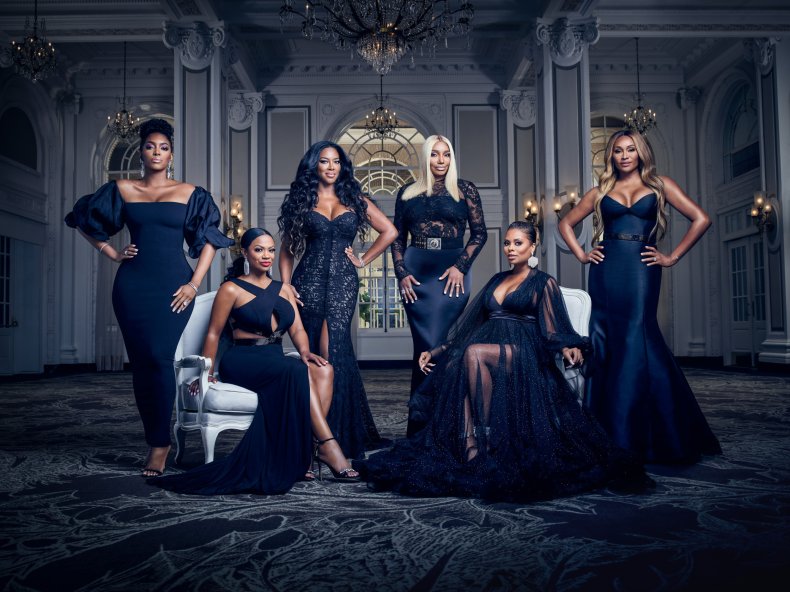 For starters, not everyone seems to be thrilled over Kenya's return, and it doesn't seem likely she and Eva will hit it off well when they come face to face at a cast luncheon. "You don't want a problem with me, trust me," Kenya said in the clip.
"Vice versa," Eva snapped back.
A strained relationship with Eva won't be the only problem Kenya faces in Season 12. The former Miss USA is expected to start the season relishing her life as a new mom to 1-year-old daughter Brooklyn, but her marriage to husband Marc Daly is hitting a roadblock. Kenya admitted her marriage was in a "really low place" in one scene of the trailer, then moments later she's seen crying while talking to a divorce lawyer.
Romantic woes will also take center stage in Porsha's storyline. Although she should be planning a wedding to her fiancé, Dennis McKinley, their engagement takes a blow when rumors of his infidelity emerge.
Even NeNe and her husband, Gregg, are on the rocks. Now that Gregg is cancer-free, NeNe is concerned he's falling back to old habits, like running around in the streets of Atlanta with other women. Her suspicions of his faithfulness prompted her to ask a question that could change the course of their lives forever: "What do you think about open marriages?"
As for Cynthia, she's busy launching her Bailey Wine Cellar for the wine enthusiasts of Atlanta, and her love life with fiancé Mike Hill will continue to flourish. However, it's her friendship with NeNe that may be in jeopardy.
The women have had their fair share of ups and downs throughout their tenure on RHOA, but it may all be coming to an end after someone records a video of Cynthia talking negatively about NeNe behind her back. "We need to end this," NeNe said in the final seconds of the trailer.
RHOA returns to Bravo on Sunday at 8 p.m. ET. Viewers can live-stream the premiere via Bravo's website and app, but they will need a cable provider login to access the stream.