'RHOBH' Star Erika Jayne Says 'The Tone Changes' When Lisa Vanderpump Isn't on Bravo Show: 'We Get to Have a Lot of Fun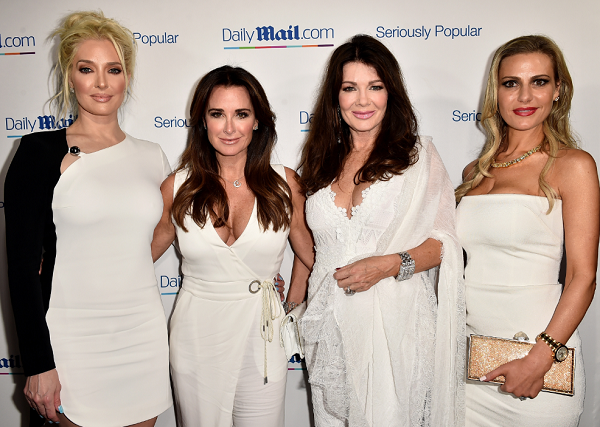 The drama will simmer down in the aftermath of Lisa Vanderpump and Kyle Richards' explosive fight on Real Housewives of Beverly Hills, and now the cast will apparently start having some fun.
The PuppyGate controversy has been the topic of discussion for most of Season 9 so far, but Erika Jayne revealed the focus of the show will become less toxic now that Vanderpump has excused herself from the season. In the wake of her blowout with Richards, Vanderpump discontinued filming with the group and it's unclear how much of her presence will be on the show going forward.
"I think that we get to have a lot of fun," Jayne told Us Weekly during an interview on Friday. "And remember… we have a lot of episodes to go. These first eight or whatever just happen to be very heavy, and then we start to have a lot of fun, which I think viewers will enjoy."
She added: "Lisa is not there and the tone changes."
The beginning of the season started with drama surrounding Vanderpump and Dorit Kemsley, who adopted a dog from Vanderpump's animal rescue charity. When the dog ended up at a shelter, gossip emerged among the group that Kemsley purposefully dropped the dog at a kill shelter, although those rumors were unfounded.
When the truth about the dog was revealed—Kemsley had given it to a friend who ended up having to hand the animal over to a different shelter—the cast began to think Vanderpump was behind the gossip. Stories of the situation later leaked to the press, which only fueled speculation Vanderpump was out to get Kemsley.
While some of the 'wives have said how tired they are of the doggie scandal, coined PuppyGate, Jayne said she was not. "I'm not tired of hearing about PuppyGate. It's a story that we knew was going to take a lot of explaining and getting that out to the audience and showing all sides to the story," she said.
However, the "XXPEN$IVE" singer did note how sad it was to see the controversy bring the end of Vanderpump and Richards' friendship.
"I feel bad for both of them," she said. "I feel bad for Lisa and for Kyle because it was a very tough place for them in their relationship and to confront each other with their true feelings. And to be screamed at and to be basically shown the door and have someone's husband scream in your face, that doesn't feel great."
Richards confronted Vanderpump over the articles on the most recent episode of RHOBH, which aired on Tuesday, and told her longtime friend the general consensus was that she leaked the story about Kemsley and the dog to the press to make Kemsley look bad. Vanderpump staunchly denied the accusations, and following a screaming match between the women, she kicked Richards' out of her home.
"I know Kyle did the right thing," Jayne continued. "She felt terrible. She felt very hurt. This is someone that she has had a long work relationship and a personal friendship with. She loves Lisa and Ken very much, but this had to be done."
Vanderpump hasn't spoken to Richards and several other cast members since the pair's showdown. It is also still unclear whether the reality star will appear at the Season 9 reunion, which is usually where the cast clears the air and settles their differences. However, Jayne didn't believe Vanderpump had a desire to make things right with the cast.
"I don't know that she cares to come back or that she cares to be friends with any of us, some of us, none of us," she said.