'RHOBH' Star Camille Grammer Explains Why She Defended Brett Kavanaugh on Season 9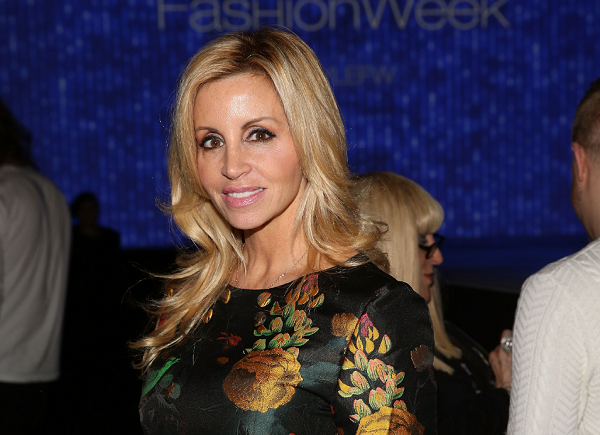 As if the Real Housewives of Beverly Hills don't argue at the dinner table enough, the women just had to go and strike up a conversation about politics on the latest Season 9 episode, resulting in utter chaos.
The cast members—excluding Lisa Vanderpump—were supposed to be having an intimate dinner celebrating Lisa Rinna's mother when, somehow, the sexual assault allegations surrounding Supreme Court Justice Brett Kavanaugh became the topic of discussion. Controversy ensued when Camille Grammer seemed to defend Kavanaugh while Lisa Rinna and Teddi Mellencamp sided with Kavanaugh's accuser, Christine Blasey Ford.
Calling the incident a classic case of "he said, she said," Grammer maintained her stance on Kavanaugh in an after-show video following episode 10 on Tuesday night. The 50-year-old also said she understood how it felt to be accused of something. "It's a bit political but not as much political as just the feeling of being wronged. It's a 'he said, she said,' and it happened how many years ago. It was never tried, but yet he's being almost put on trial," Grammer said.
The Supreme Court Justice was accused of sexually assaulting Ford, his former high school classmate, resulting in a full-on televised Senate Judiciary Committee hearing over the matter in September 2018. Kavanaugh denied ever having tried to force himself on Ford and suggested the Palo Alto University professor was attempting to smear his name and his chances of landing the position in the Supreme Court.
"I felt that I was put on trial basically years ago by the press from the stuff that my ex-husband was putting out there about me," Grammer continued, recalling her messy divorce from Kelsey Grammer in 2011.
Camille Grammer was in the middle of a highly publicized divorce battle with actor Kelsey Grammer when RHOBH first debuted. Throughout the first season, she was pegged as RHOBH's head bully by many of her castmates who believed a lot of the claims regarding her behavior and personality being published in tabloids.
"I felt like the first season of Housewives and with Kyle calling me a 'f**king liar,' I was made to look like this villain the first season and this horrible person. I felt like it was all coming down on me and it was affecting me as a mother and my children were being affected by it," Camille Grammer explained. "And when I watched his children talk about it, it hit me that I felt so bad for his kids because it struck a chord on me of what my kids were going through because I been there and my kids have been there. And it just made me really really emotional."
Real Housewives of Beverly Hills airs on Bravo on Tuesdays at 9 p.m. ET.