'RHONJ' Star Teresa Giudice's Husband Joe 'Calls Her Like 10 Times a Day' From ICE Custody, Castmates Say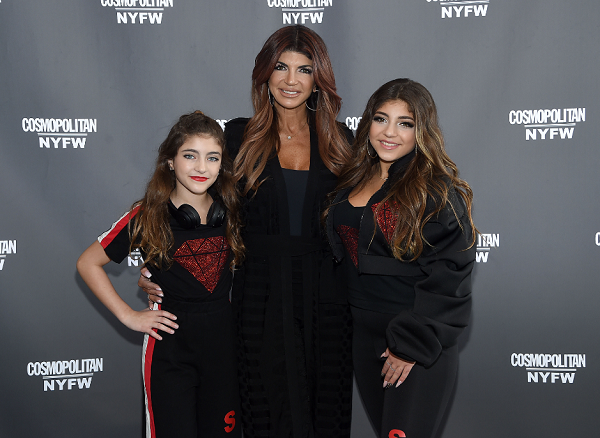 Teresa Giudice is patiently waiting for a judge to rule on the fate of her husband Joe Giudice, who is currently in Immigration and Customs Enforcement custody following his release from prison in March. It's unclear when Joe Giudice's potential deportation may be settled, but in the meantime, the couple has been staying in contact—a lot.
Teresa Giudice's Real Housewives of New Jersey castmates gave an update on the couple's status and revealed Teresa Giudice speaks to her husband every day all day while they await a judge to either approve or appeal his deportation ruling.
"He calls her. They text each other, and she can text him and he calls her like 10 times a day," Jennifer Aydin told Us Weekly on Wednesday. "They talk, you know they talk about the kids. He's bored. He's bored in there and he's calling her and she's, you know, she misses him but she's like wow, a lot of phone calls."
Teresa Giudice's longtime friend Dolores Catania said the reality star was keeping busy while her husband remained in custody, and despite the rumors, she wasn't sitting at home sulking in his absence. She also noted Teresa isn't looking for her friends to come over every night bringing her dinner out of concern, but she was accepting visits filled with laughs and jokes.
"Teresa, she doesn't need that. She like her friends to make her laugh," Catania said. "And that's how they get through stuff."
Just months before Joe Giudice completed his 41-month prison sentence on charges of tax fraud, a judge ruled for the RHONJ husband to be deported back to his native country, Italy, in October 2018. Joe Giudice filed an appeal, however, the motion was still awaiting a ruling from a judge at the time of his prison release. Instead of returning home to his family, he was ordered to remain in ICE custody until a ruling was delivered.
Although Teresa Giudice has remained by Joe Giudice's side throughout the ordeal, the 46-year-old said on the RHONJ Season 9 reunion she would divorce him should he be forced to return to Italy, noting that "the long-distance thing, it's not going to work."
She also said it would be difficult to uproot the couple's daughters—Gia, Gabriella, Milania and Audriana—to another country. "Gia's going to college next year; I haven't spoken to Milania or Audriana about it yet, we haven't gotten there yet," she said. "And Gabriella already voiced her opinion to me. She was like, 'That would be so hard for me mommy.' She doesn't speak the language. She's like, 'That would kill me even more.'"