Where Are 'The Real Housewives of New Jersey' Original Cast Members Now? Remembering Caroline Manzo, Jacqueline Laurita and More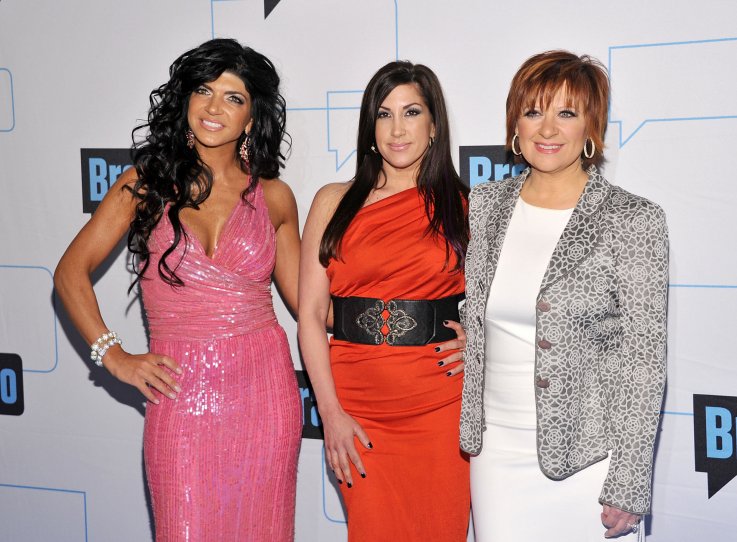 Long before The Real Housewives of New Jersey centered on the Guidice and Gorga family ties and the people surrounding them, there was another set of families that dominated the reality TV series: The Manzos and the Lauritas.
The year was 2009 when RHONJ made its debut on Bravo. The matriarch of the show, Caroline Manzo, kept things in order while her cousins and gal pals squabbled with each other. Teresa Giudice was there and spent much of her time feuding with Danielle Staub while sometimes bickering with her friends Dina Manzo and Jacqueline Laurita, Caroline Manzo's sister and sisters-in-law respectively.
Flash forward 10 years later, and the cast of RHONJ looks completely different. The only housewife to stay on for all 10 seasons is Giudice, although some of her former co-stars—like Staub—have exited, returned, then exited again over the years.
RHONJ is set to return with Season 10 in November, and, along with Giudice, will include her sister-in-law Melissa Gorga, who joined in Season 3, Staub, Margaret Josephs, Jennifer Aydin, Jackie Goldschneider and Dolores Catania.
Viewers will get to see everything the women and their families have been up to when the new season premieres, but what about the originals? What has happened in their lives since leaving RHONJ? Read on to find out more about where the first RHONJ cast is now.
Caroline Manzo
The mother-of-three appeared on the show for five seasons before she left RHONJ for her own reality spin-off, Manzo'd With Children. That show aired on Bravo for three seasons, and in the time in between Caroline Manzo published a memoir, Let Me Tell You Something: Life as a Real Housewife, Tough-Love Mother, and Street-Smart Businesswoman. Since leaving television, Caroline Manzo launched The Friendly Monkey Soap Company, which retails soaps and candles on Etsy. Nowadays, she spends her time with her family in New Jersey and recently became a grandmother for the first time.
Dina Manzo
Following multiple seasons of confrontations with Staub, Dina Manzo made her exit from RHONJ after Season 2. However, she remained on TV, appearing in the short-lived HGTV series, Dina's Party, and occasionally popped up as a guest on RHONJ. She officially returned to the Bravo series for Season 6, but her decision to come back to the show caused strife in her relationships with Caroline Manzo and Laurita. The sisters managed to resolve their feud in 2014, but in an interview with Bravo's The Daily Dish in August 2018, Dina Manzo revealed she had not spoken to Caroline Manzo in two years. She has since traded in her East Coast life for the sunny weather of California, where she lives with her longtime boyfriend Dave Cantin.
Jacqueline Laurita
The mom-of-three remained a main housewife on RHONJ for the first five seasons and reduced her part to a supporting "friend" role during Season 6. She returned as a lead for Season 7 of the show before she finally made a complete exit. When the show first premiered, Laurita was close with her sisters-in-law and Giudice, however, a few nasty fights brought an end to her friendship with the latter. Laurita and Giudice managed to work out their issues after Giudice returned from prison in Season 7, but since then the pair have officially ended their friendship. Since leaving RHONJ, Laurita has authored Get It!: The Busy Girl's Guide to Getting Your "It" Together: A Beauty, Style, and Wellness Book, and spends much of her time advocating for autism awareness. She and husband Chris Laurita also manage The Little Kernel, a popcorn company that partners with Generation Rescue, a nonprofit that helps families affected by autism.
Where Are 'The Real Housewives of New Jersey' Original Cast Members Now? Remembering Caroline Manzo, Jacqueline Laurita and More | Culture