'Real Housewives of New Jersey' Season 10 Cast, Release Date and More Spoilers Ahead of Premiere
Bravo fans will reunite with The Real Housewives of New Jersey when the reality show returns with its 10th season on Wednesday.
Starring Teresa Giudice, Melissa Gorga, Delores Cantania, Jackie Goldschneider, Margaret Josephs and Jennifer Aydin, the upcoming new season is slated to be the most explosive yet, jam-packed with drama and tension amongst the women. Original cast member Danielle Staub is expected to return to the series as well, this time around in a friend capacity.
Although the cat claws came out in the Season 10 trailer—someone pulls Josephs by her ponytail during a confrontation in the Season 10 sneak peek—the cast's family dealings will take center stage when the show returns, and the challenges they're facing within their personal lives at home will spill out on the small screen.
Giudice's marriage with Joe Giudice will be a focal point of her storyline during the season. Joe Giudice completed his 41-month prison sentence for mail, wire and bankruptcy fraud in March, but instead of going free he was turned over to Immigration and Customs Enforcement custody to await a verdict on his deportation appeal. Joe Giudice was allowed to travel to Italy in October to continue waiting his fate, preventing him from returning home to Teresa Giudice and their four daughters Gia, Gabriella, Milania and Audriana.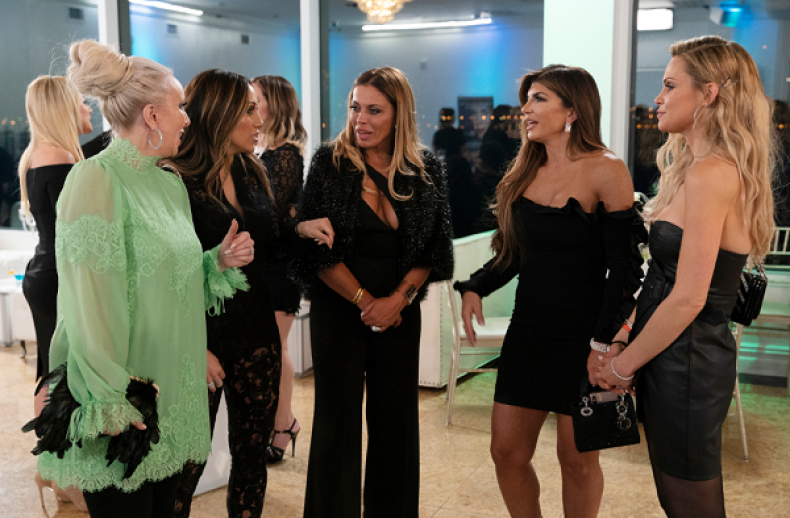 Bravo cameras followed Teresa Giudice as she continued caring for her children as a single parent, all the while contemplating the future of her marriage should her husband officially be deported. Only fueling the drama surrounding her family, she became the target of cheating rumors when photos surface of her hand-in-hand with another man. The alleged affair is slated to be a hot topic for the cast, likely catalyzed by Josephs, who will take a jab at Teresa Giudice, according to the show's synopsis.
When she's not gossiping about Teresa Giuidice or fighting with friend-turned-enemy Staub, Josephs will be dealing with her own family issues after her mother makes a decision that will alter their lives forever.
Meanwhile, Teresa Giudice and her sister-in-law Gorga, who have endured a rather contentious relationship throughout the history of the show, may finally have a breakthrough. "This season, you're going to have a lot of truth," Gorga told Entertainment Tonight on Tuesday.
"Things you've watched in previous seasons, you're going to see the truth come out. Things Teresa was hiding, things I was hiding. It all comes out," she said. "It's definitely he most honest season yet. It's raw and honest."
Gorga's friendship with Adyin, on the other hand, will likely take a dive. The Season 10 trailer teased a heated argument between the two during the group's trip to the Hamptons, which leads not only to words flying, but glasses too.
As for Cantania, she will also encounter some problems in her relationship with her boyfriend David Principe in addition to rising tension with Goldschneider that will force the cast to pick sides.
Real Housewives of New Jersey returns to Bravo with Season 10 on Wednesday at 8 p.m. ET.