Why Are So Many Original 'Real Housewives' Cast Members Leaving The Show?
Crying in bushes, falling in bushes, shady gossip that leads to screaming matches more intense than a heavyweight boxing match—It's the entertaining cycle of drama fans of the Real Housewives franchise have come to know, love and expect.
Since the introduction of Real Housewives of Orange County in 2006, week after week, millions of viewers have indulged in the feisty cattiness that seems to be inherently part of the women that make up Bravo's ensemble of reality TV queens. It started with Kimberly Bryant, Jo De La Rosa, Vicki Gunvalson, Jeana Keough and Lauri Waring on RHOC in 2006 and has since spawned into a multi-state franchise, a dizzying look into the lives and tiffs of affluent women in cities like New York (RHONY), Atlanta (RHOA), New Jersey (RHONJ), Beverly Hills (RHOBH), Miami (RHOM), Potomac (RHOP), Dallas (RHOD) and, soon, Salt Lake City (RHOSLC).
The drama is undoubtedly still at an all-time high on some of the franchises—RHOA and RHONJ are currently airing—but there have been changes afoot for many of series, particularly regarding the lagging number of original cast members that are still affiliated with their respective shows. Granted, faces have come and gone on every version of Real Housewives, but central figures that have been with the franchise since the early aughts seem to be fleeing in the wake of Bethenny Frankle's departure from RHONYC and Lisa Vanderpump's exit from RHOBH in 2019.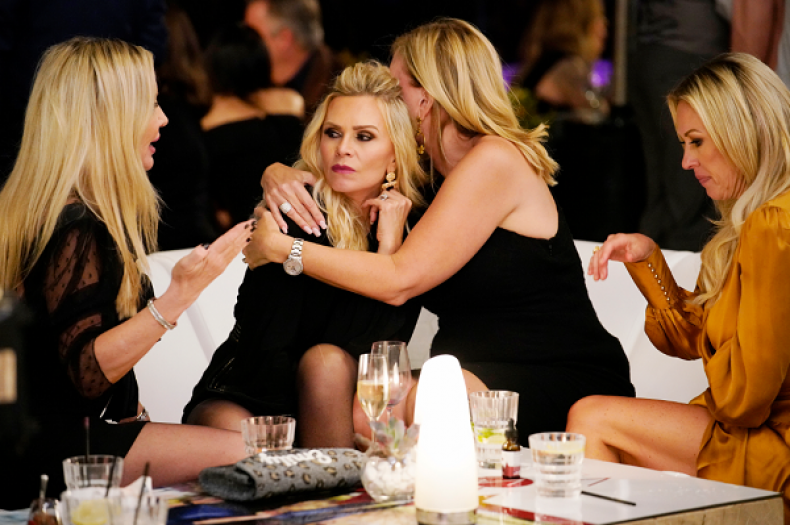 RHOC OG Gunvalson and her longtime castmate Tamra Judge—who joined the show in Season 3—announced they wouldn't return for another season of the show in January. Danielle Staub, who appeared in RHONJ's debut season (and exited and returned again), claimed in January she would "never" come back to the show after its current season. NeNe Leakes— who has also had stints away from the show only to return—is also rumored to exit after RHOA Season 12 while Camille Grammer said she was not asked to come back for RHOBH Season 10.
With so many originals jumping ship, where does this leave the Real Housewives franchise? Can we count on the newbies to sustain the hamster wheel of name-calling and drink throwing that these women have essentially created, especially when it's the original cast members who are so often the ones stirring the pot in the first place?
Who will be the mean girls when the ones who wrote the playbook cease to exist?
As a platform for trashy reality TV and the squabbles of women with too much money and time on their hands, one can only hope our beloved franchise can survive for another 14 years.
But the odds of maintaining that addictive authentic drama the originals managed to create seem slim. Aside from the grand return of RHOA's messy Kenya Moore and Jennifer Aydin's inquiries on the RHONJ's cast members financial assets, the dysfunction between most of the cast on each franchise feels forced and flat nowadays. Rarely are the new ladies even actual housewives as they were at the start. And there's only so long viewers can be amused by the same old formula of a new girl entering an established group and rumor-spreading her way up to bully-supreme or, alternatively, the role of the innocent who turns everyone against the bully-supreme (looking at you, Dorit Kemsley).
The fresh blood of RHOSLC could have potential, but we've seen the rise and fall of new franchises before (R.I.P. RHOM!). RHOD saw a minor dip in viewership among some demographics, but overall maintained it's popularity.
Only time can tell the fate of Real Housewives. At least we have the drunken revelry of the few remaining RHONY OGs to soon look forward to.
Correction: This story was updated to reflect the viewership of RHOD after a previous version inaccurately notated the ratings.