A Real-Life Comic-Book Superhero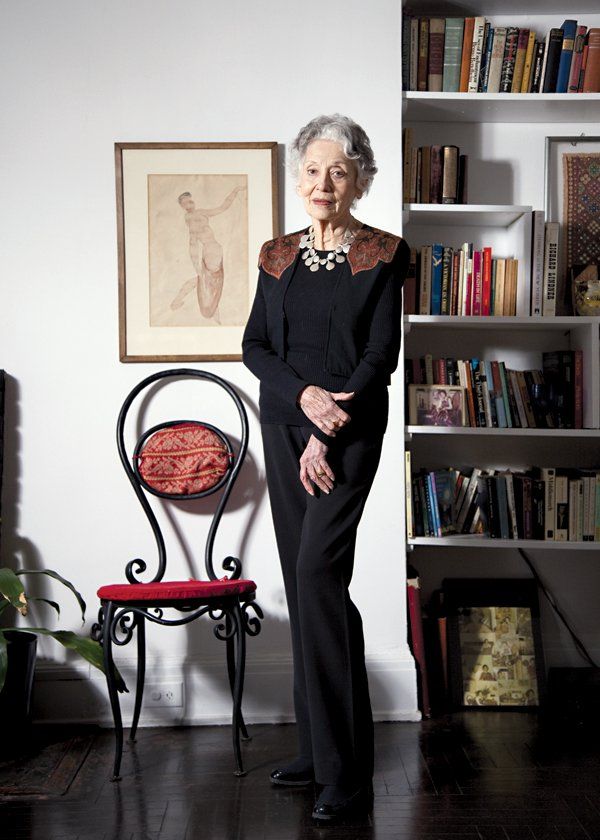 Lily Renée Phillips's first job in comics was erasing the errors made by the male illustrators who sat around her. It was 1943 in the cramped, smoky offices of Fiction House—the epicenter of comics publishing at the height of the golden age of comics—and Phillips was one of two women on staff and a handful working in the business who filled desks emptied by the war. The illustrators around her drew in graphite, then inked them over. It was her job to erase too-thick arms, stray bullets—and the lewd notes they wrote her in the margins. She hated it so much, she often cried herself to sleep. "I never wanted to come back," she says. "At the same time I wanted to do good work; I wanted very much to succeed for my own sake."
And so she did. Phillips went on to become perhaps the best-known female illustrator of her day, revered by the medium's obsessive fans and yet undiscovered for nearly 50 years. Since 1949 the woman who signed her pages "L. Renée" had been declared missing by the comics world. Fans knew her only by her unusual work: panels that evoked German expressionist films, costumes that could have appeared in the pages of Vogue, and heroines who moved with the muscular grace of dancers. "Some people are just illustrators and some people are storytellers," says golden-age historian Jim Amash. "She was actually both."
Her illustrations seemed to come from a different world, and indeed they did. It wasn't only her gender that set her apart. You can see in her work flashes of Klimt, Schiele, Dix, and other high-art painters she studied as a wealthy young girl in prewar Austria. You can also see the influence of what happened next: World War II. Phillips spent two years as a Jewish war refugee in England, wondering if her parents were still alive, and ultimately escaping to the U.S. with the kind of derring-do you might find in Señorita Rio, an immigrant turned spy who became Phillips's most celebrated comic creation. "Whatever is in you comes out in the drawings. I think this is probably why they are so personal," Phillips, 85, says now from her spacious Upper East Side apartment in Manhattan. At a time when we can't seem to get enough of macho action movies, videogames, and assorted comic-book-inspired fluff, Phillips is that rarest of artists: a woman whose work—and whose very existence—conveyed a sense of import in an otherwise candy-colored world.
She began to draw as a lonely girl looking for an escape. Phillips was the only child of a father who had wanted a son. On the weekends he led her through Vienna's museums. To fill the silence of the large, old apartment, she drew fictional friends—filling pads of paper with caricatures, making up stories. And then the world changed. In 1939, at 14, she was put on the Kindertransport. In an attempt to take money out of Austria, her parents hung a Leica camera around her neck and swathed her in a snow-white coat, "like a princess coat with a standup collar," Phillips recalled. "It was insane." She landed in Leeds, England, without knowing if her parents were alive. She was quickly put to work: as a servant, a caretaker, the nurse to a German general's children, and a hospital candy striper whose dorm crawled with rats and whose job was to bring the newborn babies down to a shelter when the air-raid sirens blasted. In her two years in England, she drew only a single drawing, of Eve lying on a bed of thorns. "I still don't know why I drew that, where it came from," she says. But how could it not have been a self-portrait? It showed an innocent girl unable to escape from her thorny, impossible world.
Finally, when she was 16, a letter arrived from her parents, now in Americaalong with her ship's passage. It was too late. Just a few months earlier, a Scotland Yard officer had accused her of being a spy—why else would a young Austrian refugee always be carrying around an expensive Leica camera? Phillips was put on a list of "enemy aliens," which meant she was forbidden to leave England. She had to sneak away in the middle of the night and hide in a safe house on the waterfront in hopes of catching her ship. But someone there turned her into the police. She spent the night crying in the police station until a mysterious stranger in a tweed suit saw her and somehow negotiated her release. "He told me to write him," Phillips says. "I never did."
In New York, Phillips and her family lived in a cramped apartment alongside other refugees. She scratched money together at after-school jobs—decorating wooden boxes, posing as a model, and illustrating the Woolworth's catalog. Her mother pointed to an advertisement for a job in comics. "What do I know of how to draw comics?" Phillips said. "Just draw Tarzan and Jane," her mother said.
The publisher who placed that ad was Fiction House. Struggling in the Great Depression, it had climbed out of the red thanks to its flagship character Sheena, Queen of the Jungle. Sheena was a Jane with the gumption of Tarzan, and she came to define the genre that Fiction House became known for: the "good girl." Working as spies and pilots, these women swung from vines, jumped into getaway cars, and showed a lot of leg in the process—ending up immortalized as pinups in the pockets of American soldiers back in Europe who gunned down real Nazis. The job paid $18 dollars a week. Phillips, then 19, couldn't afford to turn it down. "We were poor," she said. "We had nothing."
For Phillips, drawing these heroines was less glamorous. "They would all stop and stare at me as I was walking out, as if they were undressing me," Phillips says. She got her first big chance on a character named Jane Martin, a girl pilot working in the all-male industry of aviation, mowing down men without apparent guilt. (Not hard to be inspired by that.) Then they gave her a full strip. "It was sort of the dog. It was the one that no one wanted," she says. The Werewolf Hunter told the story of a tweedy professor with European sensibilities who travels the world uncovering hexes. The scripts always had a lot of animals, a lot of costuming, and none of the typical fun stuff—muscled soldiers and glimmering cars. It was perfect for Phillips. She infused the imagery with the oozing patterns of Vienna's art nouveau wallpaper; she soaked the scenes in the magical realism of German fairy tales she had grown up with. She became the sole illustrator of the series, which is now revered by fans. On an online message board, the final issue of The Werewolf Hunter was listed as the No. 1 most-desired comic by a Fiction House collector: "A master exercise in Surreal Narrative. The checkerboard table clothe [sic] sequence is amazing. And, no one draws a little red dress like Lily Renée."
Today, Phillips's work is seen as unusual—not only for its quality in a world of slapdash publishing, but because it came from a woman, still a rare presence in an industry dominated by men. A 2008 survey by a mainstream publisher found that 90 percent of superhero comic readers are male. While in underground or alternative comics, female creators have established a strong foothold, their success there is also an indicator of how small a place the mainstream has for them. To the women still fighting for a foothold in mainstream comics, Phillips is an inspiration. "For the past 40 years I'd been told by big burly men that girls don't like to read and don't like to draw comics," said Trina Robbins, a comic artist and historian who ultimately tracked down Phillips. "I knew somewhere inside me that that was wrong."
Phillips left Fiction House in 1949 and continued to draw on the side after marrying and having two children. But she pushed her career further into the closet. Drawing comics wasn't something a lady did, especially one who traveled in the New York intellectual world. "It was considered very lowbrow, uneducated," she says. "It was for children." Perhaps. But Phillips is, at last, getting her due. In 1994 a group of women in comics banded together to form a nonprofit to celebrate and encourage women in the field. Named Friends of Lulu for the heroine Lulu who perpetually attempts to sneak into the boys' club, in 2007 they nominated Phillips to their hall of fame. "I feel very inspired by her story and by the fact she's being recognized now," said Valerie D'Orazio, the organization's president. A comics writer, D'Orazio left Marvel when it developed a plotline about the rape of a heroine. "It's, you know, hard for women now and was hard for women 10 years ago or 20 years ago, but at least they had the framework of some sort of women's rights movement behind them."
These days, Phillips doesn't draw. In the airy Madison Avenue apartment that she has lived in for 40 years, her sketches occupy a dark, cluttered closet, while the novels and photographs by her intellectual friends—the photographer Evelyn Hofer, the novelist Sue Kaufman, the painter Richard Lindner—grace the coffee tables. She reads and takes a German literature class at a local college. About the recent flurry of requests—for a 22-page interview in a comic zine, for an appearance at San Diego's Comic-Con—she deigns to make an appearance less out of a sense of obligation to struggling female artists than out of a sense of amusement. She laughs at the idea that a 70-year-old fan in Spain sent her a Christmas card. She's only a comic illustrator! "It was undervalued then and now it's overvalued," she said. And there you have it: modesty. The mark of a true superhero.