Real-life 'Speed' as California Man Driving Truck Says If He Stops It Will Explode
It was a scene reminiscent of Keanu Reeves and Sandra Bullock blockbuster Speed.
A tow truck driver led officers on a nearly hour-long, slow-speed pursuit through San Diego on Monday, warning that a bomb on the vehicle would explode if he stopped.
Speeds never exceeded 10 mph during the chase, which involved at least 10 police cars, from Pacific Beach to downtown San Diego—about 12 miles away.
Officers responded to reports of a stolen tow truck at a Discount Tire store on Garnet Avenue in Pacific Beach about 7.45 p.m., Officer John Buttle told NBC7.
The truck drew the attention of officers when it hit another vehicle on nearby Mission Bay Drive, police said, before officers began pursuing it.
The San Diego Union-Tribune reported that police radio traffic, revealed the driver was on the phone with police officials for some of the pursuit. He told one that he could not stop or else a bomb on the truck would explode.
No bomb was found on the truck after it was finally brought to a halt, Buttle said.
The pursuit began along Mission Bay Drive near Interstate 5. Officers on the interstate deployed spike strips to try and slow the vehicle down. But despite striking the truck's front two tires, the action did not halt the truck.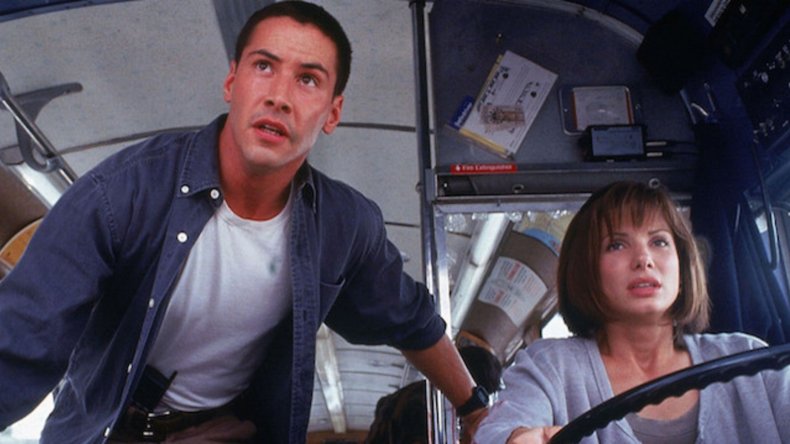 NBC7 video footage of the pursuit shows the back of the truck dragging along the road, causing sparks.
The vehicle eventually stopped just before 9 p.m. near Broadway and Kettner Boulevard, where law enforcement used pepper balls to lure him out of the front seat.
The suspect was taken into custody on charges related to vehicle theft and was transported in an area hospital for evaluation.
No other injuries were reported from the pursuit.
Newsweek has contacted San Diego police for further comment.
In the movie Speed, a bus that is rigged with a bomb that will activate when the vehicle hits 50 mph and will detonate when it drops below that speed. A young LAPD Special Weapons and Tactics (S.W.A.T.) officer called Jack Traven (Reaves) and his partner, Detective Harry Temple (Jeff Daniels), try to save the people on the bus.
The film also stars Dennis Hopper and Joe Morton.