Why Real Madrid vs. Atletico is Such a Terrific, Unpredictable Matchup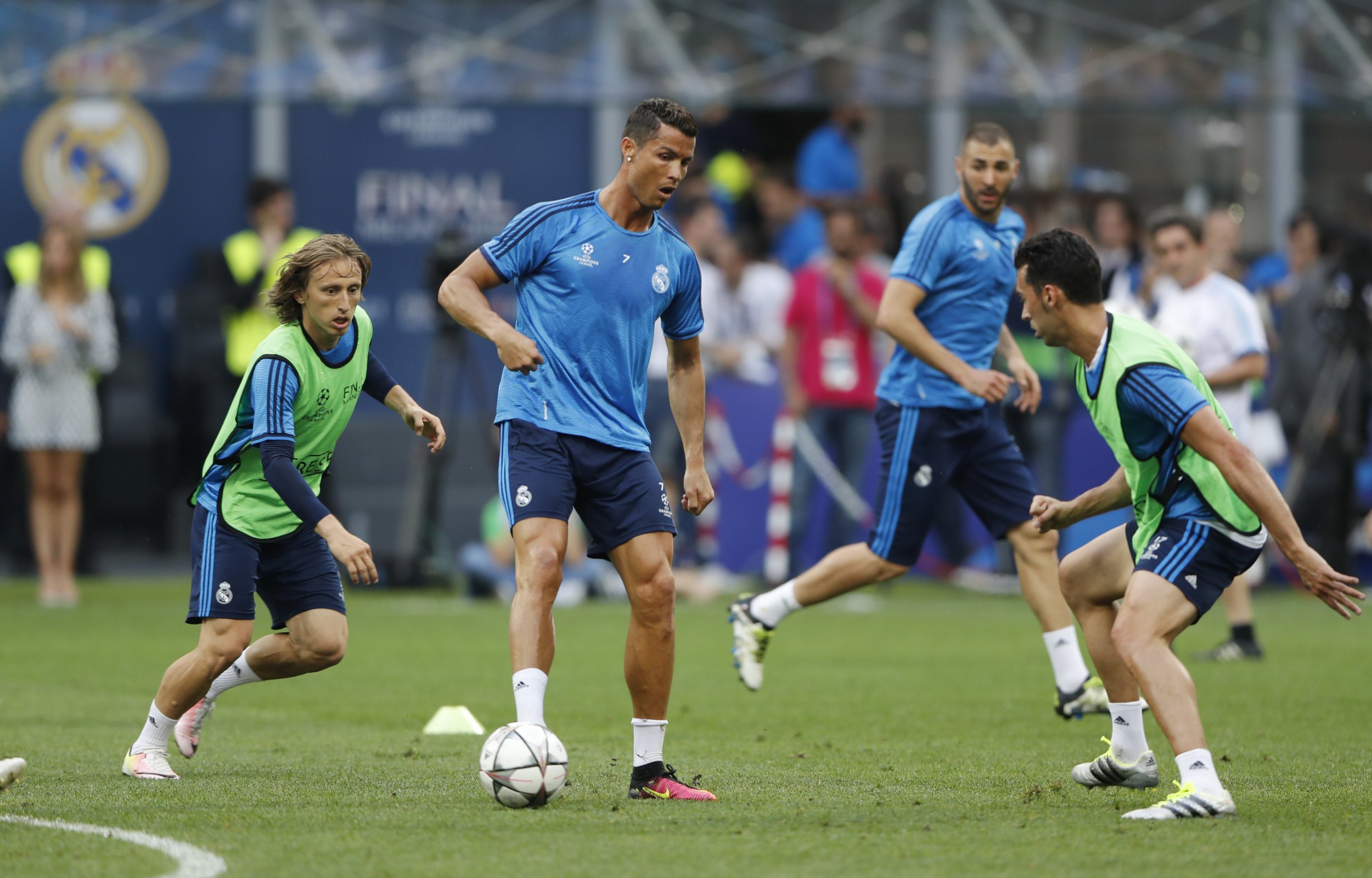 Ramon Calderon views Saturday's all-Spanish Champions League final as any former club president would. "It is fantastic for Madrid, Spain and our brand," he says.
Calderon, who held the position at Real Madrid from 2006 through 2009, believes the Spanish giants have the edge as they head to the San Siro to face city rivals Atletico Madrid. But he remains conscious that when their opposing styles clash, the outcome is hugely unpredictable.
"In this kind of match, there is no favorite," he says. "In theory, it will be Real Madrid. I see this as a war between artists and warriors, and normally warriors always play at the same level—which is Atletico. And the point with artists is that if they don't have a good day, it is a problem."
Derbies in Madrid have intensified over the past couple of seasons. Diego Simeone's appointment as manager of Atletico in December 2011 first dented Real's domination, and then halted it. Before the Argentine arrived, Atletico had lost seven consecutive derbies. His impact was far from immediate. In the two seasons that followed, the team won one, drew one and lost five. In the past two seasons, however, the power in Madrid has shifted.
"With Atletico, we have had very bad experiences in the last year," Calderon says, referring to Real's one victory over its rivals in the past 10 matches. "This year, for example, we couldn't beat them, so Saturday is going to be difficult, no doubt."
Calderon credits Simeone with the team's success. "Atletico is nearly perfect, tactically speaking," he says. "Their players follow the coach blindly because they know he is always right in the way he plans matches. I think he has proven to be a fantastic coach. In some ways, [he is] like [Jurgen] Klopp in Liverpool. They give a lot to the players and they push them to give their best."
Under Simeone, Atletico has muscled its way into La Liga and Europe's elite. The team has breached a league dominated over the last decade by Barcelona and Real Madrid. La Liga champions and seconds away from the Champions League trophy in 2014, Simeone has delivered the unthinkable in Madrid, and what impresses Calderon even more is the lack of resources he has.
"They have one-third of the budget of Barcelona, Real, Bayern [Munich] or Manchester [United and City]." he says "And with that they have been in the final of the Champions League in two of three years, they've won one La Liga title, [and] they were about to win it this year. So amazing. [He is] one of those really good coaches who appears from time to time."
Simeone's side will have to be tactically perfect on Saturday night to overcome the arsenal in Real's attack, made up of Cristiano Ronaldo, Gareth Bale and Karim Benzema. An injury sustained by Ronaldo looked to put his playing time in doubt. But the Portuguese forward, who has scored 51 goals in 49 matches this season, has insisted he will be on the field.
"He is so good that even playing at 50 percent of his capabilities, he is still better than anyone," Calderon says. "Maybe [Lionel] Messi is at the same level, but I don't see any player better than him. He is one of those players that you need always. If he is not in the starting lineup it will be a problem for Real Madrid."
Calderon was president when Ronaldo made his world-record $116 million switch from Manchester United to the Bernabeu. He recalls the moment Jorge Mendes, Ronaldo's agent, insisted another of his clients, Jose Mourinho, must make the move to Madrid.
"I remember Mendes saying, 'Now you have to sign Mourinho,' but at the time we had [Fabio] Capello so I couldn't sign him because we wanted another kind of coach at the time," Calderon says. "Mendes was trying to bring him here, as he did afterwards, but I know the interest of Mourinho was coaching Manchester United, as it is for any coach in the world."
Mourinho, who won La Liga in 2012 with Real, has finally got his wish, having become the new manager at Old Trafford on Friday. "He was always trying to be in United," Calderon says. "He was a good friend of [Sir Alex] Ferguson. He got in touch many times when he was managing other clubs. He loves Man United. It is normal, it is one of the best in the world and it is a team respected everywhere.
"I know he wanted to go there when David Moyes was appointed [as manager]. He was very disappointed, he thought he would be the manager."
Mourinho won three trophies in as many seasons in Madrid, but a trophy-less final year led to his departure and a second stint at Chelsea. "I have always said when he was here I didn't like what he did, but this was when he was here," Calderon says. "He didn't behave properly at Real Madrid, and also, unfortunately for him and Real Madrid, he wasn't successful. He got only one La Liga title and one Kings Cup—not many in three years."
Today, Mourinho is a distant memory in Madrid. Zidane is the new man in the dugout, and it will be more than branding on his mind on Saturday night as Real Madrid looks to reclaim its position as Europe's dominant force.