Barcelona vs. Real Madrid: Will El Clasico be Moved Due to Catalonia Unrest?
The rising political tension in Catalonia could see El Classico being played in Madrid rather than Barcelona in two weeks time.
The two arch-rivals are scheduled to meet for the first time this season in Barcelona on October 26, but according to Spanish newspaper Diario AS La Liga has now asked for the game to be switched to Madrid instead.
Should the game be played in Madrid, the reverse fixture—scheduled for March 1—will be played in Barcelona instead.
On Monday, at the end of a four-month trial, the Spanish supreme court jailed nine Catalan separatist leaders for their role in a failed bid for independence in 2017.
Oriol Junqueras, Catalonia's former vice-president, was convicted of sedition and misuse of public funds and jailed for 13 years, while former Catalan foreign minister Raül Romeva, labour minister Dolors Bassa and regional government spokesman Jordi Turull were all sentenced to 12 years in jail.
Junqueras was banned from holding office for 13 years, while the other three were handed a 12-year ban.
Pedro Sanchez, Spain's acting prime minister, said the government respected the supreme court's decision and that the Catalan leaders had not been trialled for their political beliefs but for their conduct.
"Nobody is above the law," Sanchez said in a press conference earlier this week.
"In a democracy like Spain, nobody is subject to trial for his or her ideas or politics but rather for criminal conduct as provided by the law."
The supreme court's decision sparked two days of violent protests in Barcelona and La Liga is reportedly worried demonstrations could take place around the game.
Worse still as far as Spanish soccer's executives are concerned, El Clasico could be hijacked by protesters.
The nine jailed Catalan leaders have called for peaceful protests but tensions could be running high in Barcelona if Real Madrid are allowed to travel to Catalonia next week.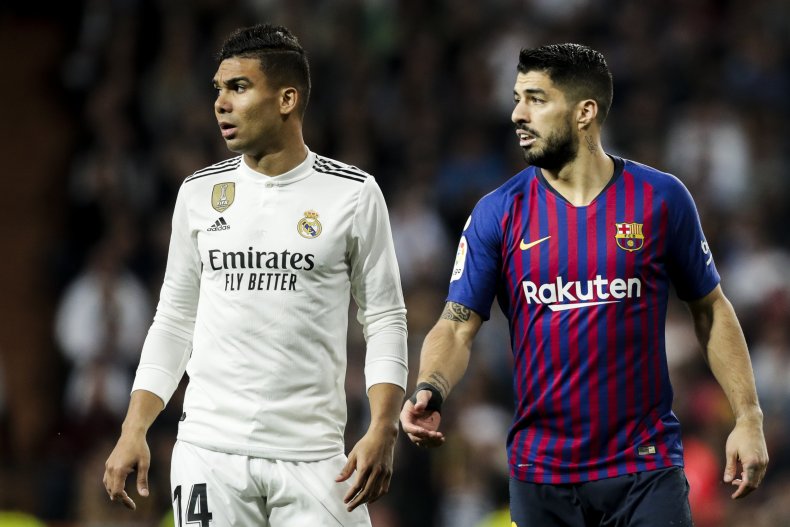 Any game between Barcelona and Real Madrid is about far more than soccer, with the former traditionally a symbol of Catalonia's hopes of independence.
As Castile's biggest and most prestigious club, meanwhile, the latter has often been seen as the embodiment of Madrid's central government.
The perception is only strengthened by the fact Santiago Bernabeu, a former Real Madrid president for whom Madrid's stadium is named after, fought with the Francisco Franco-led Nationalists during the Spanish Civil War in the latter half of the 1930s.
One of the key policies of Franco's leadership was to suppress regional identities, banning all languages except Spanish itself.
In this climate of political tension Barcelona became a beacon of protest for the Catalans, assuming the Més que un club (More than a club) moniker it still carries.
Aside from political differences, the rivalry has largely been exacerbated by the fact the two teams have been Spain's most successful teams and, along with Athletic Bilbao, are the only two clubs in La Liga to have never been relegated.
Real Madrid, who hasn't won La Liga since 2017, currently top the league with 18 points after eight games, with Barcelona, who has won the league in the last two seasons, two points behind.