Reality TV Doctor and Girlfriend Charged With Rape, Sexual Assault: 'Thousands' of videos discovered
A Californian surgeon and his girlfriend have been charged with drugging and raping two women, with prosecutors fearing there could be potentially hundreds more victims.
Orthopedic surgeon Grant W. Robicheaux, 38, who once appeared in a reality TV dating show, was arrested along with his alleged accomplice Cerissa Laura Riley, 31, on suspicion of a string of offenses.
Orange County District Attorney Tony Rackauckas said the pair used their "good looks and charm" to lure the women in Newport before taking them back to Robicheaux's apartment to assault them.
During a press conference, Orange County District Attorney Tony Rackauckas said that during a search of Robicheaux's phone, investigators found several videos where women appear to be "highly intoxicated beyond the ability to consent or resist."
Based on this evidence, Rackauckas said there could be many more potential victims, with police currently going through "thousands and thousands" of videos and images on Robicheaux's phone as part of the investigation.
Rackauckas also played a video of Robicheaux appearing in an episode of a since canceled Bravo TV show called Online Dating Rituals of the American Male, and Riley submitting a video application for a teaching credential to give people "an idea of who they are."
"People often assume that rapists are creepy, scary men who lunge out from hiding amongst bushes and attack unsuspecting women," Rackauckas said. "The reality is rapists come in all socio-economic groups.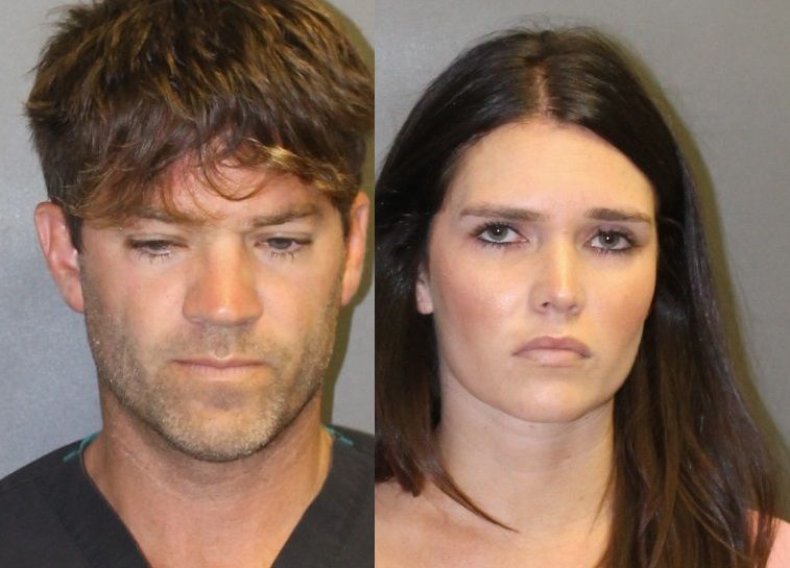 "Women who encountered these two might have felt a false sense of security, due to the fact they were both clean cut and good looking," Rackauckas said. "We tend to trust doctors, who take an oath to do no harm. The second defendant being a female is key, a woman playing his girlfriend clearly played a significant role in disarming his victims and making them feel comfortable.
"We've all heard of a wolf in sheep's clothing," Rackauckas added. "Well, a wolf can wear scrubs or doctor's clothing. Or a wolf can be a beautiful woman."
Police said Robicheaux and Riley met their first victim, a 32-year-old woman, at a restaurant in Newport Beach in April 2016. On April 10, the pair are accused of inviting the victim to a boat party, before taking her back to Robicheaux's apartment once she was intoxicated. The pair are then accused of raping the 32-year-old while she was under the influence of "multiple drugs."
On October 2, 2016, Robicheaux and Riley are alleged to have met another woman at a bar in Newport and drank with her until she was no longer conscious. The pair are then alleged to have taken the woman back to Robicheaux's apartment, where they sexually assaulted her with the intent to commit rape.
The second woman managed to escape after waking and screaming for help, prompting a neighbor to call the police.
Both defendants have been charged with rape by use of drugs, oral copulation by anesthesia or controlled substance, assault with intent to commit sexual offense and four counts of possession of a controlled substance for sale.
Robicheaux was also charged with two counts of possession of an assault weapon and being personally armed with a firearm during a health and safety code violation, with Riley also facing one charge of being knowingly vicariously armed with a firearm.
Following their arrest on September 11, both defendants were released on $100,000 bail. They are due to appear in court on October 25 to face the charges.
If you believe you have been a victim, or have information related to the crime and about the defendants, call Supervising Investigator Eric Wiseman at 714-347-8794.