Reality Winner: Snowden Condemns Sentencing of U.S. Election Meddling Whistleblower as Family Asks How Trump-linked Criminals Get Off Easy
Reality Winner, described as "thoughtful…giving…and scary smart" among her family members and friends, has always been known as the one to light up the room. "She has the quickest sense of humor, and she's just so much fun to be around," Winner's mother, Billie Winner Davis, told Newsweek.
It is easy then to imagine why Winner Davis is still grappling with the fact that in the eyes of the law, her now 27-year-old daughter is considered a "threat" to the country, whose "purposeful violation put our nation's security at risk."
That is how U.S. Attorney Bobby L. Christine described Reality Winner, a former national intelligence specialist, back in August as the Texas native was handed the longest sentence ever given to someone for making an unauthorized disclosure of government information.
On August 23, 2018, Winner was sentenced to more than five years and three months in federal prison after she pleaded guilty in June to violating the 1917 Espionage Act by leaking a top-secret intelligence report shining a light on Russian interference in the 2016 U.S. election to news website The Intercept.
When Davis Winner first heard the charges laid against her then 25-year-old, she was "in shock." But as her daughter sits in prison, that shock has gradually turned into anger and frustration.
'They Tore Her Apart'
"This was about a foreign government interfering in our election system," Winner Davis said of the intelligence report, which detailed Russian attempts to interfere with the election by hacking a U.S. voting software supplier and sending spear-phishing emails to local election officials days before the November 8 election.
"If she had not released this information would it have ever made its way to the public?" Winner Davis said Americans need to ask themselves, "Hey, wait a minute, why is Reality Winner in prison?"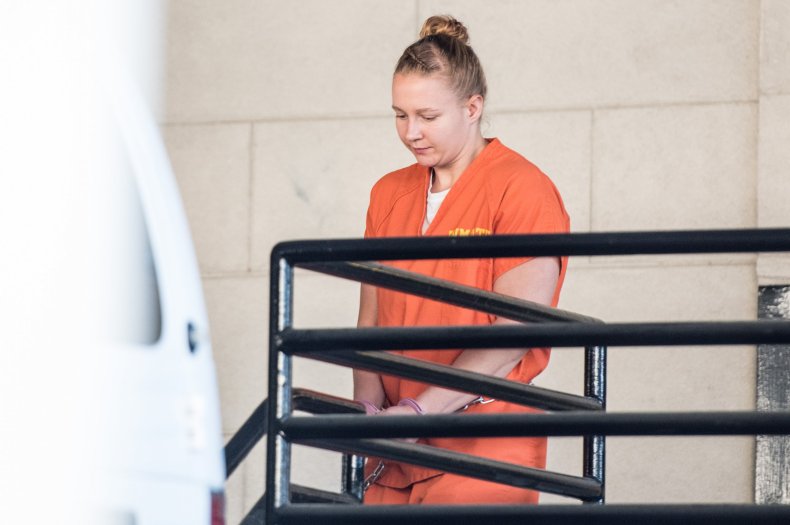 For Winner Davis, seeing former members of President Donald Trump's campaign team escape heavy sentences in special counsel Robert Mueller's ongoing investigation into Russian meddling in the 2016 election and possible collusion between Trump's 2016 campaign team and Moscow has been particularly painful.
Winner's mother said she was "outraged" to read about December's sentencing hearing for former national security adviser Michael Flynn, who saw his sentencing delayed after he pleaded guilty in 2017 to lying to FBI agents about communications with Russians.
"Here is a man who has conspired with two different foreign governments against American citizens and yet, they're begging for leniency," Winner Davis said. "If you read Reality's sentencing, they tore her apart. They said she used her military experience as a weapon against the United States.
"How is it that a 25-year-old senior airman can be held more accountable than a three-star general?" Winner Davis asked. "[Why are] the ones who are responsible for the actual criminal acts being let off while the whistleblower is punished severely?
"I don't wish bad on anyone, but I want people to know just how unfair this is," Winner Davis said. "To me, it all boils down to what she leaked. She's being severely punished because they did not want this out there."
Snowden: 'What's Most Frustrating Is That the Press Paid So Little Attention to Her'
Among those who agree with Winner Davis is National Security Agency whistleblower Edward Snowden, who fled to Russia from the U.S. in 2013 after exposing a number of global surveillance programs run by the NSA and Five Eyes Intelligence Alliance.
Asked by Newsweek on Thursday at a conference on whistleblowing in London, U.K., how he feels about Winner's heavy sentence, the NSA whistleblower said what happened to Winner was "condemnable."
"It didn't really matter whether there was a risk to public interest," Snowden said. "They threw the book at her. Then they bragged that it was the longest sentence that a civilian had ever received for a disclosure…. And I think that's just condemnable," Snowden said.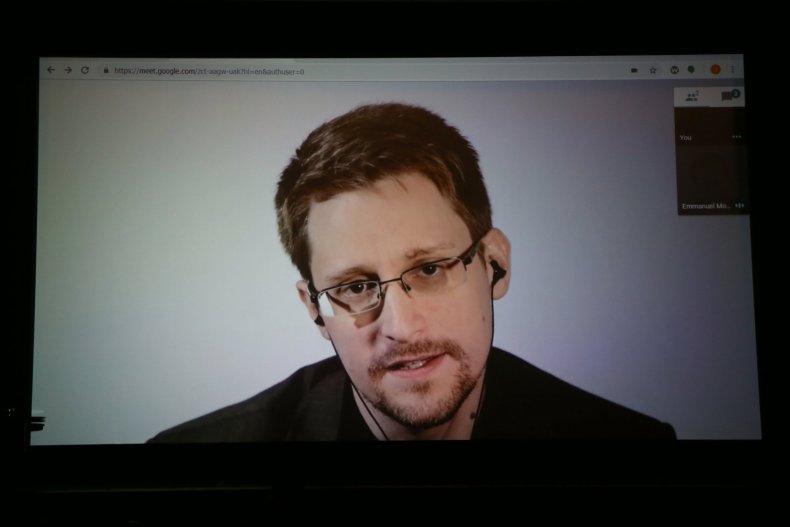 The whistleblower also hit out at the lack of mainstream news coverage on Winner's disclosure, as well as her subsequent sentencing. "What's most frustrating is that the press paid so little attention her," Snowden said. "They have wall-to-wall coverage about the concerns around Russians. Russians everywhere is the number one issue..."
Given the interest around Russian interference in U.S. affairs, "this story should have been the top story and it was only being led by media like The Intercept," Snowden said.
The NSA whistleblower said he believed Winner's case did not get the attention other whistleblowers have received because she was simply "too normal" of a person.
"She was treated as a sort of lower category of whistleblower, and I think that's because of where she fell on the spectrum of weirdness.... She was actually very normal," Snowden said, calling Winner an "all-American" girl.
Regardless of where she fell on that spectrum, Winner, who had been an outspoken critic of Trump on social media in the days leading up to her arrest, calling the U.S. leader an "orange fascist" in one post, was the first person to be charged by the Trump administration under the Espionage Act.
Snowden said that while the president's predecessor Barack Obama oversaw his own crackdown on "leakers," Trump "very much wants to break that record. I absolutely don't think the Trump White House is going to do any better," he said.
Seeking Clemency
For Winner's family, Trump's apparent war on leakers, including repeated vows to identify and punish those in his administration who make unauthorized disclosures to the press, does not bode well for their hopes of seeking clemency from the president.
"Reality is looking into that process now," Winner Davis said, adding: "She's already eligible for clemency having served 1/4 of her sentence. So, we're really trying to push for that at this time to get her released," Winner Davis said.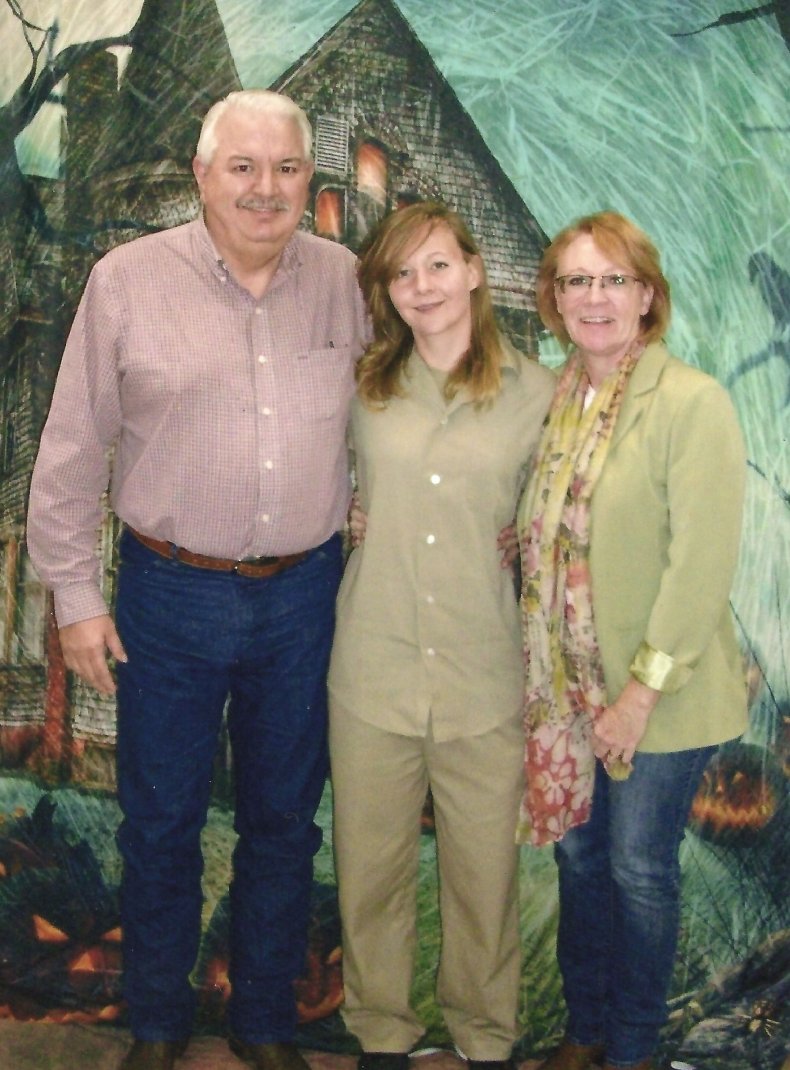 Asked what message she would like to send to Trump about her daughter, if she could send any, Winner Davis said, "I would just ask him to look at who she is as a person and to look at her sentence with regard to the crime." She also said she hopes the president will consider his own words about Winner's actions, which he previously branded "small potatoes."
Of course, the U.S. leader had meant "'small potatoes' compared to what Hillary Clinton did," in a tweet appearing to compare Winner's disclosure to Clinton's use of a private email server while acting as Secretary of State after the former intelligence specialist was sentenced to 63 months in prison.
At the time, Winner thanked Trump for his words, "for finally saying what everybody has been thinking for months." In an interview with CBS This Morning, the former intelligence specialist said the U.S. leader's comments were a "breath of fresh air" for her and her family.
While Winner Davis said her family is hoping Trump's words might result in leniency on their daughter's case, the U.S. leader will have to hold on to the top job to make that happen, as he faces calls to "resign or be impeached," if recent reports accusing him of possible obstruction in connection with Mueller's ongoing Russia investigation are true.
Speaking with BuzzFeed News on the condition of anonymity, two federal law enforcement officials involved in Mueller's probe claimed to have obtained evidence that the U.S. leader directed his former personal attorney Michael Cohen to lie to Congress about negotiations to build a Trump Tower in Moscow.
The report, which has been branded a "smoking gun" if true, has sparked outrage among Democrats, with California representative Adam Schiff vowing that Congress will "do what's necessary" to find out if the contents of the report are found to be accurate.
Meanwhile, Texas Democratic Congressman Joaquin Castro has said that if the accusations are true, "President Trump must resign or be impeached."
'Was It Worth It? I Don't Know That'
Whatever happens in Winner's case, the 27-year-old's mother said she hopes her daughter does not struggle with regret over her actions. "We've never been able to have a free conversation about the act itself," Winner Davis said of her daughter's disclosure to the media.
"We've never discussed her motives. At some point I would love to hear how she feels about all of this and what was happening at that time that made it so important for her.
"Was it worth it? I don't know that," she said. "As her mother, I wouldn't want her to regret what she did, even though it's cost her freedom. I think that it was an important thing to do."