Reappearance of ISIS 'Jihadi John' Highlights Intelligence Black Hole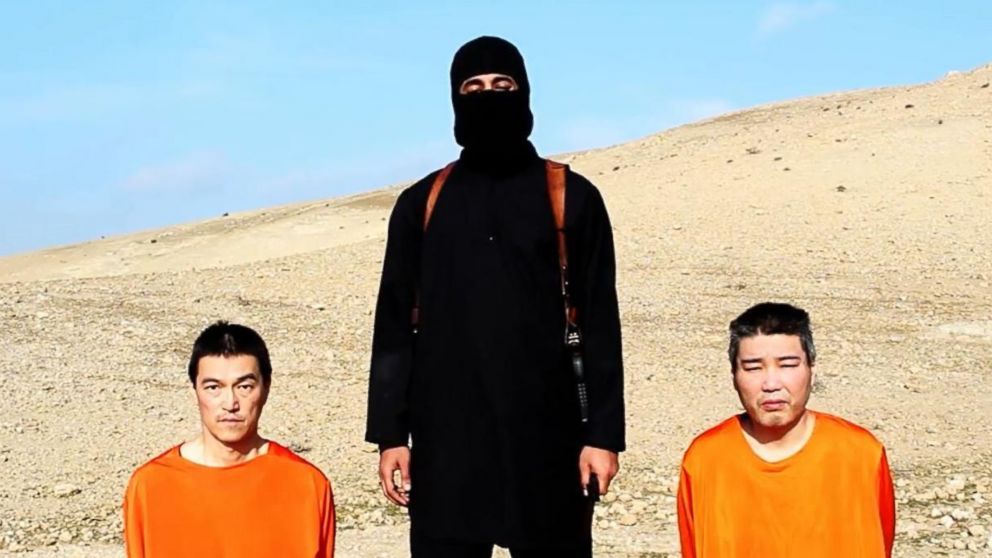 He's ISIS's most notorious recruit, a figure familiar from media reports around the world and yet 'Jihadi John' has yet to be formally identified by the global security services, who seemingly have no idea where he or his hostages are.
New footage released today by the Islamic State shows two Japanese hostages, kneeling on the ground in orange jumpsuits, a black-clad figure standing between them with only his eyes showing, speaking with a London accent. Although the identity of the figure in this most recent video has yet to confirmed, it's thought that the captor is the man known as Jihadi John.
Jihadi John - a nickname given to him by the press - has been present in the videos showing the beheadings of British aid workers David Haines and Alan Henning, and U.S. journalists Steven Sotloff and James Foley in 2014. Last year, the FBI approved a $10 million bounty for any information leading to his capture and in September last year the FBI agency director James Comey issued a statement about John in which he said: "I believe that we have identified him, I'm not going to tell you who I believe it is."
However, this most recent video appears to show John alive, well and undeterred, and so will be cause for concern for the the FBI and MI6. As Alex Perry, a Newsweek correspondent who has written extensively about jihadists pointed out: "The security services seemed to have identified him six months ago. He was named in the newspapers. Then that was quietly dropped. I don't know for sure, but it seems like they made a mistake."
The man that he refers to is former rapper L Jinny, aka Abdel Majed Abdel Bary, a British-Egyptian rapper from West London who in August posted a picture of himself holding the severed head of a regime soldier in Syria. But although his name was bandied around as the killer in later summer 2014, his involvement has never been confirmed by security services and indeed, he has never been caught.
Raffaello Pantucci, a security expert at the Royal United Services Institute for Defence and Security Studies, dismissed the idea that Abdel Bary was responsible and pointed out that while the security services may well know who John is, "why would they admit it?"
He pointed out that if the fighter was identified there was a danger he would become a "heroic figure, and the last thing they want to do is mythologise this guy - they have no interest in making him a bigger figure than he already is."
Charlie Winter, a researcher at the anti-extremism thinktank the Quilliam Foundation, agreed that whether John is high up in the ISIS group, he certainly plays a role: "He's being used as a Hollywood-style actor. He's become a fixture in Islamic state propaganda. They're going to carry on using him."
Winter points out that his reappearance will be seen as: "A thorn in western government's side" and the real struggle faced is not to identify him, so much as how to successfully combat him, and his propaganda value. The Islamic State will use him, Winter says, as " a reminder that coalition air strikes have failed to kill him."
Pantucci also says that John's reappearance will show weakness in the West's military strategy but also emphasised the difficult fighting circumstances they face: "You have the issue of what to do. You could drone him but there's a chance it won't work. He's in hostile territory, and it's highly unlikely they would deploy special forces for this."
As well as lacking the physical ability to successfully combat ISIS, Julien Barnes-Dacey, a senior policy fellow at the European Council on Foreign Relations, explains that John's reappearance also highlights a potentially embarrassing void in our understanding of the Islamic State and how it operates."It points to lack of real knowledge and intelligence of the Islamic State on the ground, on who they are and how they shape their actions."
Barnes-Dacey continued: "We know a lot in terms of broad positioning and ideology much of which is gleaned from their own self presentation. Even where that knowledge is available there are still considerable challenges in terms of doing anything beyond bombings which has proven limited in its success."
How much the security services do in fact know about Jihadi John may yet to be revealed, but with the looming threat of another execution, the mystery that surrounds this figure is worrying. As Newsweek writer Perry: "These videos are terrorism by any other means - they are trying to terrify people".
Once Upon a Jihad, an in-depth ebook on British jihadists by Alex Perry, is available now from Newsweek Insights.