The Reason 'Unbreakable Kimmy Schmidt' Used a Puppet in a #MeToo Storyline
The #MeToo movement brought to light the apparent wrongdoings of accused predators like Bryan Singer and Kevin Spacey, but Netflix's Unbreakable Kimmy Schmidt took the opportunity of tackling the initiative—twice—by using a puppet. However, this storyline wasn't meant to be a way for the show to address the movement.
Unbreakable Kimmy Schmidt first explored the controversial storyline in Season 3, where a puppet character named Mr. Frumpus sexually harassed Titus Andromedon (Tituss Burgess) during his Sesame Street audition. However, Mr. Frumpus returned for Season 4B for the episode "Kimmy Is in a Love Square!" as he—with the help of his human handler Lonny Dufrene—flashes his genitalia to Titus and urges him to touch it.
Robert Carlock, the show's co-creator and producer, claimed the Mr. Frumpus storyline wasn't inspired by real-world occurrences when it was first introduced in Season 3, which dropped in May 2017. It aired months before the first wave of #MeToo allegations hit via The New York Times in October, which dropped an explosive exposé on disgraced movie mogul Harvey Weinstein.
Carlock explained to Vulture that Titus's #MeToo storyline in Season 3 was the show's "insane, silly take on this trope that you've certainly heard about a million times." However, the outpour of media reports calling out high-profile figures in Hollywood allowed Carlock and company to recognize the parallels with show's premise, being that Kimmy Schmidt (Ellie Kemper) was formerly held captive by an abusive cult leader. But don't be mistaken, Mr. Frumpus exposing himself to Titus is meant to be "shocking" to viewers.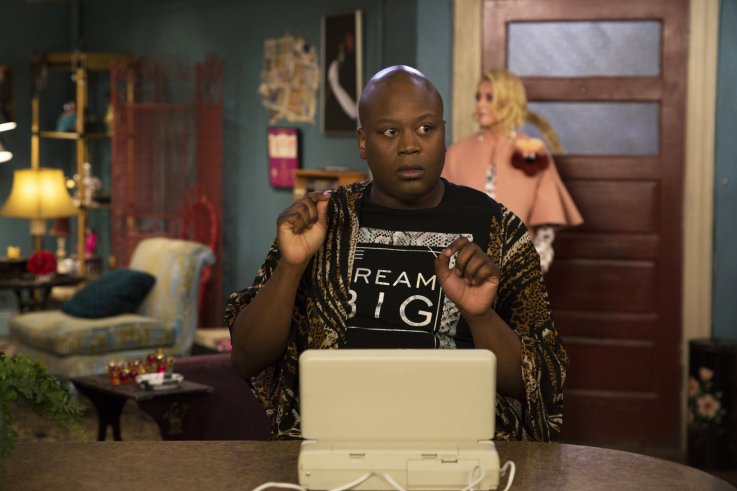 "Even though it can't possibly be as shocking as turning around, and there's Les Moonves with his erection out. I know we can all imagine that and understand how horrible that is," Carlock told Vulture. "But this is our version of: 'That's what humans have done to people. It's ridiculous. This is a puppet, but people do this.'"
"Kimmy Is in a Love Square!" features a guest appearance with Rowan Farrow, a journalist whose articles in The New Yorker helped to bring down Weinstein. He's also the son of Woody Allen, a director who has been accused of sexual abuse. Farrow appeared on episode himself, urging Titus to go on-record about Mr. Frumpus for The New Yorker.
Kemper told The Wrap that Farrow was "such a good sport for" partaking in this particular storyline. "My sense is that, I think he liked the show," she told The Wrap. "And I think he did it pretty willingly. And obviously he's a pretty busy man, so I think there was one window where we could get him."
"He was in the script, like at the table read, as 'Ronan Farrow' and I think that was subject to change based on availability and interest. But we read the table script a week before we get the shooting draft, so I guess in that week they confirmed him," she added.
While Unbreakable Kimmy Schmidt is often silly in nature, Farrow tweeted on January 25 that he decided to appear on the comedy series because "[co-creator] Tina Fey is a magical wonder we're all lucky to have." He also argued the acclaimed show "is funny as hell but also about trauma and abuse and I love them for doing an episode about the importance of sources talking."
Unbreakable Kimmy Schmidt Seasons 1 to 4 are now streaming on Netflix.
The Reason 'Unbreakable Kimmy Schmidt' Used a Puppet in a #MeToo Storyline | Culture