Reba McEntire 'Not Seriously Injured' After Rescue From Collapsed Building
Country musician and actress Reba McEntire has said that she wasn't "seriously injured" while walking inside a historic building in Atoka, Oklahoma that partially collapsed during her visit on Tuesday.
"While my team and I were in Atoka, OK yesterday checking out an old historical building, a staircase collapsed," McEntire wrote in a Wednesday morning tweet. "Thankfully, no one was seriously injured. We were safely evacuated from the building thanks to the quick response from the Atoka fire and police departments."
McEntire was reportedly touring the building for an unspecified upcoming project. Newsweek contacted McEntire's representatives for comment.
The staircase connecting the second and third floors collapsed onto the staircase connecting the first and second floors, City of Atoka Emergency Management Director Travis Mullins told KXII. The collapsed staircase reportedly trapped the visitors on whatever floors they were on, Mullins added.
The collapse also blocked the building's exits, KJRH reported. The building is reportedly over 100 years old.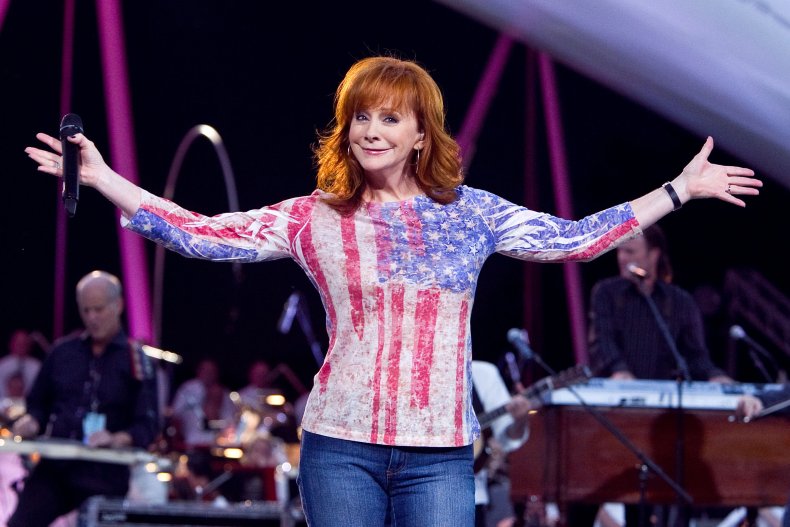 On Tuesday evening, journalist Lisanne Anderson shared video footage of firefighters helping McEntire and her boyfriend, Rex Linn, exit the building from a second-story window using a ladder.
"They were among seven people inside," Anderson wrote. "Atoka's finest came to the rescue. No one hurt, just some bumps and bruises."
Paramedics on site examined McEntire and determined that she was okay, Fox News reported. However, one unnamed person with minor injuries was taken to a hospital in Durant, Oklahoma, roughly 32 miles south of Atoka.
Coby Scherrill, one of the people touring the building with McEntire, told KXII, "It was pretty scary. I was worried about who was downstairs and how bad it was."
"We were just touring the building and the stairwell was weak. It seemed weak, but we did not realize how weak it was until several people had gone down it," Scherrill added. "And then we heard the crash and saw the stairs fall."
McEntire has released 33 music albums and acted in 41 movies and TV shows, according to the Internet Movie Database. From 2001 to 2007, she appeared in Reba, a sitcom in which she played a single mother raising three children in a Houston, Texas suburb.
McEntire's boyfriend, Linn, is also an actor. He has appeared in multiple episodes of shows such as Better Call Saul, The L Word: Generation Q and Lethal Weapon. He has also appeared in films such as Cheaper by the Dozen and Django Unchained.
McEntire and Linn began dating in January 2020. She said the social shutdowns caused by the ongoing COVID-19 pandemic gave them to get to know each other. McEntire is twice divorced.