Rebecca Black's Debut Album Couldn't Be Farther From 'Friday'
Singer Rebecca Black, arguably one of the earliest victims of online trolling, has waited 12 years for her debut album to drop, but there was no way it could have happened earlier.
Black, now 25, was 13 years old when she became the target of death threats after her YouTube song "Friday" went viral in 2011 and was dubbed "the worst song ever" by some music critics.
The bullying became so bad Black was once even told, "I hope you cut yourself and I hope you get a eating disorder so you'll look pretty," she recounted to ABC News at the time. The social media star eventually had to drop out of school and be home-schooled by her mother in their Californian home.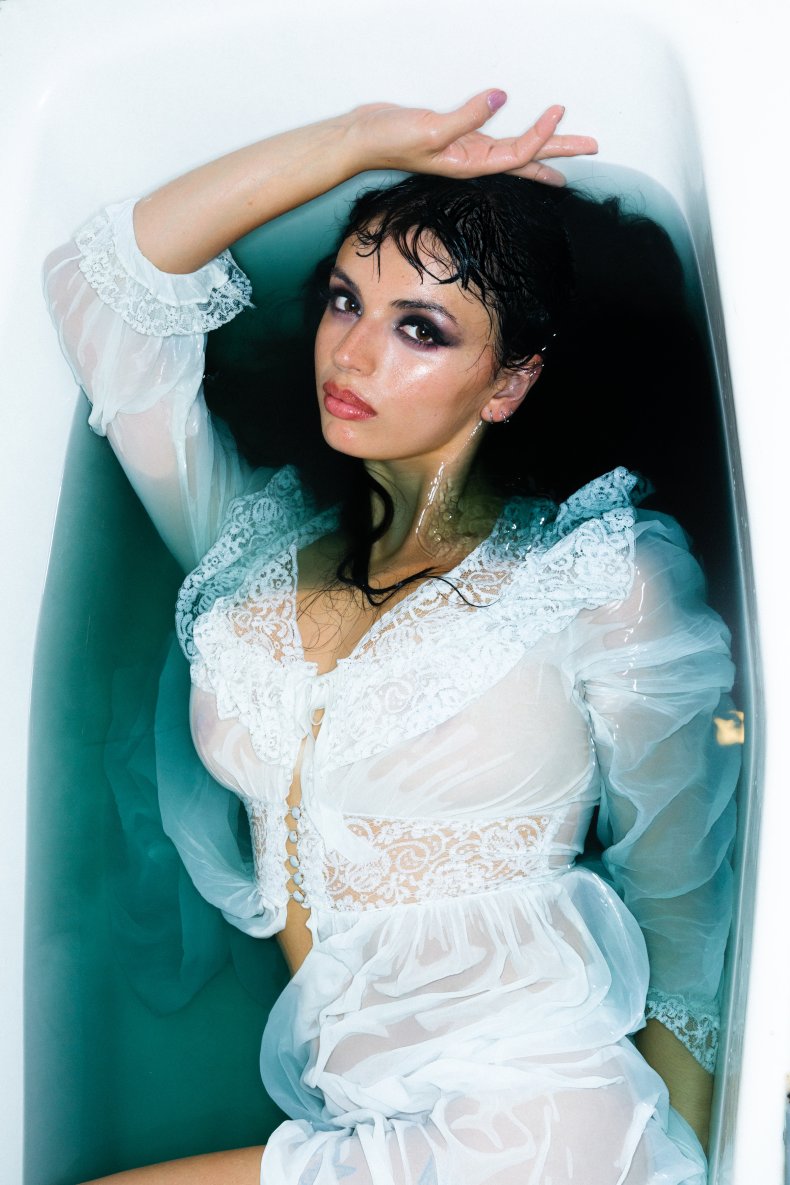 But now, after many years of finding herself and her sound, Black is ready to shock the world again with her debut record, Let Her Burn, which came out on February 9. And while "there's definitely a little feeling of pressure," the YouTube sensation is confident her fans will love it.
"We don't have to be afraid of my audience. If there's one thing I know about them, they understand me and they're here for me," Black told Newsweek. "They're also here for something exciting and new and unexpected."
Let Her Burn does indeed deliver a gritty and raunchy sound that would likely shock even the most hardened critic of "Friday." With the lead single "Crumbs," Black shares a raw insight into her struggles, vulnerabilities and even sexuality.
"I've waited for the opportunity to be able to make this much of a statement on who I was," she explained. She added that she "probably wrote hundreds of songs" over the years "but just wasn't ready in my world" until she finally decided in the spring of 2021 to bite the bullet.
"I knew, if I'm going to do this, I really need to be prepared to push myself and be able to lead because it's a really important moment for me," Black said. "I wish I could go back [...] and speak to my younger self because I would get so frustrated with myself and with the world because I really thought I was ready for this moment for years."
Black said she was grateful that she waited to take the time to learn not only about herself but also how to feel confident in leading a creative project.
"I worked with so many incredible collaborators, but every seed was planted by me. And now I get to release this album if you don't like it or you don't f*** with it, that's cool because it is who I am," Black said.
Following the release of "Crumbs" on November 14, critics appear to have been changing their tune.
"Rebecca Black is emerging as one of the most exciting alternative artists," wrote lifestyle magazine Latina.
Music and entertainment magazine Euphoria added: "Rebecca Black has opened the doors to a new era."
The California native reflected on the harrowing experience that followed the release "Friday." She said she wished there was a "lesson on how to build a sense of self," so as not be crushed by the millions of strangers forming often toxic opinions about you.
But her experience on YouTube has not stopped Black from using social media as a tool to connect with fans around the world. She can often be seen poking fun at her start in the music world on TikTok as she revealed humor was a big asset for her.
"As a young person, as a kid you're supposed to explore, you're not supposed to make the best work your life," she said.
Black is now embarking on an international tour including a sold-out show in London at the iconic LGBTQ club, Heaven, on February 10, before she heads back to the U.S.
"I think people will be surprised by how big of a show this show is. I'm out here to put on something that feels like it could be done by a major label artist and [that is] as good as everything else out there," she told Newsweek.
Playing to her beloved LGBTQ fans is "incredible" for Black who came out as queer in 2020.
"I've learned so much from the queer community on how to embrace myself," she said. "It is really special to look out into an audience and see people who are not only there to see a show, but are there to experience this feeling like we're all kind of related [and] in some way together."
Black's North American tour starts on May 4 in Cambridge, Massachusetts, and will finish on May 20 in Los Angeles, California. All ticketing info can be found here.