'Rebecca' Filming Locations: Is Manderley A Real House?
Rebecca is now streaming on Netflix, meaning that viewers are finally are able to see the sumptuous yet spooky locations of the Daphne du Maurier adaptation. Locations feeling like a character in the story has long been a cliché of TV and film, but it is definitely true of Manderley, the palatial home of Maxim de Winter (played by Armie Hammer).
Manderley is a presence right from the start of the book, which begins with the immortal first lines, 'Last night I dreamt I went to Manderley again. It seemed to me I stood by the iron gate to the drive, and for a while I could not enter, for the way was barred to me."
In the Netflix version of the story, directed by Ben Wheatley, Manderley is somehow impossibly large and yet claustrophobic. Maxim's new wife (Lily James) is constantly discovering new rooms in the house, and yet every one of them seems to be pressing in on her as she frets about not living up to the example set by Max's first wife Rebecca.
With Manderley one of the most famous fictional houses ever written, finding a real house that could live up to it is always a tall order for location scouts. However, at least some of Rebecca was shot in a real house in the county of Hertfordshire in the U.K.
The Jacobean Hatfield House, however, was completed in 1611 as a house for Robert Cecil, a former statesman in the court of Queen Elizabeth I, who had a childhood home on the same estate.
Rebecca is far from the only time that Hatfield has appeared on screen. The mansion was also the home of Queen Anne (Olivia Colman) in the Oscar-winning movie The Favourite, and was also recently the setting for the Jonas Brothers music video for "Sucker." Other movies that have filmed there include the Guy Ritchie Sherlock Holmes movies, the 1989 Batman and Batman Begins. It was also the home of Lara Croft (Angelina Jolie) in the Tomb Raider films.
Hatfield is also often used as a filming location because of its proximity to three major studios (Pinewood, Leavesden and Elstree) where some interiors may have been shot.
Among the rooms used in Rebecca are the house's Marble Hall, its golden-ceilinged Long Gallery and the King James Drawing Room, familiar from a number of movies and TV shows for its distinctive walls covered in paintings.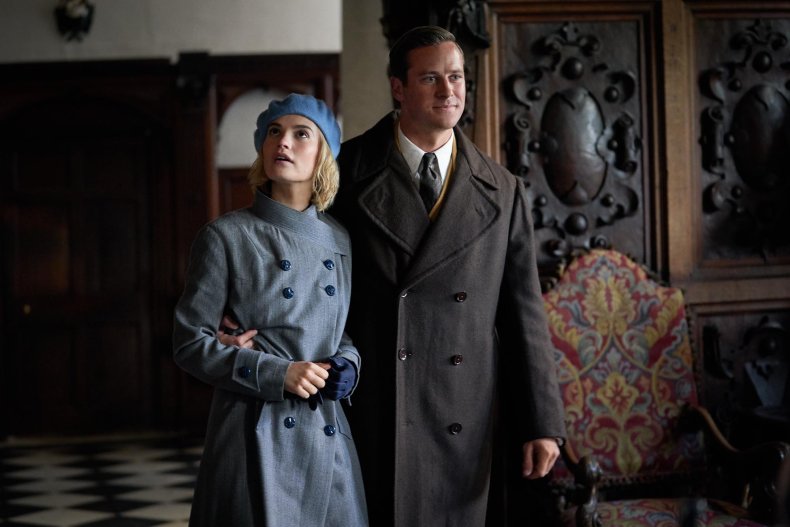 However, a number of other historic houses were used for other elements of Rebecca. Other filming locations include Cranborne Manor in Devon which was originally built in the 13th century as a hunting lodge for King John. The Netflix film also shot in Surrey's Loseley House, West Sussex's Petworth House, Hartland Quay and Blegberry Farm in Devon and Isleworth's Osterley House.
The choice to shoot across multiple houses serves to give Manderley an unreal air that was perfect for the house as written about by du Maurier. As Wheatley said in a Sight and Sound interview: "We started with the idea that there was no point trying to find it because it doesn't exist...it was firmly in the imagination of du Maurier."
He added: "I talked to [designer Sarah Greenwood] about the brief being that the de Winter family itself would have had titled land after the Norman invasion...and then over the generations, this family will have grown in power and strength and money, and become colonialists, sacking other cultures, bringing money back to England.
"So the middle of it is like a Tudor house with wooden doors, but as it got bigger, it became grander. All the architectural styles don't necessarily match, which is true of a lot of these places."
Rebecca is streaming now on Netflix.