Rebekah Brooks Escapes Jail, but Questions Linger for Murdoch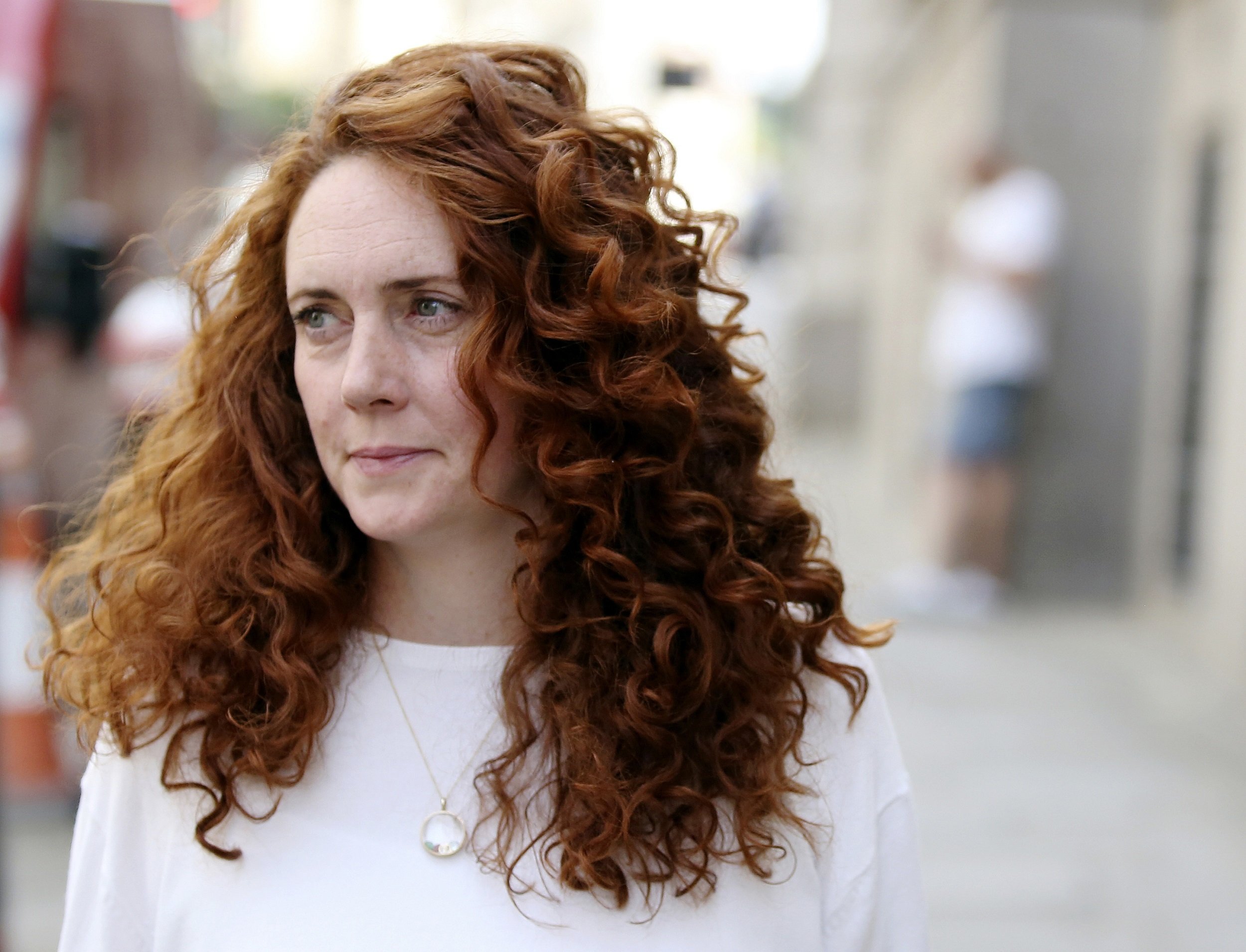 Rebekah Brooks likes to tell this story about herself. How, as a junior reporter on Rupert Murdoch's London tabloid The Sun, she stuffed her flaming red hair under a head scarf, dressed up as a cleaner and smuggled herself into the offices of the Sun's stablemate, The Sunday Times. When all the Times's editorial staff had gone home, she sat herself at a computer and calmly stole their scoop.
When the Sunday Times editor found out he had been hacked—and by someone in the same company—he was furious and loudly complained. But Les Hinton, the CEO of Murdoch's London operation, News International, merely laughed. And when Murdoch heard of Brooks's daring escapade, he too laughed—and said Brooks should immediately be promoted.
That at least is the story as Brooks used to tell it. And whether larded up or not, it tells a lot about the anything-goes ethos of the Murdoch organization. And the story goes a long way to explain too why Murdoch facilitated Brooks's meteoric rise to power and, as his high representative in London, how she came to make waves at the highest levels of British politics.
There will be some sighs of relief at the News Corp headquarters on Sixth Avenue, New York, that Brooks has been cleared of phone hacking, bribery and interfering with the course of justice. But any celebration will be muted: fellow Murdoch editor Andy Coulson, Brooks's sidekick and secret lover, was found guilty of conspiracy to commit hacking and is likely to face a prison term.
Brooks's not guilty verdict has been greeted with widespread skepticism in Britain, where Murdoch enjoys a pariah status for allowing to take place under his nose what the court was told was criminal hacking "on an industrial scale." For eight months, Brooks and Coulson have been on trial at the Old Bailey, Britain's principal court for criminal prosecutions. But for many in Britain, it is Murdoch himself who was in the dock—and has dodged a prison sentence.
The not guilty verdict will leave many scratching their heads. How could a woman of such intelligence and astuteness rise to the top in a male-dominated cutthroat industry and yet be so naïve or incurious not to want to discover how her underlings were sourcing their juiciest stories? Did she never ask, as any good editor would ask, where did this come from? Brooks repeatedly told the court she knew little about phone hacking, claiming she was not aware of the fact that a private investigator was being paid more than many of her senior reporters to illegally access cell phone voice mails. To be so ignorant of the criminal ruse that put her newspaper so consistently ahead of its rivals would seem to be beyond belief.
But then so much about Brooks is hard to credit. With her cascading locks of curly red hair and her chalk white complexion, she cuts a striking figure, evoking images of Queen Elizabeth I (as played by Bette Davis) or perhaps Edward Burne-Jones's romantic Shakespeare heroine, the floating, drowned Ophelia.
Brooks can also seem like a stock character from 19th century novels by Anthony Trollope or William Thackeray, a parvenu who arises mysteriously from nowhere, wreaks havoc among the rich and powerful, then implodes. Revelations from the trial about Brooks's first stormy marriage, to the TV soap opera actor Ross Kemp, about her adultery with Andy Coulson, first her deputy, then the prime minister's press secretary, and about her second husband Charlie Brooks's enjoyment of lesbian pornography have filled her backstory with the sort of tacky, tawdry, telling details that scream from the front pages of the scandal sheets she once edited.
Yet Brooks's background could hardly be more humdrum. During the trial, she said her father was "a gardener basically," though her birth certificate described him as a deck-hand on a tug-boat. Her parents separated and her father died young of liver disease. She was brought up in Daresbury, a village near Warrington, Cheshire, in the British industrial northwest, where the author Lewis Carroll was born. Despite those golden tresses, Brooks is no wide-eyed Alice, even if her career has brought her into contact with characters as crazy as any in Carroll's Wonderland.
For many years Brooks lived in her grandparents' home and she attended local state schools. Her grandmother wrote about poetry in the local paper, and Brooks says she knew she wanted to be a journalist at the age of 8. After school she went to Paris, working on an architectural magazine, and in the entry she penned in Who's Who she claimed she had attended the Sorbonne, although there are no records of her registering for a course there. After a spell on the Warrington Guardian, Brooks went to London and won a job on the News of the World (NoW). For the rest of her life she seems to have lived, eaten and slept Murdoch newspapers.
Her rise through the ranks was swift. Hired as a researcher in 1989, she was soon made deputy editor. She was audacious and inventive in a tabloid world where deceit and skullduggery are considered virtues. She is said to have bugged flowerpots in a hotel room to eavesdrop on James Hewitt, Diana, Princess of Wales's secret lover. In 1998, she joined The Sun, but within two years was back at the NoW—as editor. In 2003, she returned to edit The Sun, where she stayed until 2009, when Murdoch made her chief executive of his London hard copy outfit, News International.
At first, Brooks appears to have introduced some much-needed common sense to what Eve Pollard, former editor of theDaily Express, calls the "testosterone-fuelled newsrooms" of News International. When Pollard founded the networking club Women in Journalism in 1994, Brooks was an early recruit. "She came on in the first year, was very helpful, raised money and was keen to see women do well in journalism," says Pollard.
Brooks even supported banning the daily photograph of a bare-breasted woman on page 3 of The Sun, which had been introduced by Murdoch as a trademark act of sexism when he bought the paper in 1970. Yet Brooks was already happy to follow the politically conservative line her boss supported. When Labour MP Claire Short said she objected to the daily nude, Brooks's Sun branded her a "fat, jealous Claire" and a "killjoy," a personal attack Brooks told the trial she had lived to regret.
The key to progress within News Corp, which has few layers of middle management, is to develop a close personal relationship with Murdoch. "I remember talking to [Brooks] about how to get on with Rupert Murdoch, who I had worked with," recalled Pollard. "He was pro-women, but I said, 'Don't sit silently. Speak up. He's a busy man in a hurry.'" Before long, Brooks had firmly established a close working friendship with Murdoch, who began to treat her as the daughter he never had.
Murdoch's relationships with his children have been troubled. The children from his second marriage—Elisabeth, 46, Lachlan, 43, and James, 42—have all worked in and out of the family business and have all fallen in and out of favor with their father. Elisabeth has taken a particularly independent line, moving to London and remaining there, with her father in New York, and founding her own production company when she felt she was not being treated seriously inside News Corp.
In 2012, in a lecture at the Edinburgh TV festival, Elisabeth criticized her father's company's slow response to the hacking crisis. She even quoted one of her father's fiercest critics, the TV dramatist Dennis Potter—who had named the malignant tumor that killed him "Murdoch"—that television, in the right hands, could achieve great things.
Elisabeth's husband, London PR guru Matthew Freud, great-grandson of the father of psychoanalysis Sigmund and nephew of artist Lucien, once said that being the child of a famous family made you feel "both entitled and unworthy." With her humble background and chutzpah, says journalist Tom Rowland, Brooks must have appeared in Murdoch's eyes to be the opposite: "un-entitled" by background yet "worthy" in character.
When Murdoch hurried to London to take charge at the height of the hacking crisis engulfing his company, he was asked what his priority was. "Looking after this one," he said, pointing to Brooks at his side. Not only was he fond of her, her usefulness to his company, it seems, had inspired strong personal loyalty. He insisted she stay on, despite calls for her resignation, including from the Murdoch children. When Brooks's departure from the company became inevitable, Murdoch rewarded her with an $18.4 million severance payment—and the use of a chauffeur-driven car.
Whatever Brooks had done for Murdoch, he plainly thought she deserved every penny. Hacking was just one aspect of the Murdoch papers' secret modus operandi. Although hacking was primarily a tool to garner stories about celebrities, Brian Cathcart, professor of journalism at Kingston University, London, says stealing voice mails was part of a more sinister surveillance culture operated by Murdoch's papers.
The intention was not merely to find out a juicy personal piece of gossip to titillate Sun readers, it was to gather dossiers of personal information about those who might be in a position to help or refuse to help Murdoch or his lieutenants. Those who resisted Murdoch's—or Brooks's—demands risked finding their private lives smeared across his front pages.
Politicians had long before discovered it was better to go along with Murdoch's demands than resist them and risk an avalanche of spiteful ad hominem attacks. Their response was to cozy up to Murdoch, a survival tactic that was adopted by many administrations across all party lines.
When opposition leader, to curry favor with Murdoch Labour's Tony Blair agreed to speak at a News Corp management powwow in Australia. The former barrister Blair still considers himself so much of a friend to Brooks, he offered her advice and encouragement on how to best present her case before the court.
In 2004, Blair's successor, Gordon Brown was called by Brooks to be told that—on information gleaned from a hacked voice mail—she knew one of Brown's sons was suffering from an incurable illness. Having got confirmation from Brown, she felt free to publish that the prime minister's son was a victim of cystic fibrosis. Brown was left fuming with rage at Brooks's gall. Still, three years later, fearful of offending the Murdoch machine, Brown attended Brooks's lavish wedding to the Old Etonian racehorse trainer, Charlie Brooks. And the Brookses were invited to "sleepovers" at Chequers, the British Camp David.
The current U.K. prime minister, David Cameron, paid his obeisance to Murdoch by spending time on Murdoch's yacht sailing the Mediterranean. Cameron had already established a strong social link to Brooks, who, as a weekend neighbor in Oxfordshire, is part of "The Chipping Camden Set," which includes Elisabeth Murdoch. When Coulson resigned from the editorship of the NoW in the wake of the first wave of hacking allegations, Cameron had no compunction about appointing him director of communications for the Conservative Party, then head of press in 10 Downing Street. (Since Coulson's conviction, Cameron has issued a public apology for employing him.)
BBC media commentator Steve Hewlett explains why political leaders were desperate to win Murdoch's support and flatter and favor his "vicar on earth," the sociable but unscrupulous Brooks. "Murdoch had cannily targeted the upper levels of the working class in The Sun," he says. "They tended to be floating voters, so politicians saw their support as essential. The network of relationships that add the crucial poison to the mixture of phone hacking comes from long-term relationships developed off the back of The Sun and developed by nobody better and more assiduously than Rebekah Brooks."
"Politicians have been too frightened to query Murdoch," says member of parliament Chris Bryant. "I think they used the newspapers to keep anybody in line who was undermining the position of [satellite TV network Sky, half owned by Murdoch], which was the main cash cow. It can't be an accident that Tessa Jowell, the culture, media and sport secretary, was probably the most frequently and prolongedly hacked person of all."
"In the most vivid cases, the level of surveillance was like the Stasi [the East German Communist secret police]," says Cathcart, executive director of Hacked Off, a campaign group founded in response to the hacking scandal that includes film actors Hugh Grant, Steve Coogan, Charlotte Church and Heather Mills-McCartney. Targets included not only politicians and celebrities, but victims of crimes and their families, and even journalists, including, on one occasion, Brooks herself. When asked why he had hacked Brooks, the News of the World reporter said, "To find out what The Sun was up to." The biter was bit.
In the case of the singer Charlotte Church, hacking was a prelude to being pressed into performing for free at Murdoch's 1999 New York wedding to his third wife, Wendi Deng—now dissolved—or face negative publicity and vilification in the Sun. "In the case of Charlotte Church, perhaps 20 people in her circle were hacked, including her parish priest, her mother, her ex-boyfriend," says Cathcart. "They employed private detectives who followed people and photographers who chased people down the street."
Those who have worked with Brooks credit her with a "sense of fun" and being "very warm, very touchy-feely." She was generally considered charming, hardworking and intelligent. But charm and hard work were only part of the story. She offered an unexpected glimpse of her fierce temper in 2005 when police responded to an emergency call to her marital home. Brooks, then known as Rebekah Wade, was arrested on suspicion of assaulting her husband, Ross Kemp, and was held in a police cell overnight. After being released without charge the following morning, she dismissed the incident as "a silly row."
The same year, hacking nudged its way into the British consciousness when the royal household concluded that a story in the NoW about an injury to Prince William's knee could only have been obtained by an unauthorized person illegally accessing the prince's voice mails. The villains responsible were soon put on trial: NoW royal reporter Clive Goodman and private eye Glenn Mulcaire, also employed by NoW, pleaded guilty and jailed.
Murdoch's News International insisted that the royal hacking was an isolated incident. But even at the time, that seemed unlikely. While Goodman and Mulcaire were heading for jail, Murdoch's lawyers were busily offering other phone hacking victims generous out-of-court payments to head off any further embarrassing court cases.
In the early stages of the scandal, London's Metropolitan Police were reluctant to reveal how much they knew about the extent of Mulcaire's hacking. When Bryant asked Brooks at a parliamentary select committee hearing whether payments had been made to police officers for stories, she freely admitted that such payments had indeed been made. But Bryant's question was to cost him dearly. He was to discover at firsthand what it was like to incur the wrath of Murdoch's News International.
Bryant, a gay former Anglican vicar, became a Murdoch target. When a rival paper published an old picture of him in his underpants on a gay dating website, the Murdoch papers splashed the story. And that was just the start of a campaign of vilification against him, conducted and orchestrated by Brooks herself.
When Bryant met Brooks at a Murdoch reception for MPs at a Labour conference, she greeted him with, "Oh, Mr. Bryant, it's after dark. Shouldn't you be on Clapham Common [a gay cruising spot]?" According to Bryant's account to the LondonEvening Standard, Brooks's then husband, Kemp, rounded on her, saying, "Shut up, you homophobic cow."
But Bryant was not to be bowed by bullying that easily. When he began to suspect his own phone was being hacked he, with two others, sought a judicial review to force the police to contact hacking victims whose names appeared on documents they had seized from Mulcaire. The police reluctantly complied. And with the release of the thousands of names of those hacked, the vast size of News International's illegal operation became crystal clear.
Thousands of celebrities and politicians, members of the royal household as well as families of victims of other sensational crimes, had had their privacy violated. Over the course of two years, Goodman admitted in a London court he had hacked Kate Middleton's phone 155 times, Prince William's 35 times, and Prince Harry's nine times.
Then, in 2011, it was reported that the cell-phone of a missing teenager, Milly Dowler, had been hacked by the NoW when Brooks was at the helm. Some of the schoolgirl's voice mails had been deleted after she had disappeared in 2002, encouraging her family to believe she might still be alive. But Milly was already dead. Her body was found six months later and a serial killer, Levi Bellfield, was eventually convicted of her murder. The fact that hacking by the NoW had raised the hopes of the girl's parents that their daughter was still alive sparked widespread loathing for the Murdoch press—and for Murdoch himself.
Voice mail messages on the cell phones of over 1,000 victims were hacked, according to Cathcart. Several thousand more are known to have been targeted. Yet the offenses considered in court were confined to the six years between 2000 and 2006, leaving open the question of whether hacking was employed before or after that period. Cathcart points out that hacking the phones of successive home secretaries, responsible not only for London's Metropolitan Police force but for the whole of the U.K.'s internal security, was "monstrous. There are national security implications, and, indeed, to hacking the phones of senior police officers."
With the revelation that criminality at Murdoch's London papers was widespread, the question soon became: who knew what was going on? And how far up the tree did knowledge of the hacking reach? Put another way: Did Brooks know? Did Murdoch know?
Murdoch made a dramatic appearance before a Commons committee investigating hacking and declared, "This is the most humble day of my life." He insisted, however, much to the surprise of his senior editors, that he was far too busy and employs far too many people to have known himself that his London papers were living off endless scoops culled from hacked phone messages. When a protester smacked a shaving-foam pie in Murdoch's face, it seemed there could be no more fitting humiliation for a press baron who had so cynically manipulated his readers.
In the trial, in which Brooks spent 13 days in the dock being quizzed, she presented herself as a misunderstood character. Off came the battle-hardened woman struggling to make her way in the cutthroat, masculine world of the what Pollard calls "testosterone-fuelled newsrooms;" on went a hapless woman struggling to make sense of how to respond in a rough and tough man's world. The switch in persona appears to have persuaded the jury that Brooks was incapable of presiding over a web of criminality.
While Brooks faced a long grueling and lonely trial, Murdoch maintained close contact with her, offering her an empty office near his in News Corp's New York headquarters as if to suggest that as soon as the trial was over she would be welcome back. But there seems little chance of that. Brooks became a victim of her own tabloid methods. Although technically exonerated, she remains a flawed, toxic figure who at the very least allowed the company she was managing to suffer a profound public relations disaster which forced it to split in half and from which its press division may never recover.
Many other lives are also left in tatters. Journalists and editors have been arrested, found guilty and jailed. Three senior police officers were forced to resign and major police investigations were launched into how the press had corrupted the police. The U.S. federal authorities have yet to decide whether the bribing of public officials proven in British courts will lead them to prosecute News Corp under the Foreign Corrupt Practices Act. Cameron has been shown to have fatally poor judgment when it comes to making pivotal appointments. The Murdochs are now persona non grata in London, shunned by the very people they used to command and a laughing stock among readers of their newspapers.
The scandal led to a major judicial inquiry into the standards of behavior of the British press, headed by a high court judge, Lord Justice Brian Leveson. He has recommended that Fleet Street's shaky self-regulatory process be placed under the supervision of a Royal Commission armed with legal powers to enforce meaningful punishments for those who breach their codes of practice. The press have continued to vigorously oppose such independent oversight.
The whole sorry business has reinforced a general feeling that, to paraphrase Shakespeare, "there is something rotten in the state" not of Prince Hamlet's Denmark but of Prince William's England. It has provided a focus for those who feel that for over 40 years, Murdoch, once Australian, then British, now an American citizen, has used his papers to cheapen and distort British public life.
"I hope this trial will mean that the British political elite will realize that we don't have to be run by Rupert Murdoch as a country," says Bryant. "We have allowed one man who isn't British and who doesn't pay taxes here to own 40 percent of the national press, plus the largest broadcaster by value, because Sky has twice as much money per year as the BBC."
As for Rebekah Brooks, "She's a chameleon," says Bryant. "If Labour are in power, she has a Labour-supporting husband and goes to football. If the Conservatives are in power, she has a Conservative husband and goes horse-riding. Her only principle is 'Rebekah first and last.'"