Data Scientist Rebekah Jones Files Lawsuit After 'Sham' Armed Raid On Her Home
Data scientist Rebekah Jones is suing the commissioner of the Florida Department of Law Enforcement (FDLE) and two other agents after an armed raid at her home earlier this month.
Jones helped develop Florida's COVID-19 dashboard, but was fired from the Florida Department of Health (DOH) in May.
Officials said her termination was due to insubordination, but she has alleged it came after she refused to manipulate the state's coronavirus data to make the state's outbreak appear less severe and justify lifting lockdown restrictions.
She has since publicly questioned the accuracy of the state's figures and been a vocal critic of Florida Gov. Ron DeSantis' response to the coronavirus pandemic.
Agents investigating whether Jones improperly accessed a statewide government messaging system used for emergency alerts served the search warrant on Jones' Tallahassee home on December 7.
Jones posted a 30-second clip of the raid on Twitter, where it quickly went viral, and accused DeSantis of orchestrating it to "intimidate scientists and get back at me, while trying to get to my sources."
The FDLE later released body camera video showing officers removing Jones, her husband and young children from their home before seizing her belongings.
Jones is now suing FDLE commissioner Rick Swearingen, FDLE agent Noel Pratts and another agent, alleging the raid was carried out by the agency to "ingratiate itself" to DeSantis and silence her.
Her complaint, filed in Florida's Second Judicial Circuit and obtained by Newsweek, also alleged the search warrant had been "obtained in bad faith" and "with no legitimate or clear purpose."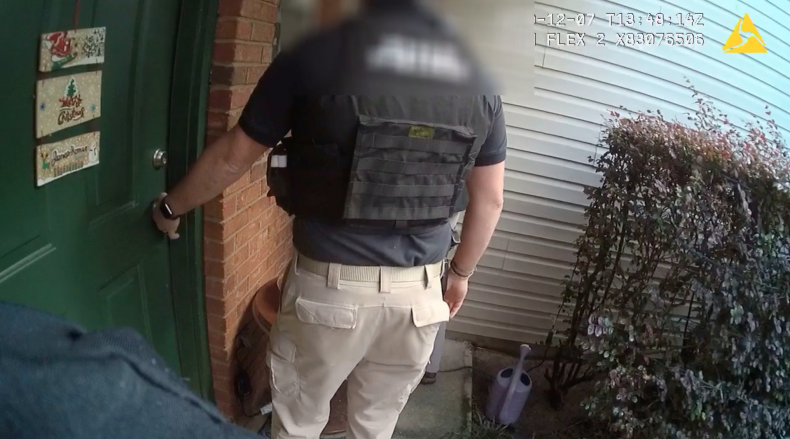 Pratts is the officer in charge of the investigation into Jones while the other agent, listed only as John Doe, was one of the officers involved in the raid. Jones is seeking damages and relief from the three defendants for violating her First, Fourth and Fourteenth Amendment rights and state law, according to the complaint.
Agents entered Jones' home "with guns drawn, terrorizing her family," the complaint says. "They were there to execute a search warrant for her electronics devices; however the basis of the warrant was a sham to punish [Jones] for her protected speech."
The complaint alleges that Jones was fired for refusing to falsify statistics on the COVID-19 dashboard she created for the DOH.
The firing "captured a great deal of media attention nationally and in Florida, much of it negative toward" DeSantis, who the complaint adds is "widely believed to have had a hand in the firing."
DeSantis publicly denounced Jones "in the most vitriolic and vituperative manner" on a number of occasions—something the complaint argues any state official including Swearingen and Pratts would be aware of.
The complaint also argues that the COVID-19 dashboard Jones set up after her firing as a transparent alternative to the government's tracker has infuriated DeSantis because it "exposes the ongoing falsification, suppression, and misleading that are salient features of the State's data reporting about COVID-19.
The message that led to the raid on Jones' home was sent on November 10 and urged DOH employees "to speak up before another 17,000 people are dead. You know this is wrong. You don't have to be a part of this. Be a hero."
The complaint denies Jones wrote or sent the message.
Pratts in an affidavit said the message had been traced to Jones' IP address "through the use of investigative resources," but the complaint says those resources have not been specified.
The complaint also argues that Pratts made no mention of the possibility that Jones' IP address could have been "spoofed" and adds that an IP address is not a reliable enough indicator to justify a search warrant.
"Nor did he consider how unlikely is the notion that [Jones] would want or need to post anything anonymously to a small group after having appeared on national TV news shows dozens of times and in every major media outlet nationally and in Florida," it adds.
The complaint also cited recent media reports that revealed the username and password for the DOH's private messaging system that Jones is accused of illegally accessing was posted in publicly available documents on the DOH website.
"There is no possibility that access could be unauthorized when the DOH website, in seven places, describes how anyone can access the site with no indication that access is restricted in any way," the complaint says.
"It is not even theoretically possible that whoever sent the message committed a crime, so there is no possibility that a legitimate search warrant could issue to find out whether [Jones] sent the message."
Rather, the search warrant was because the FDLE was "seeking to ingratiate itself to DeSantis" and "sought to silence [Jones'] online speech by confiscating her computer and to discover her confidential sources and other information by seizing her cell phone," the complaint argues.
"That was the motive for obtaining the search warrant, not the ridiculous notion that FDLE believed [Jones] sent the message at issue and that it would have been illegal so to do."
DeSantis defended the agency in the aftermath of the raid, telling reporters: "They've been smeared as the gestapo for doing their jobs. They did a search warrant. Why did they do a search warrant on the house? Because her IP address was linked to the felony. What were they supposed to do? Just ignore it?"
The complaint also detailed how the raid left Jones and her family traumatized. Jones was in bed when an agent first called her, it said. Believing they were there to arrest her, she began to prepare to be apart from her children and call her lawyers.
Agents "eventually pounded on the door and demanded entry, with one holding a sledgehammer," it says.
Jones opened the door within 39 seconds of the first time an agent mentioned a search warrant, according to the complaint. "Two agents, with guns drawn, rushed into the residence and stood at the bottom of the stairs, bellowing for [Jones'] husband to come down, pointing their guns up the stairs," the complaint says.
Her husband appears holding the couple's two-year-old daughter in his arms and with their 11-year-old son by his side. "The agents lowered the guns to let them descend. The family members were terrified and traumatized," according to the complaint.
At the time, Jones remained outside with several FDLE agents and a Tallahassee police officer.
It was there that, according to the complaint, one of the agents assaulted Jones while she posed no threat to anyone.
"Defendant Doe without consent, authorization, or legitimate basis grabbed [Jones'] midsection, ran his hands up and down her ribs, and gripped her sides just below her breasts," the complaint alleges.
"There was no law enforcement purpose for the assault on Plaintiff. The touching was against [Jones'] will," it adds. "Defendant Doe acted for his own gratification, but used his authority as a state law enforcement agent to touch Plaintiff's body in a way that would earn him a slap in the face in any other circumstance."
The complaint also said Jones and her family have been forced to move after Swearingen released an unredacted version of the Tallahassee police officer's bodycam video and an unredacted copy of Pratts' affidavit in support of the search warrant.
Both the video and the affidavit contained Jones' full address and phone number as well as other personal information, the complaint says.
Jones received harassing phone calls and hate mail as a result, and had to change her phone number as well as hire an armed guard to protect her home, according to the complaint.
"She has been placed in such fear for her and her family's safety that she is pulling up roots and moving out of state," it added.
In a statement to Newsweek, Swearingen said: "As I have said before, I am proud of the professionalism shown by our FDLE agents as they served a legal search warrant on the residence of Rebekah Jones. Our criminal investigation continues, and while I have not seen this lawsuit, I believe the facts will come out in court."
Jones' attorney, Lawrence G. Walters, told Newsweek: "This suit asks the court to protect our client's constitutional and civil rights in connection with the abusive raid on her home."
"As detailed in the complaint, we believe that the search was retaliatory and motivated by a desire to punish our client for her critical comments regarding the Governor's handling of the COVID 19 response and her whistleblower complaint.
"What happened to our client should never happen to anyone in a free country. Rebekah is entitled to speak her mind and assert her rights under Florida's whistleblower statute without fear of government agents bursting their way into her home with guns drawn to seize her communication devices. We're asking the court to put a stop to this abuse and to return our client's private property."
The DOH have been contacted for comment.
Update 12/21/20, 12:15 p.m. ET: This article was updated with a statement from FDLE Commissioner Rick Swearingen.