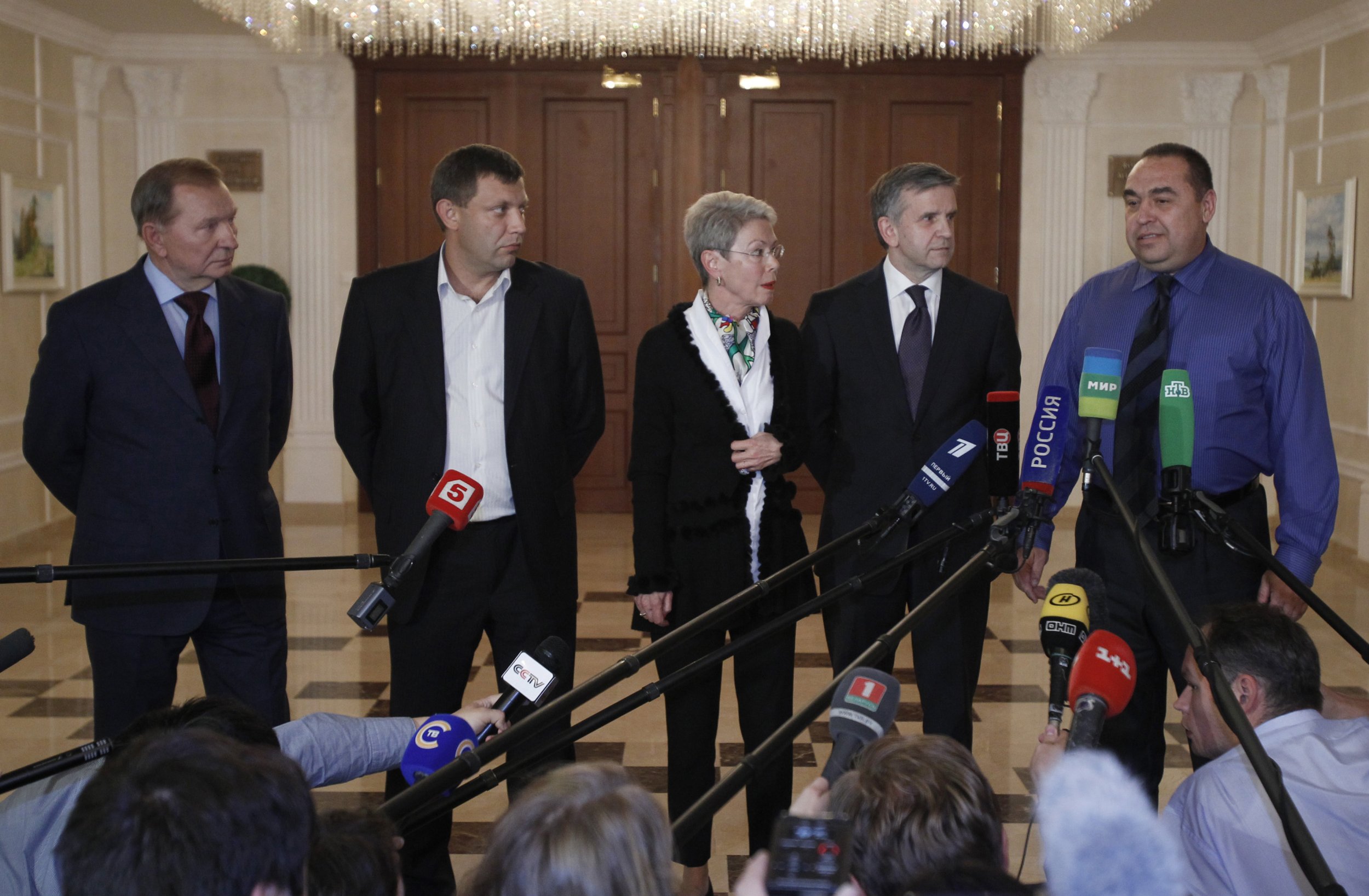 The head of east Ukraine's separatist People's Republic of Luhansk (LNR) has challenged Ukrainian President Petro Poroshenko to a duel to bring a decisive end to the conflict between government loyal forces and pro-Russian rebels in Ukraine's east.
"Let's follow the example of the ancient Slav and Cossack chieftains and face each other in a duel," said Igor Plotnitsky, head of the self-proclaimed LNR, told Russian state news agency TASS on Wednesday.
"Whoever is declared winner dictates the rules the loser's country has to follow," Plotnitsky added, before putting himself forward to represent both his own separatists and those in neighbouring Donetsk in a duel with Poroshenko to "put an end to the war".
The rebel leader's announcement follows President Poroshenko heightening tension in what remains of a tattered ceasefire between the two sides earlier this week by announcing Kiev is ready for "total war" with the rebels.
Fighting between forces loyal to Kiev and pro-Russian separatists has killed more than 3,600 people since April according to the UN and Plotnitsky believes a face off between leaders is the best way to avoid bloodshed.
"Let Petro Poroshenko spill his own blood for once and prove to the people that elected him that he is truly a leader, that he is capable of defending them with his own life on the line," Plotnitsky said.
"I am not offering settling it only by fist fight," Plotnitsky said, adding that he is ready to face Poroshenko in whatever contest and setting the Ukrainian president chooses.
"Both sides will have the right to bring ten observers each and ten more press members so the duel can be judged fairly," Plotnitsky proposed. "I will not object to a live broadcast [of the duel] going on any television channel, if you consider it possible to arrange," he added.
"If you want to spill the blood of yours and our soldiers, their wives, their mothers, the elderly and the children, prove that you are ready to spill your own blood… accept my offer!" Plotnitsky said, addressing the Ukrainian president.
Asked what his chances of winning were, Plotnitsky, whose election as leader of Luhansk earlier this month was not recognized by Kiev, the EU or US, said there was "no possibility" of him losing.
"I have suggested an ancient tradition, where God alone punishes the unworthy competitor," the rebel leader said.
"We have always argued and reiterated that ours is the worthy cause and victory will be ours. We have proven this before and we can prove this again, but already this has come at a price of the death of many people on their side as well as on ours. Why should this be?"
According to the rebel leader, should President Poroshenko accept his challenge and lose, Plotnitsky's first act as victor will be to make peace between the People's Republic of Luhansk with Kiev and establish a "lasting economic relationship" between separatists and Kiev.
While both men have served in the USSR army, Plotnitsky outranks Poroshenko, as he rose to the rank of major, while Poroshenko did not return to the armed forces after his two year service and instead dedicated his time to higher education and amassing a billion dollar fortune from his confectionery business which earned him the nickname the 'Chocolate King'.
Plotnitsky is also one year Poroshenko's senior, aged 50.
The Ukrainian president has not yet responded to the challenge but his advisor told press at a conference today that Poroshenko is in talks with the US to provide assistance and weapons in fighting the Luhansk and Donetsk pro-Russian rebels.
The Ukrainian government has ruled out a meeting with rebel leaders to negotiate an end to the conflict, as it holds Russia responsible for inciting tension on Ukrainian territory. Meanwhile Russia has refused to accept responsibility and maintained that Russian soldiers in Luhansk and Donetsk are only there as volunteers and not under the orders by the Kremlin.