Rebel Shelling Kills at Least 8 Schoolchildren in Aleppo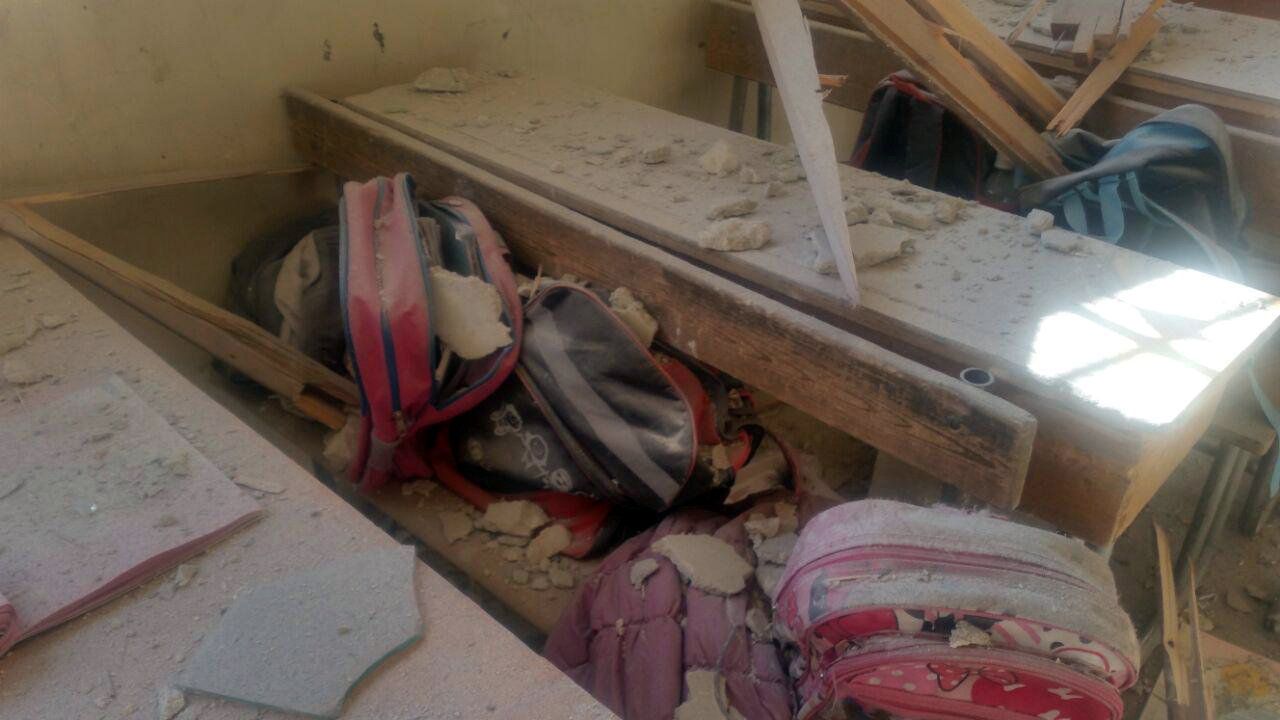 Rebel shelling killed eight children at a school in the government-held part of Aleppo on Sunday and a barrel bomb killed a family of six in the rebel-held area, where a heavy government bombardment has knocked out all the hospitals.
Hundreds of people have been killed since Tuesday in a concerted push by the government and its allies to quash resistance in the rebel-held eastern part of Aleppo to reestablish control over Syria's biggest pre-war city. On Sunday they advanced into the Hanano district on its northern edge, threatening communications between the northern and southern halves of the rebel-controlled area.
The bombardment, one of the most intense in the almost six year-old civil war, has taken a heavy toll on civilians.
Two medics said the al-Baytounji family had suffocated to death because the barrel bomb, which fell in the Sakhour district at about midnight, had been laced with chlorine gas. The Syrian Observatory for Human Rights, which monitors the war, confirmed the bombing but could not confirm that chlorine gas was used. Damascus has denied use of the gas, which would contravene the international Chemical Weapons Convention.
Rebel shelling killed at least eight children, aged from six to 12 years, among 10 deaths in the Saria Hasoun school in al-Farqan district, the Observatory and Syrian state television reported.
An official with a rebel group based in east Aleppo said there were still no working hospitals there on Sunday, a day after the World Health Organisation reported that bombing had put them all out of action.
The military and Russia's air force had paused their bombardment of eastern Aleppo, except for on the frontlines, for two weeks after a month-long offensive from late September to late October, but recommenced strikes on Tuesday.
The army and its allies began some ground attacks on Friday. The Observatory reported intense clashes in Sheikh Saeed in southeast Aleppo and in Baeedain and Bustan al-Basha in northeast Aleppo.
Lebanon's Hezbollah militia, one of the army's main allies in the fighting, said on Sunday that the army and its allies had advanced in Hanano and pro-government forces were bringing big reinforcements to the city. The Observatory confirmed the Hanano advance.
An inquiry by the United Nations and the Organisation for the Prohibition of Chemical Weapons has said Syrian government forces have used chlorine gas in barrel bombs at least three times during the war. Damascus denies it.
Syria also denies using barrel bombs—improvised ordnance made by oil drums filled with high explosive and shrapnel and dropped from helicopters. Their use has been condemned by the United Nations for causing unnecessary suffering.
Air strikes continued to hit several districts of eastern Aleppo early on Sunday, the Observatory said, after at least 54 people were killed in bombing on Saturday.
So far, around 240 people have been killed in bombing in eastern Aleppo and the rebel-held countryside to the west of the city since Tuesday, it added.
Staffan De Mistura, the envoy of the United Nations secretary general, met Syrian Foreign Ministry officials on Sunday and later acknowledged differences. He said he had proposed that Damascus should recognize the local administration in rebel-held east Aleppo if jihadist fighters left the city, but Foreign Minister Walid al-Moalem rejected this in a televised news conference.
An elected city council there oversees services and De Mistura said that while he recognized the government's need to maintain sovereignty, Aleppo should be treated as a special case.
Moalem said that the arrangement was intended by rebel groups to control distribution of food and that they were holding the civilians of eastern Aleppo hostage.
Asked about Damascus' expectations from U.S. President-elect Donald Trump, he said it wanted him to stop arming rebel groups and to curb regional powers who also did so.