Rebel Wilson's Swipe at Meghan Markle Misses Key Detail
Australian actress Rebel Wilson has described Meghan Markle as not being as "cool" or "naturally warm" as Prince Harry, after introducing her mother to the royal couple at a polo event in 2022, however, her assessment missed a key detail which could account for the duchess' reaction.
Wilson opened up about Harry and Meghan last week on an episode of Bravos' Watch What Happens Live with Andy Cohen, who was recently a guest on Meghan's Archetypes podcast.
Describing how she introduced her mother to the couple at the polo game, Wilson said: "We went up to Santa Barbara, met Harry, [he] could not have been nicer [...] But then Meghan was not as cool. She wasn't as naturally warm. But maybe, I don't know, my mom being Australian just asked her all these like, slightly rude questions [...] like, 'where are your kids?' and things like that. I was like, 'Mom don't ask her that!'"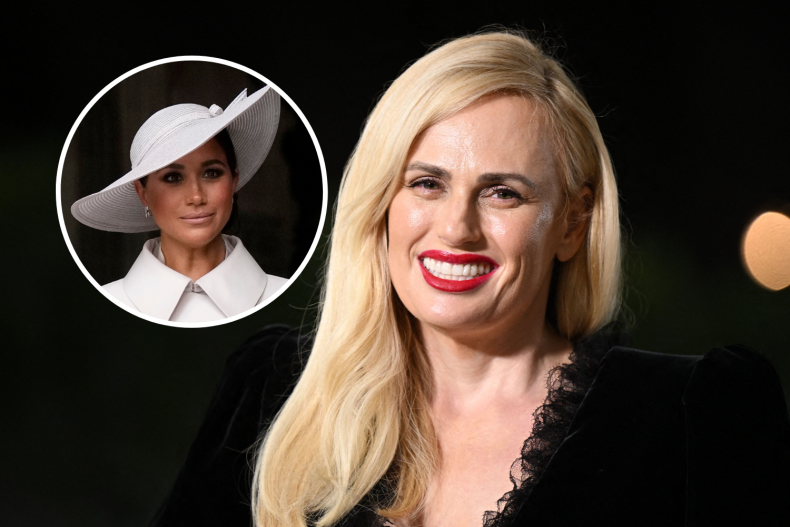 The star's meeting with the royals was well documented at the event in May, after she posted a photograph with the prince captioned "Team Harry!" to Instagram.
The meeting was widely reported as it closely followed a public jab taken at the couple which could have accounted for Meghan's less than warm reaction.
Just two months prior, Wilson hosted the British Academy Film Awards (BAFTAs) and made headlines by mocking the Sussexes bombshell interview with Oprah Winfrey which had aired during the previous year.
Announcing the category for Outstanding British Film, the actress said: "From drama to horror, to fantasy, Harry and Meghan's interview with Oprah had it all. Unfortunately that's not nominated in this category, but some incredible films are."
The cameras filming the ceremony's official broadcast then cut to the audience which saw actress Emma Watson giving a reserved reaction.
In a normal year, Prince William and Kate Middleton would have been attending the ceremony, with William being BAFTA's president, however, owing to what were described as "diary constraints" the couple stayed away.
Wilson's joke followed an interview she gave promoting her BATFA appearance on British TV, in which she said that she expected the royals to be fine with her commentary, citing their sense of humor and adding that she had a contact at the palace who she could check her material with.
"I do have a connection with a royal family member who I may text certain jokes to see if it's OK by them," she told BBC's The One Show. "They [the royals] actually have a really great sense of humor. People think [not] because of their position but they like to laugh as well!"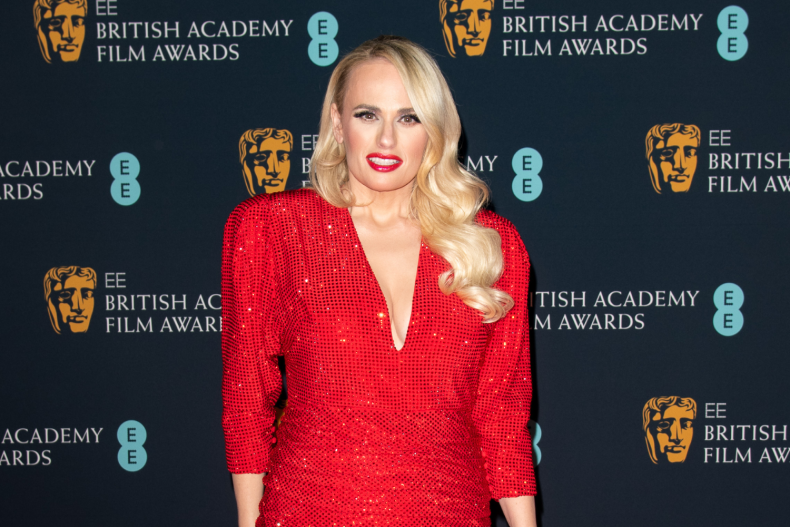 The star had made the royals the center of a previous BAFTA joke in 2020, while William and Kate were in attendance.
It followed Harry and Meghan's exit from the royal family and also the scandal surrounding Prince Andrew's sexual abuse allegation. Opening her speech presenting the Best Director award, the star said: "It's really great to be here at the Royal Andrew—Royal Harry—Royal Philip—no, Royal... Palace Place?"
In an interview with The Sun newspaper after the event, she explained: "I did speak to Kate and William's private secretary after the BAFTAs and all seemed fine."
Wilson's comments about Meghan on Thursday night followed a period of negative polling for the duchess whose net approval rating stood at -17 in February, according to research conducted by Redfield & Wilton for Newsweek.
This marked a 40 point drop from her +23 rating before the release of the Netflix docuseries Harry & Meghan, and Harry's bombshell memoir Spare.
The actress' What What Happens Live commentary earned Wilson some criticism on social media from fans writing in defense of Meghan.
British broadcaster Lorraine King took to Twitter on behalf of the duchess, writing: "Hold on. Rebel Wilson's mum asks Meghan Markle rude questions and now Rebel is prattling on about how Meghan wasn't 'naturally warm' to them. There's a lot to unpick here but let's start off with the fact that you can't expect someone to be welcoming when you are rude to them."
In another post, she continued: "And now Rebel is being given a platform to slag Meghan off she's hurling a milder version of the 'angry black woman' trope. If someone was rude to me I'm going to be off with them as would most people. So Rebel needs to go and sit down and keep Meghan's name out of her mouth."
Newsweek approached representatives of Meghan Markle and Rebel Wilson for comment.
James Crawford-Smith is Newsweek's royal reporter based in London. You can find him on Twitter at @jrcrawfordsmith and read his stories on Newsweek's The Royals Facebook page.
Do you have a question about King Charles III, William and Kate, Meghan and Harry, or their family that you would like our experienced royal correspondents to answer? Email royals@newsweek.com. We'd love to hear from you.