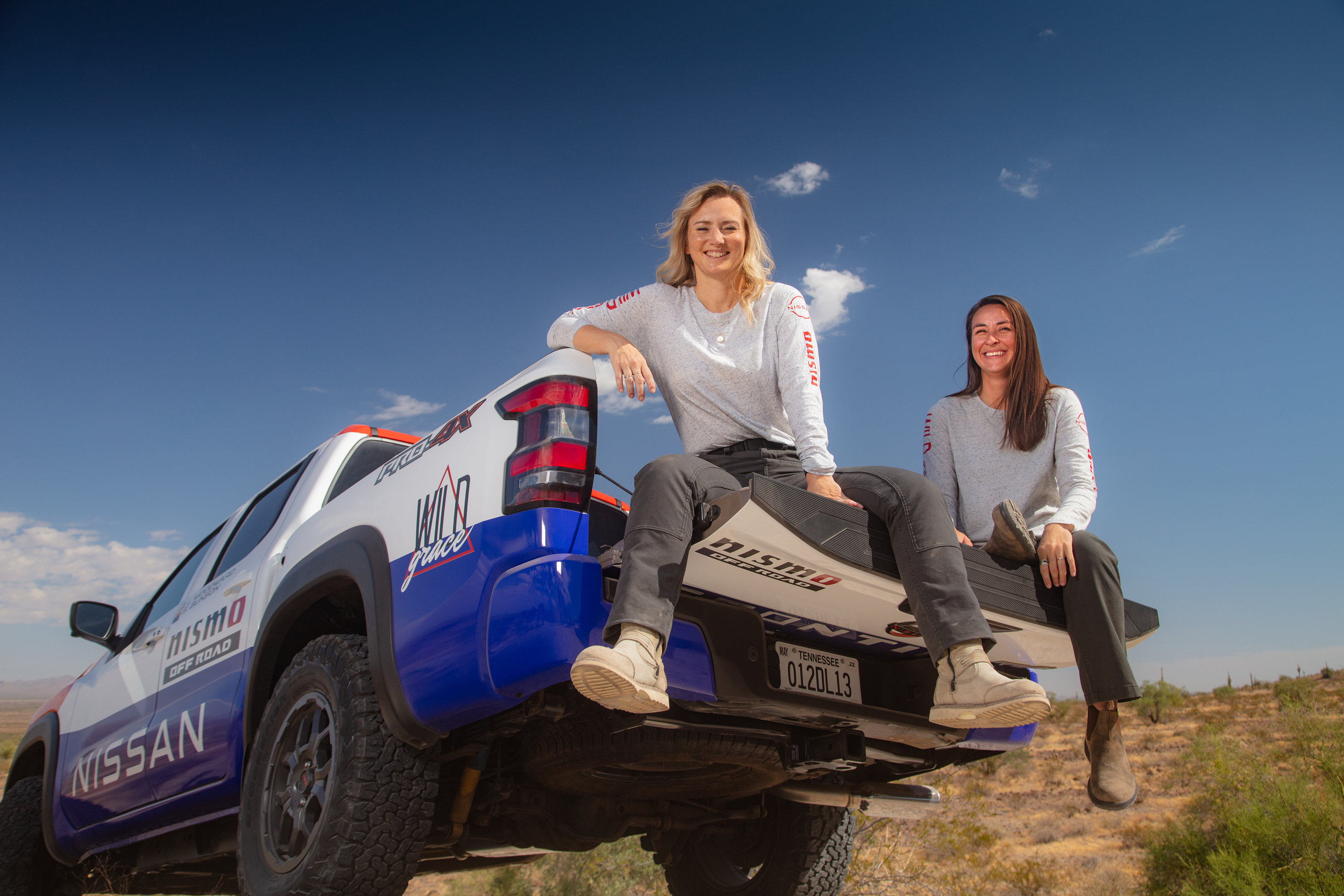 A roster of 52 teams hailing from 92 cities, 24 states and provinces, and five countries set out across the barren land of the West this weekend marking the start of the sixth iteration of the Rebelle Rally. The event stretches 10 days and covers over 1,400 miles this year, across Arizona, Nevada, and California.
Uniquely, each of the teams is made up of a duo of women. Nissan has partnered with a team each year of the Rebelle, the only automaker to do so. This year the company is working with Team Wild Grace co-captains Sedona Blinson and Lyn Woodward.
Blinson, a preschool teacher, wife and mother, has raced Rebelle since its first edition, which she signed up for when she was seven months pregnant. "I knew when I signed up that I would have an eight-month-old baby and a three-year-old at home, but I thought if I don't sign up for the very first one, I will never do it. I will always put it on the back burner," Blinson said in a blog Nissan posted before last year's event.
"I wanted to compete to start the first year it was really to find a little piece of myself after becoming a mom I wanted to experience things that were separate from that and from what I was," Blinson told Newsweek. "It was an incredible way to do that. I just can't shake the Rebelle."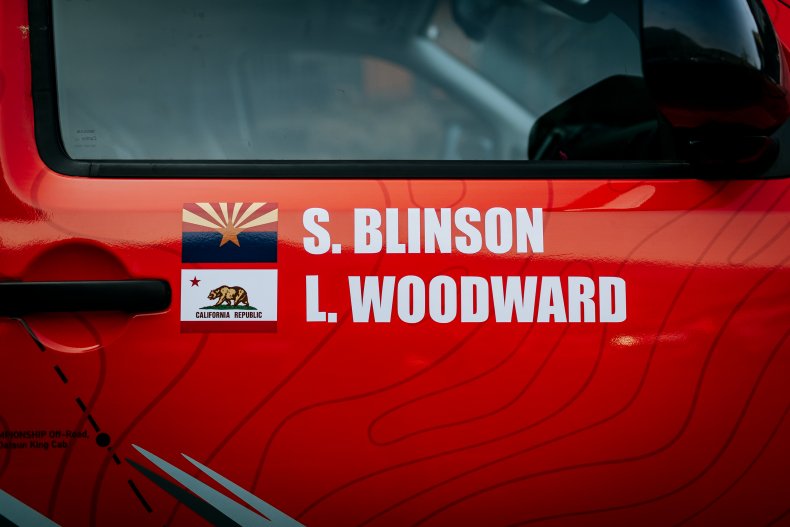 Woodward's first Rebelle was in 2017, but it was far from an ideal experience. At the time she had a different drive partner. She's competed every year since 2019 with Blinson, having taken 2018 off.
The next-generation Nissan Frontier the duo is traveling in through the desert has been wrapped with a design inspired by retro Nissan hardbody trucks of the 1980s but it carries a host of new equipment that the Rebelles will be able to take full advantage of, like Zero Gravity seats and an engine that offers best-in-class power. There's also a range of NISMO Off Road parts installed.
Team Wild Grace got a taste of the new truck last year, raving a last-generation 2021 Frontier that was equipped with the new V6.
They won't be able to take advantage of the car's infotainment system with navigation. Rebelles must rely on analog tools like a compass and hand-held maps to get around the terrain.
"As far as our needs go, we really benefit from an analog truck. For us, having the truck with the new powertrain [last year] was really outstanding. We're anticipating that this year will be no different. It's modern and rugged looking but dynamically set," said Blinson, calling the engine "an absolute workhorse".
The 2022 version of the truck is also quieter, leading team Wild Grace to tell Newsweek that not having "to yell at each other" while driving is an advantage.
Team Get Lost doesn't have the years of experience that Team Wild Grace does, but that didn't deter sisters Elizabeth and Allison Williams from entering the rally. Elizabeth fell in love with the Rebelle when she was introduced to it by multiple-time Rebelle Rally winner Emme Hall when Hall approached Williams about getting a Rolls-Royce Cullinan to race in the event in 2019. For her day job, Williams works for the Rolls-Royce Motor Cars communications team.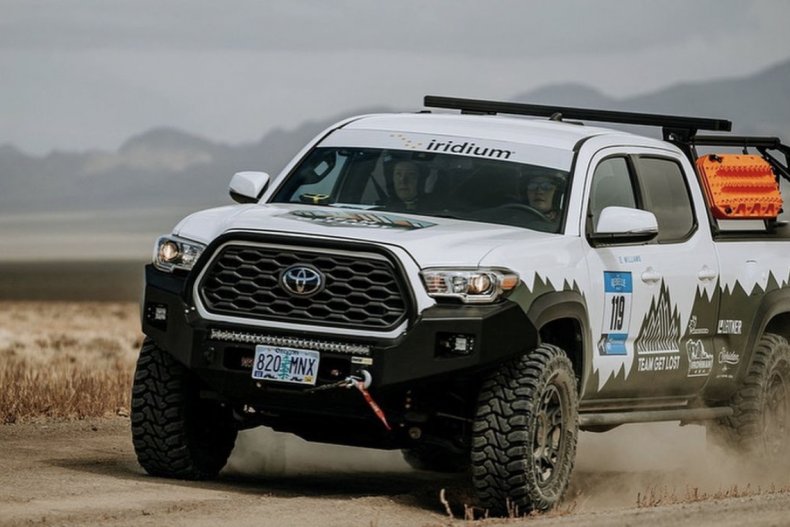 Williams joined the Rebelle on each stage that year, keeping track of the vehicle as Hall and partner Rebecca Donaghe worked for a week behind the wheel of the Cullinan, eventually taking the win in the crossover class.
Since that experience ended, Williams hasn't been able to kick the notion of competition. "It just snowballed from there," she told Newsweek.
Like Blinson, the Williams sisters are in the competition to prove something to themselves. They're especially excited to be pushed outside their comfort zones.
A big part of that, Allison Williams explained, is the fact that navigation systems and other modern convenience technology isn't allowed. "I was immediately drawn to the fact that so much fo the rally is around a compass," said the self-described hand-held maps geek.
The sisters were also drawn to the fact that Rebelle isn't "some women's version of an existing endeavor" that was originally designed for men, Allison said. Rebelle has always been women-only, and a large variety of women take place - medical professionals, school teachers, retirees, mothers, grandmothers, engineers, retired military members and journalists among them.
Team Get Lost is competing in a 2021 Toyota Tacoma TRD Off-Road that Elizabeth selected and had built specifically for Rebelle. She purchased the truck in November and worked with the management at Beaverton Toyota and Crew Customs to get the truck ready, taking their advice and installing an Ironman 4x4 Foam Cell Pro Suspension, Metal Tech rock rails and a Leitner bed rack and gear pods. The rig rides on Nexen Roadian MTX tires.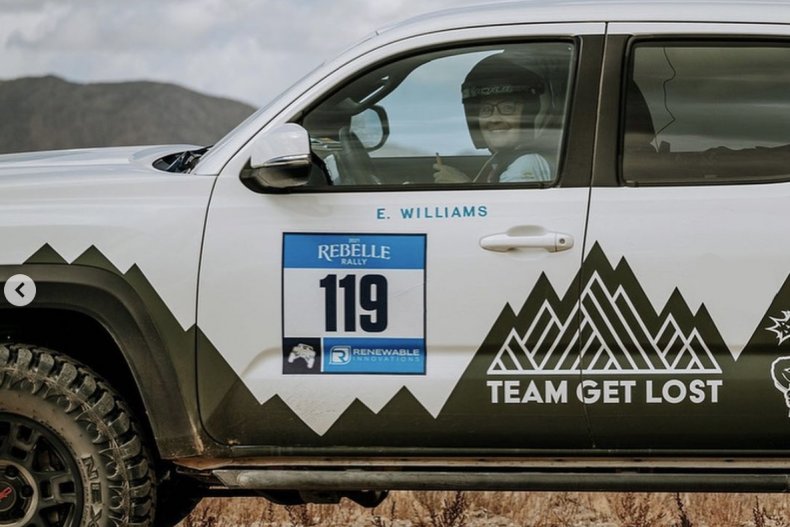 The Rebelle Rally will wind its way over mountains, through deserts and finish with a day at the Imperial Sand Dunes in California. That's one of the appeals for the Williams sisters, who will be traversing terrain they don't get exposed to in their regular life.
The sisters are going head-to-head competing with Team Wild Grace. "We are up against some really formidable teams but we're also one of those formidable teams," the Nissan-backed team told Newsweek.
The Rebelle Rally is currently underway and runs through October 16.