One of the organizers of a petition to recall Gavin Newsom accused the California governor of being his "own worst enemy" as the campaign said it had gathered 820,000 signatures.
Randy Economy, a senior adviser to the recall campaign, said the Democrat's "own missteps" were a significant reason why "everybody is interested in getting Gavin Newsom out."
State records show that nearly half a million people have signed the petition, although organisers say the real total is about 820,000, with many signatures still being processed by county election officials. The campaign has until mid-March to gather the likely 1.5 million signatures required to get the potential recall on the ballot.
Appearing on Fox News on Tuesday, Economy was asked why people were supporting the campaign. He said: "It's a combination of his own missteps, and it's all about him and his record, and how he's been just an absolute disaster of a governor for the past year and a half."
Economy cited several recent controversies, including the governor's decision to attend a dinner with a large group at an upmarket restaurant in Napa when COVID restrictions allowed only three households to meet.
"What makes it different is that it's Gavin Newsom himself, this governor is his own worst enemy. Everyday he does something more that puts him deeper and deeper into controversy and he's become a problem here in California."
Newsom was widely praised for his aggressive approach to the coronavirus last spring, when he issued the first statewide stay-at-home order in the U.S.
Most Californians—about 85 percent of the state's 40 million people—are living under a new stay-at-home order that has closed businesses and banned people from meeting with other households.
Asked about the recall bid on Tuesday, Newsom did not address the petition directly and called for a "focus on public health" in order to help the economy.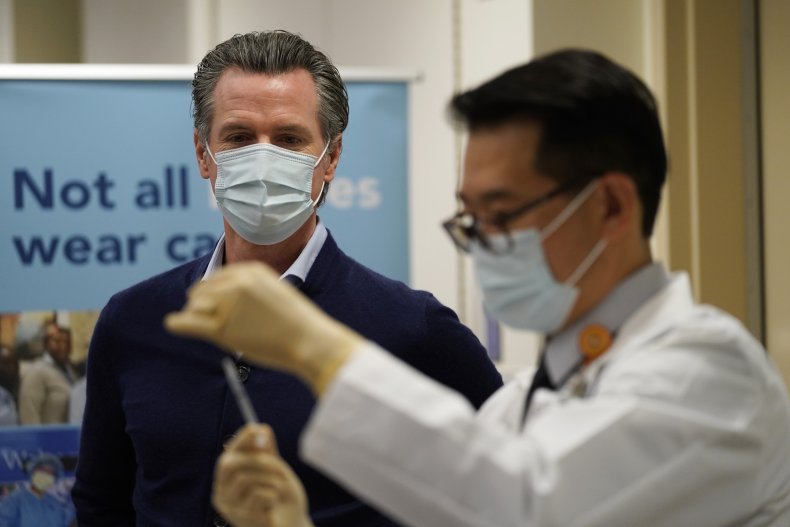 He said the chance to end business closures "presents itself anew today" and that post- pandemic California would be "more resilient, more vibrant than ever."
"And so the most important thing we can do, from an economic perspective, is focus on public health, focus on mitigating the spread of this virus, eliminating this virus," he told reporters in an exchange released by Fox News affiliate KTTV.
The governor added that wearing face coverings was the most important thing people could do until they receive a vaccine.
Recalls are rare. However, California did witness one in 2003, when Arnold Schwarzenegger was installed as governor after deposing Democrat Gray Davis.
Newsweek has approached Gov. Newsom's team for comment on the petition.
California recorded new highs for COVID-19 deaths (1,112) and new cases (218,705) in the week to December 12, according to John Hopkins University. Those figures helped bring the state's total death toll to more than 21,000 and the number of confirmed cases to more than 1.6 million.