200,000 Pounds of Meat Products Recalled Over Life-Threatening Undeclared Allergens
The United States Department of Agriculture has put out a notice to recall 200,000 pounds of Mr. Wok Foods branded meat and poultry, due to misbranding and undeclared allergens, some of which could be life-threatening.
Possible ingredients not mentioned on various Mr. Wok Foods packaging includes milk, wheat, soy, peanuts, and oysters, all of which are known allergens.
The Las Vegas, Nevada, company's product labels also neglected to mention that there may be traces of MSG, sesame products and sulphites in the products.
The issue was found during a routine review by the USDA Food Safety and Inspection Service.
Frozen items recalled include Tempura Fried Chicken Nuggets, Tempura Fried Pork Nuggets, Kung Pao Chicken, Sliced Chicken Breast, Pork with Bulgogi Sauce, Pork with Moo Ping Flavor, Chicken Curry, Pork with Mushroom Shui May, Chicken Meatballs Buffalo, Sliced Beef, Chicken Fajita Strips and more.
The full list of more than 20 items can be found on the USDA website. The recalled frozen meat and poultry items were produced from August 6, 2019 through August 6, 2020.
The USDA stated that "there have been no confirmed reports of adverse reactions due to consumption of these products." It advises that those concerned about an injury or illness as a result of consuming the recalled meat should contact a healthcare provider.
"The items were distributed for institutional use in vending machines and restaurants nationwide," stated the USDA.
Newsweek has contact Mr. Wok Foods for further comment on the recall.
Consumers with food safety questions can call the toll-free USDA Meat and Poultry Hotline at 1-888-MPHotline (1-888-674-6854), recalls are published on the USDA website.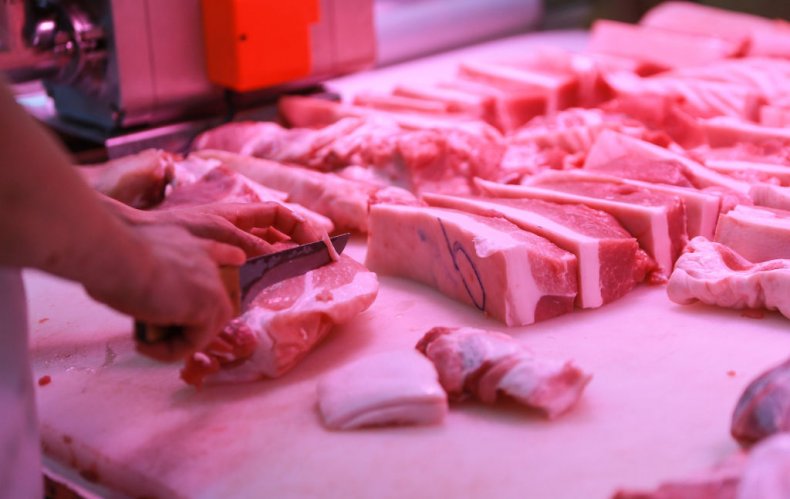 According to the American Academy of Allergy, Asthma and Immunology, peanut allergies are the most deadly of the food-allergies. A hypersensitive reaction to peanuts affects around 0.6 percent of the general population. Adolescents with asthma are at the greatest risk.
The AAAAI recommends that those suffering from food allergies always ask about ingredients when eating at restaurants or consuming foods that are made by family or friends, and to check all food labels meticulously.
The body also advises that those with known food allergies may be prescribed an auto-injectable epinephrine and antihistamines in order to treat emergency reactions.
It's wise to teach friends and family members how to treat those suffering from food allergies. Sufferers may also consider wearing a medical bracelet to alert the public and medical staff in an emergency. Go to the emergency room after a food allergy reaction.