'Recall Newsom!': California Governor Repeatedly Heckled During Press Conference
Governor Gavin Newsom was heckled by protesters demanding a recall vote during a press conference on California's latest coronavirus figures.
The embattled politician, who is facing recall efforts that would trigger a fresh gubernatorial election not otherwise scheduled until late 2022, was jeered as he spoke to the press in Fresno and revealed more than 5 million people had received their COVID shot in the state.
Off camera a group of protesters could be heard loudly chanting "Recall Newsom" as he gave an update on efforts to tackle the virus, which has claimed the lives of around 45,000 people in California alone.
He did not respond to the heckles and continued to answer questions on the state's response to the pandemic.
At the briefing, Newsom revealed the first two cases of the South African variant of the virus had been discovered in the state—one in Alameda County and one in Santa Clara county.
Newsom also said both COVID infections and hospitalizations in California were down significantly on a month ago.
"Real progress is being made," he said. "We announced new vaccination sites just this week up and down the state of California."
He said he was now focused on ensuring "underserved and underrepresented communities were getting fair access and distribution of these vaccines," but added: "We are falling short of our goals of making sure that we truly are being equitable in the distribution and administration of this vaccine."
It comes as Los Angeles is temporarily closing five COVID vaccination sites after running out of doses this week, with the city's mayor warning the supply of new vials was "uneven" and "unpredictable."
L.A. has so far vaccinated nearly 300,000 of its four million residents, but Eric Garcetti said the roll out had hit an "enormous hurdle" which left clinics low on stock and appointments for the weekend canceled.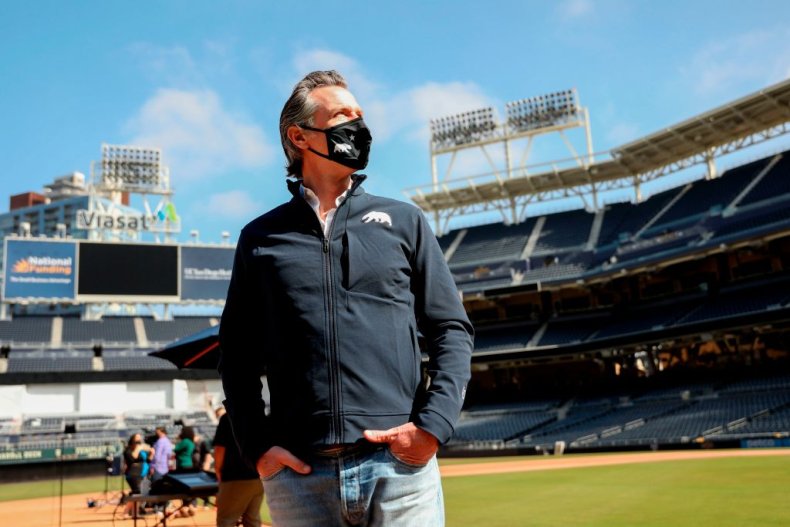 The "Recall Gavin 2020" campaign is said to be approaching the 1,495,709 signatures that are needed by March 17.
Newsom's popularity has waned in recent months. Last spring he was praised for his early response to the COVID-19 pandemic, having issued the nation's first statewide stay-at-home order.
But he has faced growing opposition to further measures aimed at curbing the deadly toll of the virus, including closing schools and businesses, and his popularity has ebbed according to recent opinion polls.
He is also facing questions over a massive unemployment benefits fraud scandal. In a report released last month, the state auditor said the California Employment Development Department (EDD) had paid around $10 billion in fraudulent claims, blaming failures to boost detection efforts.
Newsweek contacted Newsom's team for comment.