Recall Supporters Blast Gavin Newsom for Report on 'Misleading' Wildfire Prevention Strategy
Supporters of the effort to recall Gavin Newsom criticized the California governor for his handling of wildfire prevention projects after an investigation by CapRadio and NPR's California Newsroom said Newsom "misled" the public about the projects' successes.
Published Wednesday morning, the investigative report quickly gained traction online among Newsom's anticipated recall election challengers.
"This is damning and despicable," tweeted businessman John Cox. Cox, a Republican who lost to Newsom in California's 2018 gubernatorial race and has been actively campaigning against Newsom in recent months, said the sitting governor "cannot be trusted."
"He lied about his wildfire prevention achievements and put the lives of millions of Californians at risk," Cox tweeted. "Bottom line: Newsom is untrustworthy and unfit to lead this state any longer."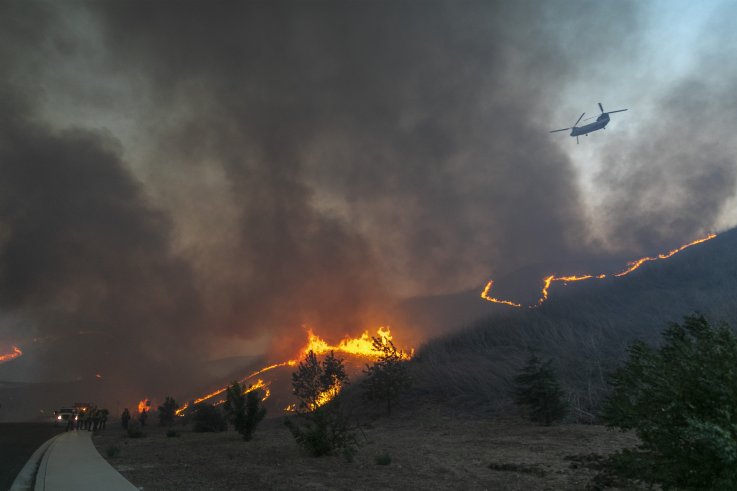 "He lied about his wildfire prevention achievements and put the lives of millions of Californians at risk," Republican John Cox said of California Governor Gavin Newsom. Cox and other politicians expected to challenge Newsom in a recall election later this year took to social media on Wednesday to criticize the Democratic governor for his handling of wildfire prevention projects after an investigative report alleged Newsom "misled the public" about those projects' successes.
David McNew/Getty Images
Former San Diego Mayor Kevin Faulconer, who announced his gubernatorial campaign in February, posted a video message on Twitter addressing the report's "disturbing" findings.
"It's clear that Governor Gavin Newsom has our state woefully unprepared for wildfire season," Faulconer said. "Disturbing media reports out this morning that detail how the governor misled the public on resources for fire prevention, and actually disinvested dollars. It's time to have a governor that's going to take it seriously, not stand up and say one thing and do another."
Caitlyn Jenner, the former Olympian and reality television personality who is expected to challenge Newsom, also commented on the report on social media.
"Surprise, surprise," Jenner wrote. "Gavin Newsom is a liar and fraud who will say and do anything to deceive us. He has made California into the biggest joke in America."
Kevin Kiley, a state assemblyman who has said he is considering joining the recall candidate pool, quoted one of the report's estimates and accused Newsom of "deceiving" his constituents.
"Hard to say which is worse: deceiving the public or disregarding public safety," Kiley tweeted.
The Wednesday report outlined Newsom's public comments addressing wildfire risks early in his term as governor and the fire devastation Californians have experienced over the last several years. The report referenced an early 2020 news release from Newsom's office assessing progress on 35 projects covering 90,000 acres undertaken to prevent wildfires using strategies like fuel breaks.
Though the release said 34 of the 35 projects were "100 percent complete," CapRadio and NPR's California Newsroom wrote that their reporters obtained documents showing wildfire prevention work was carried out on only 11,399 acres. The report alleged Newsom thus "overstated" the success of those wildfire prevention projects by about 690%.
The chief of the California Department of Forestry and Fire Prevention (CAL Fire), Thom Porter, confirmed the discrepancy to CapRadio and said CalFire also did not meet its goals last year for reducing the amount of wildfire fuel available to burn.
A record number of acres burned in California in 2020, with several of the largest fires in the state's recorded history also burning last year. With persistent drought conditions drying out much of the state, wildfires are expected to continue having significant impacts on California's landscape and residents.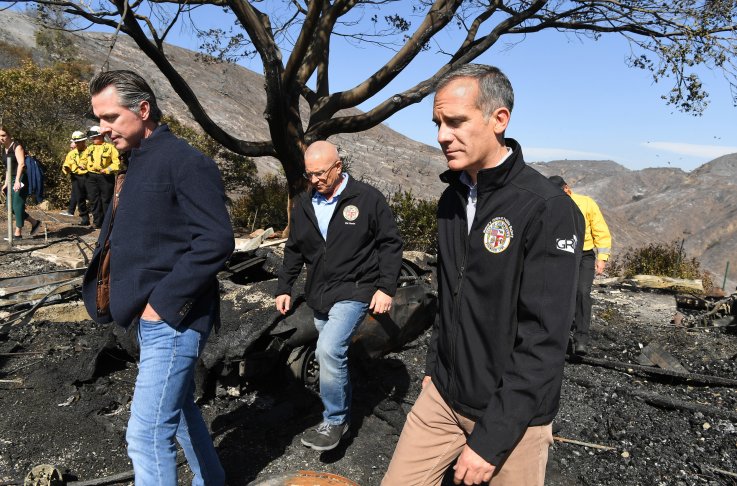 From left: California Governor Gavin Newsom, Los Angeles City Councilman Mike Bonin and Los Angeles Mayor Eric Garcetti tour a burned home along Tigertail Road on October 29, 2019 in Brentwood, California.
Wally Skalij-Pool/Getty Images
Orrin Heatlie, the lead proponent of the Recall Gavin Newsom campaign, told Newsweek he is concerned about the state's firefighting resources for the 2021 season, especially after the reduction last October in the number of inmate fire camps overseen by CAL Fire and the California Department of Corrections and Rehabilitation (CDCR).
"I've been shouting at the rooftops about this problem for months," Heatlie told Newsweek.
"[Newsom] released the CDCR crews while California was still on fire last year. And now that we're entering a new fire season, we no longer have that as a valuable resource."
Heatlie said he anticipates California will increasingly have to rely on other states for help in battling future wildfires.
"I predict California is going to have to call for mutual aid from outside resources, like Oregon or other states," he said.
Newsweek reached out to Newsom's office for comment and will update this article with any response.