Experts believe that hundreds of thousands of rats in New York City may have been killed by the massive flooding caused by the remnants of Hurricane Ida last week, according to a Wednesday report from the website Gothamist.
The website consulted with multiple rodent specialists regarding stories that surfaced on social media about dead rats and mice found around the city. According to those experts, the deluge may have caused, as Gothamist called it, "one of the largest vermin depopulation events in decades."
"With this particular storm, any rats that were in the sewers were either crushed by the current or were swept out into the rivers," Bobby Corrigan, a longtime pest control expert and former ​​rodentologist for the NYC Department of Health, told Gothamist. "I can't imagine they would've survived."
No city department tracks the rat population in New York, but many estimates put the rat count in the city somewhere in the millions. Many of those rodents live in the city's sewers and subways. The torrential rainfall last week caused significant flooding throughout both of those systems.
Soon after the flooding, people on Twitter began sharing stories about drowned rats being found.
Some Twitter users also retweeted a video that showed a rat that appeared to be swimming around in floodwaters. However, the video was later shown to having not been filmed recently in New York, it was possibly made in the Philippines, after social media users discovered the clip had been posted earlier in the summer.
Even if rats naturally evolved to swim well to survive, the overwhelming waters would have proven too much for many, according to Corrigan.
"I would guess hundreds of thousands died, easily," he told Gothamist. He added that "an entire generation" of baby rats also likely perished.
Those rats that didn't drown may have taken to safer, drier ground, as many people complained of seeing rats more often after the flooding.
Gothamist also spoke with several exterminators, who said they'd seen a noticeable increase in complaints since the storm about rat sightings.
"It's a huge surge, we've never seen anything like this before," Timothy Wong, an exterminator at M&M Pest Control, told the outlet.
"I've seen an increase in rats in Brooklyn, Manhattan, Queens—the storm just forced everything to a higher level," Frank Deuidicibus, an owner of A-Expert Extermination Company Inc., added. He claimed his complaints about rats went up by 20 percent since last week.
When contacted for comment by Newsweek, a spokesperson from the NYC Health Department said, "Citywide, 311 (the city's hotline) complaints for rodent activity have not increased from previous levels over the summer, but we are monitoring our data and taking a closer look at the impacted ZIPs. We do not take a census of the rat population in NYC."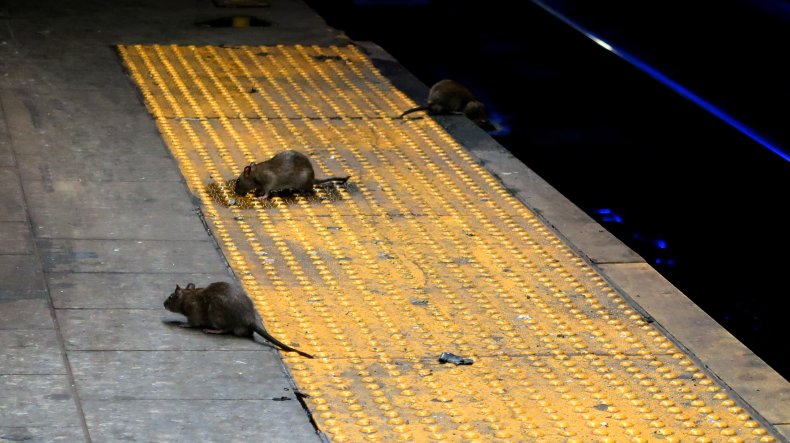 Update 09/09/21 3:45 p.m. ET: This story has been updated to include comments from a NYC Health Department spokesperson.