What Is Recess Rally? Everything to Know About Nationwide Effort to End Gun Violence
Across America, communities are coming together to support Recess Rally and efforts to end gun violence. The event follows mass shootings this month in El Paso, Texas, and Dayton, Ohio. A total of 31 people were killed in a single weekend.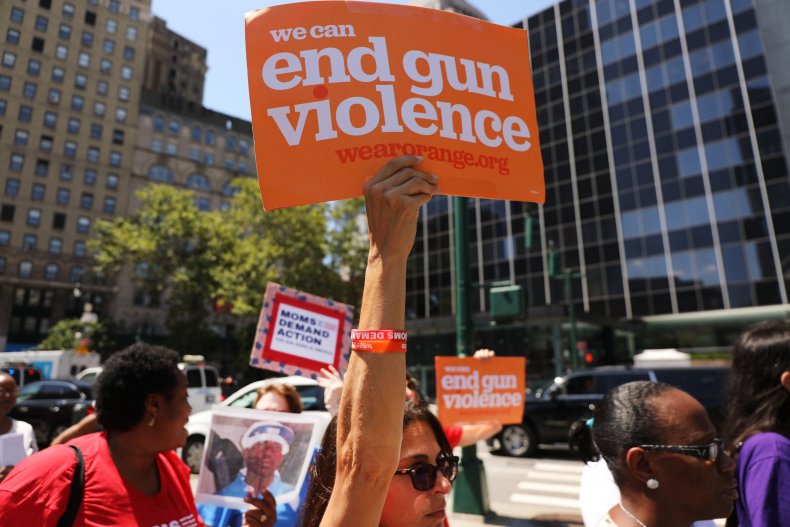 Events for Recess Rally, organized by gun-control organizations Everytown for Gun Safety and Moms Demand Action for Gun Control, will occur in all 50 states on Saturday and Sunday. The groups announced plans to hold the nationwide rallies while Congress was on its summer break. More than 100 rallies are scheduled.
"While Congress is on recess, let's send a clear message that we will not stand for inaction on gun violence. Join us in your community for a #RecessRally event on 8/17 or 8/18. Text RALLY to 644-33 to find one near you," Moms Demand Action wrote in a Twitter announcement in early August.
The purpose of the rally is to encourage lawmakers to pass legislation in favor of background checks for all gun purchases, as well as in support of the Red Flag Law, which would allow people to seek court orders to block someone in crisis from obtaining access to guns. California has a red flag law making it legal for family members to ask the court to secure firearms from relatives they suspect of being a potential threat to public safety.
"There is not a parent left in America that doesn't fear that their child could be next," Shannon Watts, founder of Moms Demand Action for Gun Sense in America, said in a statement to CNN. "That's why our volunteers have planned events in all 50 states to make sure our senators know that lawmakers can vote to keep our families safe, or we will vote them out."
Along with the rally, the organizations said they would collectively spend $1 million on ads against various Republican lawmakers with penchants for backing pro-gun legislation. Nearly half of the money is going directly toward digital ads targeting Senate Majority Leader Mitch McConnell, Sen. Cory Gardner in Colorado, Sens. Marco Rubio and Rick Scott in Florida, Sens. Johnny Isakson and David Perdue in Georgia, Sens. Richard Burr and Thom Tillis in North Carolina, Sen. Rob Portman in Ohio, Sens. John Cornyn and Ted Cruz in Texas, Sen. Lamar Alexander in Tennessee and Sen. Mitt Romney in Utah.
Meanwhile, an additional $385,000 will fund cable and local TV ads against McConnell, Rubio, Gardner, Portman and Scott specifically.
Dozens of towns recognized the rally on Saturday including areas of Alabama, California, the Carolinas, Florida, Kentucky, Missouri, Nevada, Rhode Island and several more. Meanwhile in Portland, Oregon, where a Proud Boy protest against antifa is occurring, participants in a different area of the city peacefully marched under the Recess Rally banner.