Will Recession Spark a Housing Market Crash?
The booming housing market has been showing signs of a slowdown, hinting that the combination of skyrocketing home prices, record-high mortgage rates and severe mismatch between demand and supply that has dominated the past 12 months might be finally coming to a halt—or is at least giving potential home buyers a break.
But what would appear like good news is feared by many as signs of a potential housing crash looming at the horizon.
As the U.S. reported two consecutive quarters of declining gross domestic product (GDP) on Thursday —what many consider to be the sign that the country has entered a recession— there are talks of the housing market spectacularly crashing like it did during the Great Recession of 2007-2009, the most severe recession in the U.S. since the Great Depression of the 1930s.
U.S. home prices fell by over a fifth on average from the first quarter of 2007 to the second quarter of 2011.
Kevin Kendra, managing director at Fitch Ratings, a credit rating agency providing commentary and research for global capital markets, thinks it's unlikely there'll be a housing crash like the one of 2008.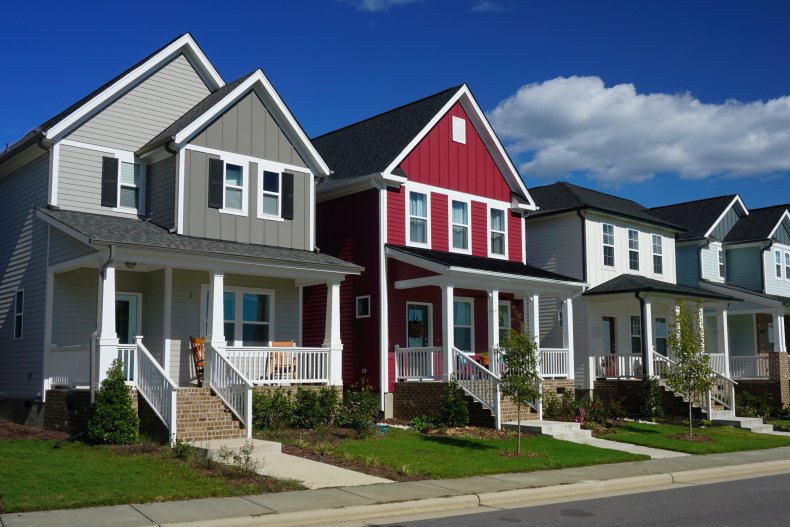 "Before the financial crisis [2007-2008], it was much more prevalent to have lending that allowed borrowers to move into homes with much less than the traditional 20 percent down payment, or with down payment assistance programs," Kendra told Newsweek.
"Some people were able to take second loans to finance the down payments. So you'd go into a house with as little as five or ten percent of equity in the homes, and in some places potentially even less."
Kendra said this kind of risky borrowing hasn't commonly happened since the housing crash of 2008, and people who have taken up a loan to purchase a home in the past few years are much more likely to be able to repay their mortgages rates than those did so before the housing bubble marking the Great Recession.
"When you have those kinds of situations and then you have a market turnaround, borrowers go into a negative equity position very quickly, and we don't have that condition existing right now in the existing mortgage portfolios that we're seeing," he told Newsweek.
"So if we look at existing RMBS [Residential Mortgage-Backed Securities] transactions, for instance, the borrowers and the equity that borrowers have actually built up in their homes help that performance quite a bit," he said.
"If needed, borrowers are able to actually still sell their homes and move into an apartment and just become renters or whatever else, and still extract a bunch of the equity that's in their homes. So that's one of the things we see going on there. There's been a huge build-up in that cushion because of the price growth."
"You could have a substantial market value or price correction, and yet our borrowers will still be positive in their equity. So I think it would have to be a pretty severe home price correction for many of these borrowers to go into a negative equity position."
The last recession in the U.S. was just over two years ago, when the pandemic caused the economy to a major downturn. But it lasted only two months, and the housing market thrived in that period amid high demand driven by low mortgage rates.
Kendra expects a new recession to bring a drop in home prices that won't disrupt the market.
"I think there's a general slowdown in the economy that is broad across many sectors and broad across almost all regions. I think that type should have a dampening [on home prices], but it shouldn't have a severe drop in home prices. So I think that it would be a manageable lowering of home prices."
New and existing home sales have dropped in the past five months, showing that demand is slowing as high mortgage rates, increased interest rates and inflation combine to make homes less affordable to potential buyers.