Recession in Vulnerable U.S., Canada 'Coin Flip at This Stage': Economist
Canada is likely to follow the U.S. into a recession if a "coin flip" goes the wrong way for both "vulnerable" economies, according to a prominent Canadian economist.
The Department of Commerce announced on Thursday that the U.S. gross domestic product (GDP)—a measure of the nation's total output of goods and services—shrank by 0.9 percent year-over-year during the second quarter of 2022, following a 1.6 percent decline during the first quarter. Although two consecutive quarters of decline are often considered a key indicator of a recession, an official declaration has not yet been made by the National Bureau of Economic Research (NBER).
Sal Guatieri, senior economist for the Bank of Montreal, told the Financial Post on Thursday that Canada would likely be unable to avoid following suit if a U.S. recession is officially declared. Guatieri argued that although the current state of the American economy does not technically indicate a recession, there is a 50 percent likelihood that both the U.S. and Canada will slip into a recession very soon.
"If the U.S. does officially contract, it would be very difficult for Canada to avoid a recession," Guatieri said, according to the Post. "We're not officially calling for a recession in either country, but it's basically a coin flip at this stage and both economies are very vulnerable."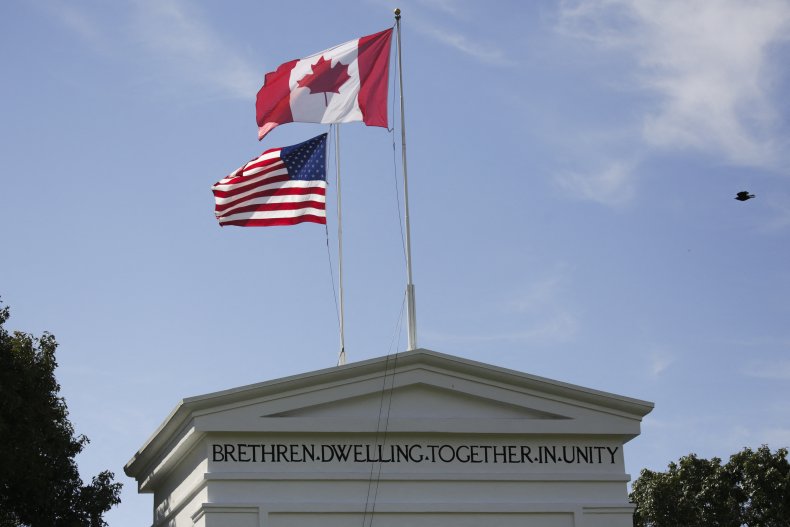 Like the U.S., Canada has recently been experiencing its highest inflation rates in about four decades. Guatieri said that "more economic pain" was on the horizon for borrowers in both countries due to the U.S. Federal Reserve and the Bank of Canada likely continuing to raise interest rates to combat inflation.
"We do expect the Fed and Bank of Canada to raise rates further in the second half of this year before moving to the sidelines," Guatieri added, according to the Post. "So, there's still more economic pain to come."
Guatieri said that there was still a slight chance that Canada could avoid the fate of its southern neighbor if a U.S. recession is declared, citing "elevated" commodity prices in Canada and "a relatively weak currency against the U.S. dollar."
Recent economic woes have not been limited to the U.S. and Canada. Pierre-Olivier Gourinchas, economic counsellor and director of research for the International Monetary Fund (IMF), wrote in a blog post earlier this week that a global recession could soon be coming.
"The global economy, still reeling from the pandemic and Russia's invasion of Ukraine, is facing an increasingly gloomy and uncertain outlook,"Gourinchas wrote. "The world may soon be teetering on the edge of a global recession, only two years after the last one."
A poll conducted by IBD/TIPP last month found that a majority of Americans already believed that the U.S. economy had entered a recession.
Newsweek reached out to the Bank of Canada and NBER for comment.