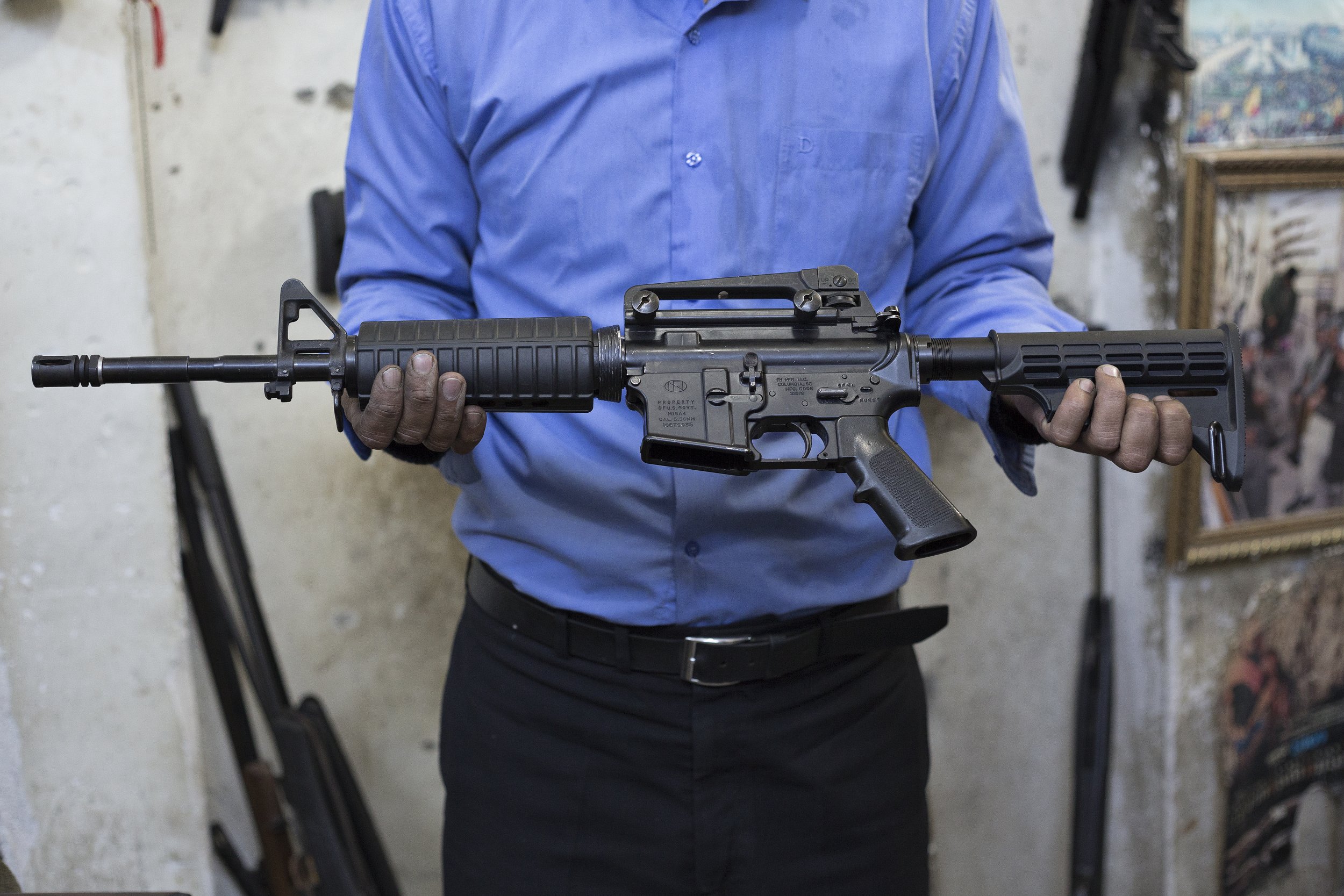 Years of war, "reckless arms trading" and lax control of weapons traveling across borders have provided the Islamic State militant group (ISIS) with a sophisticated arsenal that it's used to commit war crimes in Iraq and Syria, according to a new Amnesty International (AI) report released on Tuesday.
The report, called Taking Stock: The Arming of Islamic State, details how the extremist group has acquired the weapons used to tighten its grip on the so-called caliphate in both countries. The report found that ISIS is using arms and ammunition from at least 25 countries, including the U.S., China, Belgium, France, Russia and Germany. It also uses weapons from countries that no longer exist, such as the former Yugoslavia, Czechoslovakia and the former Soviet Union.
The majority of the weapons are decades old and include pistols, machine guns, antitank weapons and mortars. Most originated in the former Soviet Union, followed by the U.S. and China, says Patrick Wilcken, a researcher on arms control, security trade and human rights at AI. "The vast and varied weaponry being used by the armed group calling itself Islamic State is a textbook case of how reckless arms trading fuels atrocities on a massive scale," he says. "Poor regulation and lack of oversight of the immense arms flows into Iraq going back decades have given ISIS and other armed groups a bonanza of unprecedented access to firepower."
ISIS wrested most of the weapons from Iraqi military stocks after Baghdad's forces in the series of military victories across northern and western Iraq beginning in June 2014. That's when the jihadist group captured Mosul, Iraq's second largest city, and acquired U.S. military vehicles and an array of internationally manufactured arms.
The report's findings, based on the analysis of open-source information, interviews with Iraqi and Syrian sources and a partnership with the arms monitoring organization Conflict Armament Research, suggest that weapons the Pentagon and NATO sent to Iraq may have indirectly contributed to ISIS's rise, which has led to the deaths of tens of thousands of people in Iraq and Syria.
Years after the U.S. occupation of Iraq began in 2003, Washington signed military contracts worth billions of dollars to equip the Iraqi army and delivered $500 million worth of weapons by 2014. The result: Arms continued to pour into the country, without the proper checks and balances, Wicken says.
And while many countries across the globe have a stake in arming the ruling Iraqi government to prevent ISIS taking over the entire country, Wicken says they also have a responsibility to ensure that lethal arms do not fall into the arms of extremist groups. "Clearly it's a very complex situation with no easy solutions," he adds. "What we are saying is that there has to be far more investment by supplier states in terms of on site monitoring and helping the Iraqi military professionalize."
In the report, AI calls for all states to stop sending weapons to the Syrian government and any Syrian opposition groups implicated in war crimes and other human rights abuses. The international rights group also wants countries to make sure they do a proper risk assessment before sending weapons to the Iraqi government to make sure the military or police units using the arms aren't likely to use them to harm civilians.
"The legacy of arms proliferation and abuse in Iraq and the surrounding region has already destroyed the lives and livelihoods of millions of people and poses an ongoing threat," says Wilcken. "The consequences of reckless arms transfers to Iraq and Syria and their subsequent capture by ISIS must be a wake-up call to arms exporters around the world."
The Pentagon did not respond to Newsweek's request for comment in time for publication.