Reclaiming 'Monster': Reflecting on R.E.M.'s Most Misunderstood Album with Michael Stipe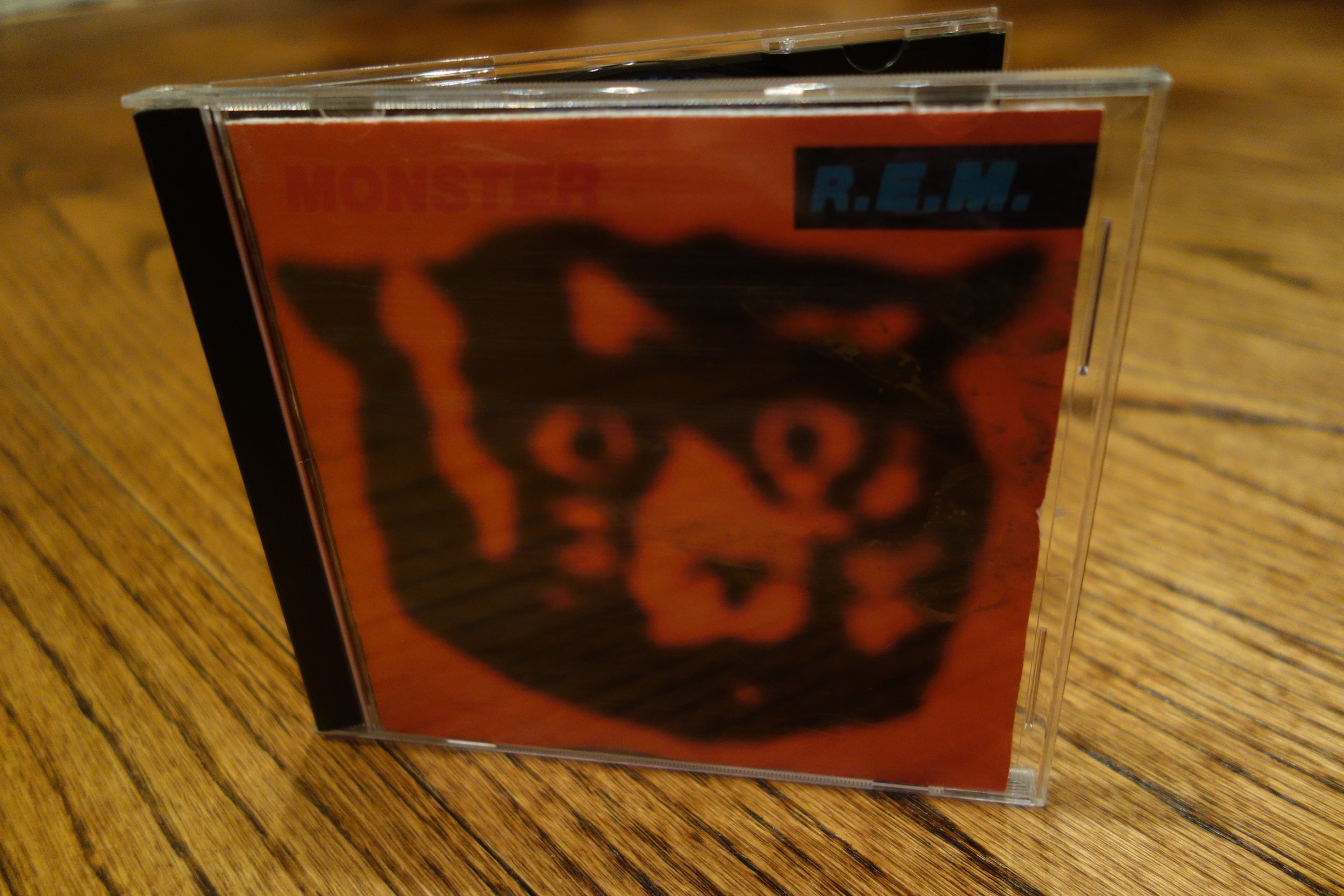 R.E.M.'s most divisive album arose out of a tense confluence of fame, grief, infighting, and effects pedals.
Monster, released 20 years ago today, obliterated the orchestral, meditative Automatic for the People with a roar of processed guitars and dark, obsessive lyrics. On "King of Comedy," frontman Michael Stipe corners fame with a scathing, industrial-voiced rant; on "Let Me In," he pleads with late friend Kurt Cobain to pull through. Though the record debuted at No. 1, Monster's popularity soon slipped: Its critical reputation is rocky at best (NME snarkily pegged it as "a simple prop to occupy our time"), and it's developed a reputation as an unwanted used-bin castaway, so much so that a friend and I jokingly text each other a picture of the pale-orange veneer each time we come across it in a bargain bin.
But why the hostility? If not quite a masterpiece, Monster surely sits among R.E.M.'s boldest and purest statements, with an air of pathos that runs deeper than the infomercial-ready "Everybody Hurts." It's also the heaviest, loudest piece of the band's discography. Monster is sometimes regarded as a response to grunge for that reason, but it more vividly reflects the dark side of grunge's demise, confronting Cobain's death and unease with '90s-era celebrity more broadly in a series of lyrical characters and turns.
In 1994, Michael Stipe opened up about Monster in a key interview that ran in Newsweek that September. Twenty years later, we've asked the former frontman to reflect on the album and the strife from which it emerged. His answers, provided in the form of an email interview, appear below in their entirety.
What's your sense listening to Monster 19 to 20 years after release? Do you feel you accomplished what you intended with it? Does it hold up for you, has it been misunderstood?
I actually think some of it is pretty great. There are a few misses, but that happens. I would have definitely changed some of the artwork and song choices, but we were going for something un-R.E.M. and we, well, hit it hard.
What are your clearest memories of recording (or writing) Monster? Was it easier or harder to record than previous records? Were all members in agreement on the sound of it, and departing so viscerally from the previous two records?
It was hard to write and record, there was so much sadness around us at that time. We were also trying very consciously to write a loud record that we could tour with. The previous two albums had been more contemplative, quieter, acoustic almost bluesy songs. We were touring for the first time in five years. We wanted something arena and festival ready.
Monster debuted at No. 1 in 1994, but since then it's fallen out of critical favor and has spent lots of time in used bins. Have you been aware of how it's perceived now versus then, and how do you account for this disparity?
I'm aware for sure that a lot of fans dropped off after we released it. Many of them were casual fans who just wanted Automatic for the People 2, 3, 4, and so on. That's a bore for us. I abhor stasis and repetition. Others were die-hard fans who basically outgrew music, got married, had kids, got real jobs, whatever; and moved on. No big deal either way. We didn't take it too personally. Shit happens; life goes on.
Are you familiar with the story of the writer who spent seven years trying to sell off his copy of Monster? Do you ever come across used copies of the album collecting dust in record stores?
Yeah I know his story, it's hysterical and brilliant! Amazing.
Monster has a somewhat sinister edge, and you often seem to be singing in character, both in terms of words and sometimes the vocal effects as well (on "King of Comedy," "Star 69," etc.). Was this a conscious choice in the songwriting process—stepping outside of your own voice, in a way, and occupying something more creepy?
I was really stretching as a lyricist and shooting for something outside my realm, my range, my expertise. It turned out some great material, I think ("Tongue," "Let Me In," "Crush With Eyeliner," "Circus Envy"); and some songs that I wish I could've reworked or discarded ("King of Comedy," "You"). Overall I think it's a pretty strong album, especially when you look at whatever else was happening then.
Listening to Monster, it seems clear there's a much heavier and wider range of guitar effects than on any previous R.E.M. album. Did Peter [Buck] or the rest of the band spend much time in the studio getting the tones/pedals right?
The wah-wah pedal was really important—and we spent a lot of time finessing that. It provided a certain atmosphere to the material that made me have to jump higher. "What's the Frequency, Kenneth?" could have never had a lyric like "Nightswimming" for instance. I had to push and rise up to meet that kind of challenge.
Was there any fear (on your part, or the rest of the band) of alienating fans who'd come on board with Out of Time and Automatic for the People with this direction?
When writing songs, if we liked it, we thought surely someone else would like it too. So we only tried to please and delight, and not repeat ourselves.
If anything, knowing that I was going to publicly address my sexuality for the promotional release of the album—that might have alienated some casual fans. The true fans were already so dialed into me that it wasn't that big a deal.
Is there any song on this album that you feel particularly proud of (and why)? Any track that makes you cringe?
N/A.
Why the title Monster?
Titles were always a bitch for us.
There's a common interpretation that much of Monster is inspired by unease with celebrity and fame. Does that strike you as accurate, more so than on the surrounding records?
It is accurate. Keep in mind that we were at the absolute peak of our fame. Our great friends Kurt Cobain and River Phoenix had just died. And half the population saw me, unfairly, as the face of AIDS, or activist liberalism, or both. The atmosphere was very difficult. There was sadness and anguish, and a true sense of mourning and regret—combined with more typical R.E.M. themes, some of which were quite goofy or playful. It was a lot to take in.
Remember also that American celebrity culture in the early '90s had just shifted to a very different velocity and tone, and emerging technology was ramping up. The writing was on the wall. We see the result of all that now, with the tail end of reality TV and its attendant sad success stories and exploitation, that you don't actually have to do anything creative or worthwhile to be famous.
Did Warner Bros. have any say in the creative process, or did the label give R.E.M. complete control?
Not in the slightest. We had complete free rein to do whatever we wanted.
Was writing "Let Me In" as cathartic as it sounds? Was it scary putting out a song about Kurt Cobain so soon after his death?
It was terrifying but absolutely genuine. It had to happen. I was a wreck.
Tell me about some of the infighting that plagued the Monster sessions? Is it true the band nearly broke up and stopped speaking during this period?
The band nearly broke up with pretty much every album after Reckoning. It is not easy to be in a band.
You're quoted in Reveal as saying "Tongue" is "all about cunnilingus" and that it's one of your favorites. Can you elaborate on what inspired the song? Why not use the falsetto more often?
It's not "all about" anything, someone probably cornered me with that question. There are definite sexual overtures in the lyric, but it's also, in my mind, written from a female perspective, and in falsetto. Not altogether easy for me!
Does "King of Comedy" take its name from the Scorsese movie? Was the music in that one inspired by industrial music or any other atypical influences?
Yes, from Scorsese.
Can you talk about "Crush With Eyeliner" and the role glam rock played in inspiring Monster?
It's one of several 'glam' songs that we wrote, "The Wake-Up Bomb" or "Supernatural Superserious" being the only others I can think of right now. T. Rex, Slade, The New York Dolls, and Iggy were huge influences on all of us. It's like The Monkees, Archies and the Banana Splits inspiring "Stand" and "Shiny Happy People." It was bound to come out of us.
Did you know when you finished Monster that you would wind up finding use for some of the outtakes so soon, on New Adventures in Hi-Fi? What effect did this fast pace of touring and recording have on the band in the mid-1990s?
N/A.