Reclusive Amazon Tribe With No Contact to Outside World Captured in Drone Footage
A mysterious reclusive Amazon tribe with no contact to the outside world has been captured by drone footage for the first time.
The incredible footage, released Tuesday, shows what appears to be a member of the tribe walking across a clearing in the far west of northern Brazil while carrying a bow and arrow. The clip was shot from a bird's-eye angle.
Funai, a Brazilian governmental protection agency for indigenous affairs, revealed that the drone shots were taken during an expedition last year to track isolated communities. They were released much later to protect the group's study.
The tribe captured in the footage was found in Vale do Javari, one of the largest indigenous territories in Brazil, situated in the southwestern part of the state of Amazonas. The territory encompasses 32,990 square miles, an area larger than the entire country of Austria.
Evening Standard reported there are 11 confirmed isolated groups in the territory alone, a number larger than anywhere else in Brazil.
Although Funai has been observing the reclusive community for years, the drone footage marked the first time they were able to catch them on camera. They have made guesses about the tribe's ethnicity and language but have not yet identified their name.
"These images have the power to make society and the government reflect on the importance of protecting these groups," Wallace Bastos, Funai's president, said.
Bruno Pereira, the coordinator of Funai's study of isolated groups in the area, revealed that the footage has been useful in assisting his colleagues to dissect the tribe's culture. "The more we know about isolated communities' way of living, the more equipped we are to protect them," he said.
Over the years, the agency has found 107 isolated tribes in Brazil and although they often take photos and videos of them, it has been over 30 years since they last made contact.
Pereira told Associated Press that the reason the tribes isolate themselves from the outside world is due to past traumatic experiences. He says they are aware that cities exist but have chosen to live outside of one. "If they wanted contact with the outside world, they would seek out ways to communicate with us," Pereira said.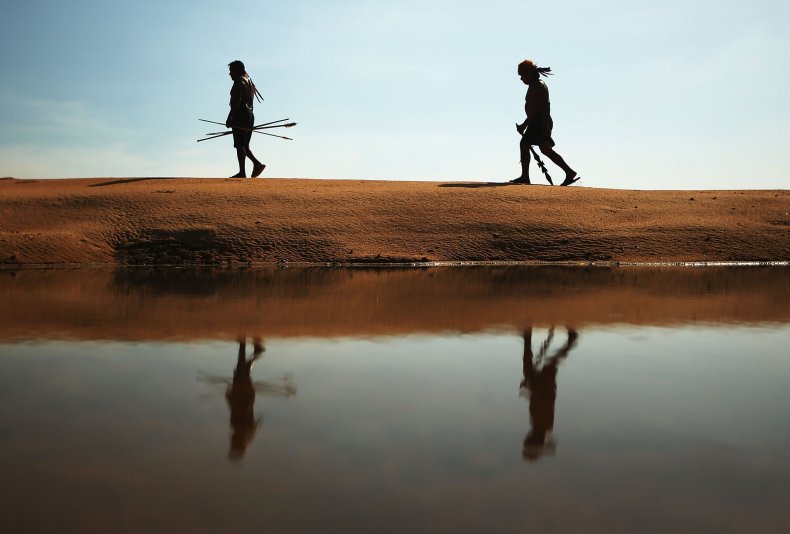 Last month, the last surviving member of an Amazonian tribe was caught on camera traipsing through the Brazilian rainforest.
The Guardian reported that the man had been living alone for 22 years in Brazil's western Rondonia state. He was believed to be in his 50s.