The Reconciliation Bill Should Invest in America's Kids | Opinion
As Congress makes progress on a bipartisan infrastructure deal, Democrats turn their attention to the sizable $3.5 trillion reconciliation package. The bill includes major pieces of President Biden's Build Back Better platform and the American Families and Jobs Plans. Some moderate Democrats have voiced concerns about the size and scope of the package—foretelling of difficult negotiations ahead.
As lawmakers begin those discussions, however, we should not forget about a group that doesn't get a seat at the table for policy debates: the United States' more than 73 million children. The reconciliation package should prioritize investments in kids, not just to equalize our relatively low rates of spending on youth, but because doing so has huge shared benefits and among the highest rates of return for any social investment.
It's a sad reality that more than 10 million American children—one in seven—lived in poverty in 2019. Among high-income countries, the U.S. has the highest rate of childhood poverty and spends the least on its children, especially the poorest ones. Over the past few decades, the share of federal spending on children (9 percent) has declined—and is dwarfed by the share of spending on adults (60 percent). Families with children under five receive the lowest share of public investment.
This imbalance in spending has meant that the government is missing a critical opportunity to invest in the future of this country. The reconciliation package should rebalance skewed spending across the age cohorts by prioritizing investment in kids.
Policymakers have several options for doing so. First, they can make the expansion of the Child Tax Credit (CTC) permanent. The current CTC expansion was a huge achievement by the Biden administration and congressional Democrats that promoted the economic dignity of working families. In July, working families with children across the country began to receive advance monthly payments of $300 for children under six and $250 for those under 18. The payments are automatically delivered to eligible households, avoiding the usual bureaucratic barriers that keep some from accessing valuable public initiatives. According to the Center on Poverty and Social Policy at Columbia University, this effort is expected to cut child poverty nearly in half. Making it permanent would reduce child poverty on a continuing basis by boosting the monthly budgets of millions of families.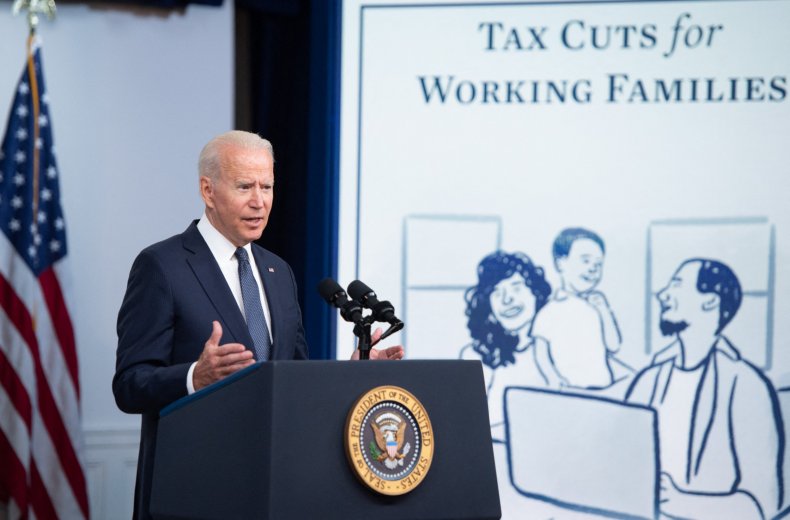 Second, invest in universal preschool for all low-income children. Each year, millions of children enter kindergarten already behind their wealthier peers whose families can afford high-quality preschool. This early disadvantage perpetuates systems of inequality and widens opportunity gaps before young children even step into a classroom. This is why President Biden's push for universal preschool for all 3- and 4-year-olds is so essential. Democrats should fight to keep this proposal in the next bill. According to the White House, it will ensure free, high-quality, accessible and inclusive preschool that will benefit an estimated five million children through state partnerships with the federal government—saving families an average of $13,000 annually.
Third, fight child hunger. In some ways, children bore the brunt of the COVID-19 pandemic, which brought on a rise in hunger for many families with young children. According to Feeding America, a national anti-hunger nonprofit, an estimated one in six children are likely to face food insecurity during the pandemic. Children cannot grow and learn if they are forced to skip meals because their parents cannot afford food. The reconciliation package should include funding for nutrition assistance programs that have made a difference by reducing childhood hunger, especially during widespread school closures.
Investments in children pay off dramatically across a broad range of economic and quality-of-life outcomes. Children whose families have enough to eat perform better in school and enjoy improved health outcomes. And when low-income children are given the opportunity to begin a high-quality education at 3 or 4 years of age, their economic trajectories improve significantly. Economists who studied the long-term effects of universal preschool in Boston found that it boosted college attendance and high school graduation rates, and reduced disciplinary measures like juvenile incarceration. Universal preschool also has the added benefit of increasing women's labor force participation and household earnings. All together, these investments will make the U.S. economy more competitive in the long term.
To be sure, there are other important programs in the American Families Plan that will help children and low-income families, but these three are especially important. President Biden and Democrats in Congress have an opportunity to lift millions of children out of poverty, and reverse the damage done by the Trump administration. As negotiations get underway on the reconciliation package, the next bill is an important opportunity to invest heavily in children. Doing so will benefit all of us and create a more equitable future.
Veronica Goodman is the Director of Social Policy for the Progressive Policy Institute. Her writing and work has previously appeared in The Wall Street Journal, The Hill, NBC Washington, the New York Times social media and other forums. She is also the author of four children's books, including the ABCs of Economics and E is for Economics.
The views expressed in this article are the writer's own.