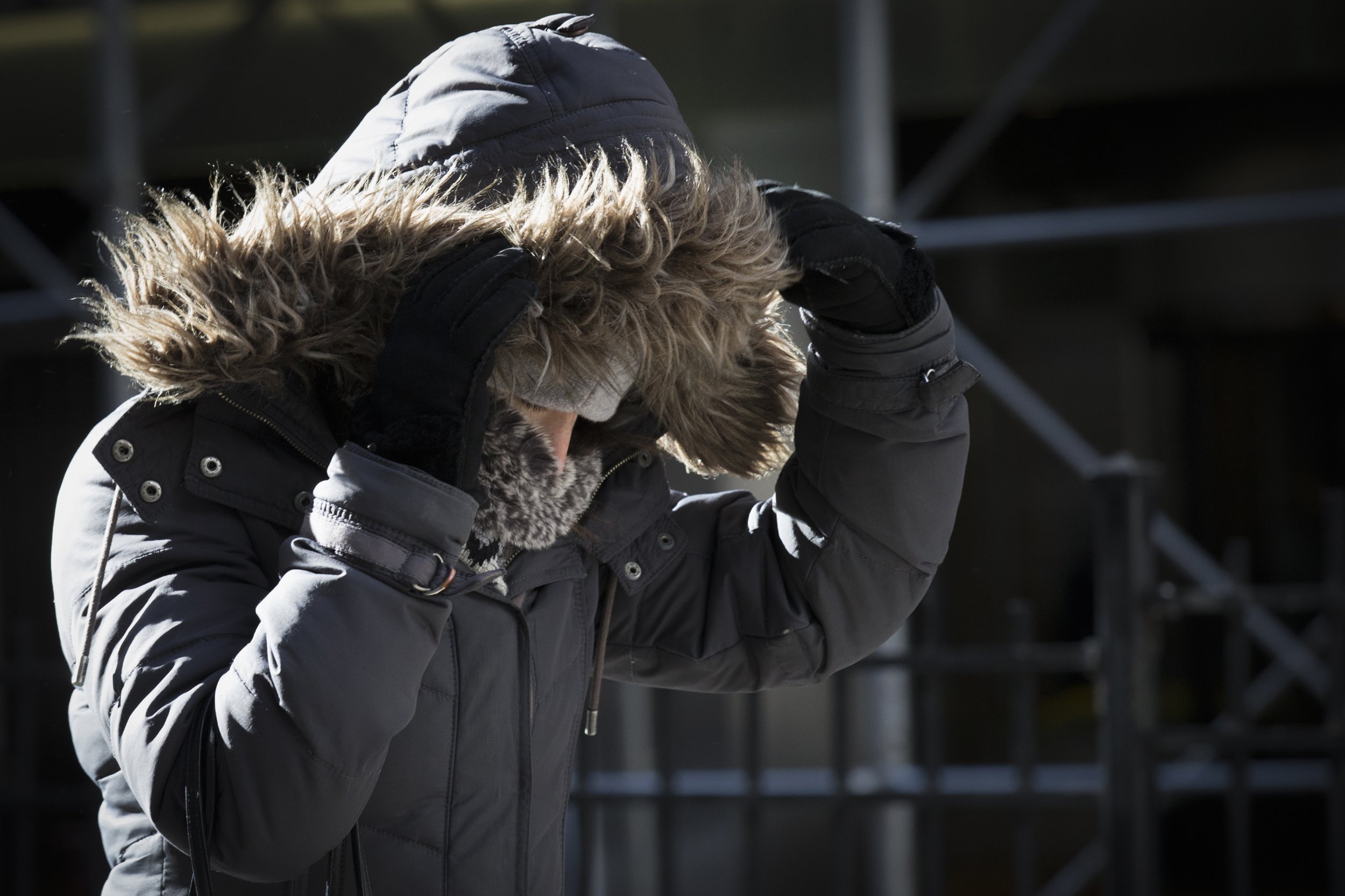 (Reuters) - Record-breaking cold that gripped the U.S. East and Midwest on Thursday snarled travel, shut schools, filled homeless shelters and even led to zoo penguins being ordered inside.
Snow expected to accumulate to 3 feet (1 meter) deep was falling in upstate New York near Watertown, and snow already blanketing South Dakota was whipped by winds into a "ground blizzard" that made driving treacherous, said meteorologist Dan Petersen of the National Weather Service.
The coldest place in the country on Thursday was Estcourt Station, the northernmost point in Maine, with temperatures of minus 38 degrees F (minus 39 C), he said.
Records were broken from Montpelier, Vermont, at minus 20 F (minus 29 C), to Jackson, Kentucky, with minus 1 F (minus 18 C), he said. Snow flurries were reported as far south as Jacksonville, Florida.
"It's the face, it's like being hit with a sheet of ice," Bart Adlam, 40, president of U.S. yogurt supplier siggi's, said as he rode a bike through Times Square on his way to work at 8 a.m. in New York. The wind chill there made 9 degrees F (minus 12 C) feel like 2 below (minus 18 C), according to Weather.com.
Cold bitter enough to freeze fuel lines on school buses forced schools to close from Portland, Maine, to Chicago. Train rails cracked by the cold caused delays for commuters in Washington, D.C. Weather also hung up U.S. air travel with 1,937 delays and 515 cancellations by mid-afternoon, according to FlightAware.com.
In Pittsburgh, two baby African penguins were moved indoors at the National Aviary, where the endangered animals that are native to South Africa will remain until temperatures rise.
Frostbite could set in with just 15 minutes' exposure to the frigid air, the weather service said, advising people to keep pets indoors.
'THREE PAIRS OF SOCKS'
In Boston, incoming Massachusetts Governor Charlie Baker shortened the outdoor portion of his inauguration ceremony out of concern it was too cold for spectators, a spokesman said.
"It's cold but I'm bundled up," said Willie Council, 65, a homeless man rocking back and forth to stay warm on K Street, Washington's corridor for lobbyists and lawyers. "I've got on three pairs of socks but I don't have any boots."
Chicago's biggest homeless shelter filled its beds to capacity, putting some of the overflow crowd on mattresses on the floor while others spent the night on the streets.
A man was found dead in a portable toilet on the Northwest Side of Chicago on Wednesday, according to police. The cause of 51-year-old Marek Bobak's death was cold exposure and coronary artery atherosclerosis, the Cook County Medical Examiner determined on Thursday.
Even sledding hills around Chicago and ice-skating rinks in Sioux Falls, South Dakota, were shut down because of risk of wind chill, while Maine's Sugarloaf Mountain closed ski trails because of "Arctic conditions."
Temperatures also plummeted to an uncharacteristic 10 to 15 degrees F (minus 12 C to minus 9 C) overnight across the Gulf Coast. In South Carolina, the odd snowflake on the beach drew excited observers outside to watch in wonder.