Wind Turbine With Blades Bigger Than Statue of Liberty Breaks World Record
A wind turbine has broken the record for the most power generated from the wind in a 24-hour period.
Siemens Gamesa's 14-222 DD offshore wind turbine prototype, which is situated at a test center in Osterild, Denmark, generated 359 megawatt-hours (MWh) worth of electricity in 24 hours. In comparison, each New York City resident uses 13,452 kilowatt-hours (kWh) over the course of each year. One megawatt equals 1,000 kilowatts, meaning that the turbine generated enough energy to provide for a person's electricity use for 27 years.
Wind turbines are giant windmills that convert the kinetic energy of the wind into electrical energy. Gusts of wind turn the propeller-like blades around a rotor, spinning a generator and creating electricity, which can then be routed into the national grid of the country.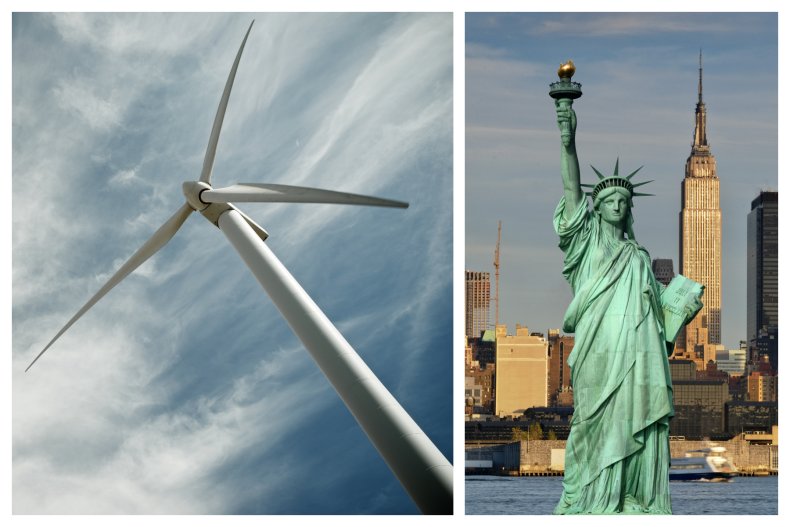 According to the International Energy Agency, wind power generated 1,870 terawatt-hours of electricity in 2021, almost as much as all the other non-hydro renewable energy sources combined. Wind power comprises 9.2 percent of all power used in the U.S., as of February 2022, according to the U.S. Energy Information Administration.
This specific record-breaking turbine consists of a rotor 728 feet in diameter, with 354 foot blades. The Statue of Liberty is only 151 feet tall, and stands on a 154 foot pedestal, making the height of the entire sculpture 305 feet tall.
"By increasing the rotor diameter to 222 meters with 108 meter-long blades, the SG 14-222 DD delivers more than 25% [annual energy production] AEP compared to its predecessor," Siemens Gamesa said in a statement.
"With every new generation of our offshore direct drive turbine technology—which uses fewer moving parts than geared turbines—component improvements have enabled greater performance while maintaining reliability. We are able to reduce time to market of the SG 14-222 DD thanks to standardized processes and a fully developed supply chain. Enabling high volume production at low risk. The serial production is planned for 2024."
According to Siemens Gamesa, each SG 14-222 DD turbine will be able to provide enough energy to power around 18,000 households annually.
This record being broken is a step forward in the worldwide shift toward renewable energy and away from fossil fuels.
"I don't want to overstate the meaning of this achievement. But just generally, wind turbines keep getting larger. The industry has, for decades, thought that we were approaching some upper limit to wind turbine size—only to be proven wrong, as larger and larger machines have been engineered and built," Ryan Wiser, a senior scientist at Lawrence Berkeley National Laboratory, told Newsweek.
"It's a rather amazing feat of human ingenuity, and engineering and science talent. Why it matters is simple—larger turbines tend to produce cheaper electricity than smaller turbines. This particular turbine is designed for offshore use, and the larger the turbine the fewer turbines, and foundations, and [operation and maintenance] personnel needed for a given amount of electricity produced," he said.
Sixty of these record-breaking SG 14-222 DD offshore wind turbines are due to be installed at the Moray West offshore wind farm in Scotland.