Record Number Of Children 'Internally Displaced' By Conflict And Violence In 2019, UNICEF Says
A record number of children are living in displacement within their own countries due to conflict and violence, a new UNICEF report has revealed.
According to UNICEF's report, titled "Lost at Home," by the end of 2019, approximately 45.7 million people were internally displaced by conflict and violence, with 19 million estimated to be children, the highest recorded number yet.
Meanwhile, millions more adults and children are estimated to be displaced every year by natural disasters.
As the world continues to grapple with the coronavirus pandemic, UNICEF Executive Director Henrietta Fore has warned that displaced families could be the "hidden victims" of the pandemic.
"Millions of displaced children around the world are already going without proper care and protection," Fore said in a statement shared in a press release. "When new crises emerge, like the COVID-19 pandemic, these children are especially vulnerable."
With many internally displaced children forced to live in encampments that often struggle with overcrowding or limited access to basic sanitation and medical care, UNICEF's report said global outbreak poses an additional threat.
"Though data show that children have so far been spared the direct effects of COVID-19, the socioeconomic impacts for children stand to be enormous," the UNICEF report states. "And for millions of internally displaced children, these losses will be felt with even more intensity."
"Crisis has already upended their communities and dramatically shifted their day-to-day existence. They have already lost access to school, health services, their homes and communities. Their lives are already defined by great vulnerability, which stands to worsen as the pandemic spreads in their contexts of displacements," the report states. "Without efforts to protect these children, the already difficult challenges they face will become even more dire."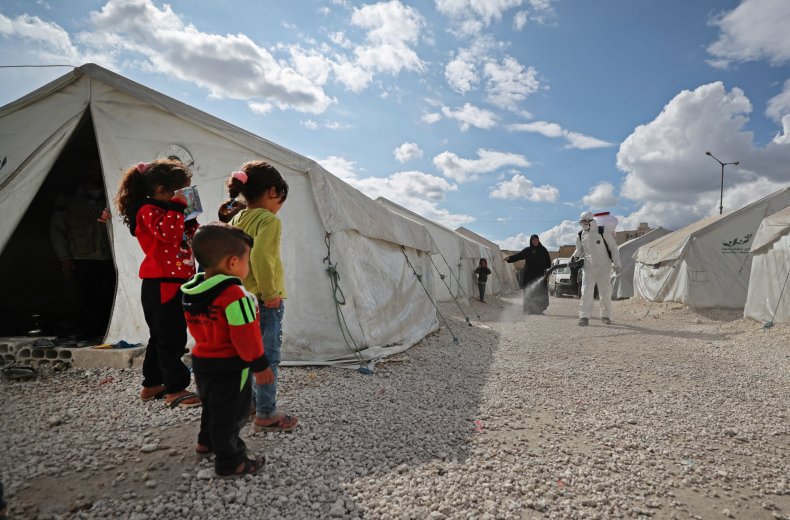 With displaced populations forced to live in often-crowded encampments with limited access to sanitation and healthcare and with communities often cut-off from mass communications, "meaning they are likely to miss out on the lifesaving public health messages of this time," the UNICEF report warns that "the combination of these factors sets the course for rapid spread of the virus."
"It will be a great challenge to control this spread without concerted efforts to address poor living; water, sanitation and hygiene; and health care conditions of internal displacement," the report adds.
By the end of 2019, the largest number of internally displaced children due to conflict and violence were found to be in West and Central Africa and in the Middle East and North Africa.
In the Middle East and North Africa alone, the report said, more than 12 million people were internally displaced as a result of conflict and violence by the end of 2019.
Nearly all of those displaced lived in three countries, including Syria, with an estimated 6.5 million people displaced, Yemen, with 3.6 million displaced and Iraq, where an estimated 1.6 million people were displaced.
Around 5 million of those displaced in those regions are estimated to be children.
UNICEF also found that three countries countries could account for more than one-third of all child displacement caused by conflict and violence, with Syria seeing as many as 2.4 million children displaced, the Democratic Republic of the Congo seeing an estimated 2.9 million displaced and Yemen, seeing an estimated 1.7 million displaced.
According to the organization, there were a total of nearly 33 million new displacements recorded in 2019, with around 25 million being due to natural disasters and 8.5 million as a consequence of conflict and violence.