Record Number of GOP Women Running for Congress, But Future With Women Daunting for Party
"So can I ask you to do me a favor? Suburban women, will you please like me? Please."
That plea from Donald Trump during a recent rally in Johnston, Pennsylvania put front and center one of his campaign's biggest issues: plunging poll numbers among women. But experts say it's not just the president's problem, it's an issue that threatens the entire Republican Party.
"When I see a poll and a Republican is actually winning women, I question the validity of the poll," said David Flaherty, who previously worked at the Republican National Committee and now leads the polling firm Magellan Strategies.
"Women are not up for grabs," he said. "The Democratic Party has for a very long time had an advantage in most parts of the country. This isn't a new aberration of Trump offending women. The Republican Party has had a problem for a while, and I expect them to continue to have a problem even if Trump loses."
For the past two years, the Democratic Party has held a wide advantage with women: 56 percent of female registered voters in the United States identified as Democrats or leaned toward the party, while 38 percent identified or leaned toward the Republican Party.
If something doesn't change soon, the trend will only get worse for the GOP.
"Death by demography. That's all there is to it," said Douglas Holtz-Eakin, the president of the center-right American Action Forum. "Over time, the base will become increasingly narrow: older, less diverse, concentrated in less well-educated whites—especially men."
Some of the policy stances hurting the GOP with women, according to those within the party, include its views on health care, climate change, reproductive freedom and economic proposals such as paid family leave.
"You have the Republican Party advocating for policies that are just inherently bad for women and not in line with what modern-day female voters agree with," said Meghan Milloy, a co-founder and executive director of the grassroots organization Republican Women for Progress (RWFP).
One way for the party to begin to right the ship with women, the group said, would be to elect more female lawmakers to office. But they questioned how interested GOP leaders were in helping women have a seat at the table.
"You can't elevate women unless you are focused and committed to expanding the number of women in office," said Ariel Hill-Davis, a co-founder and policy director at RWFP. "I think about how the party mechanism treats female Republicans running right now, and it's pretty atrocious."
Erin Loos Cutraro, CEO of the nonpartisan organization She Should Run, which helps women from both political parties run for office, said it's a "heavier lift" to reach potential first-time candidates in Republican circles than Democratic communities.
"They feel really alone when they're thinking about running for office," Cutraro said of conservative women, "They don't see themselves represented, they don't see the same narrative being prioritized within the institutional players on the Republican side. That built-in intentional support is not there, which means that it can be a really lonely process."
While 2018 was dubbed the "Year of the Woman" due to the historic number of female Democrats being elected to Congress, the outcome was dismal for Republican women. The number of conservative female lawmakers shrank from 23 to 13 in the House of Representatives. Today, the number of conservative women serving in Congress is the lowest it has been since the 1990s.
After the brutal 2018 midterm, some House Republican women expressed frustration that their male counterparts weren't taking the demographic issue seriously. Representative Elise Stefanik left the National Republican Campaign Committee (NRCC), where she had just recruited a record number of conservative women to become candidates, to form her own PAC aimed at electing Republican women to federal office.
A handful of her male colleagues criticized the move, including NRCC chairman Tom Emmer who called it a "mistake." Stefanik tweeted Emmer's comments with her own rebuttal, writing: "NEWSFLASH I wasn't asking for permission."
"I think they've done a service to women in the party by saying this is a problem and now trying to identify some solutions," Kelly Dittmar, the director of research at the Center for American Women and Politics at Rutgers University, said of Stefanik and other outspoken GOP women.
In 2020, there has been a record number of Republican women running for the U.S. House. According to a running tally from the Center for American Women and Politics, more than 200 women filed as candidates and 94 won the party's nomination and will appear on the ballot in November.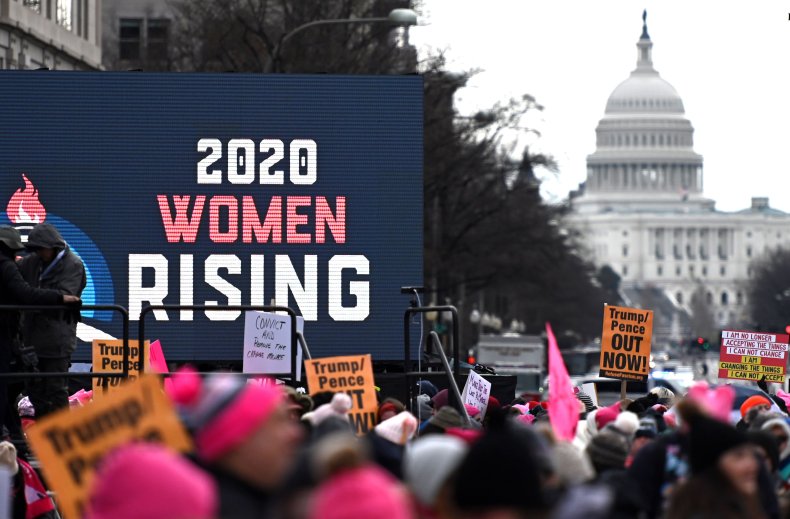 The historic numbers have stoked positive reactions from several women's groups, including the National Federation of Republican Women (NFRW). The federation, which is the largest grassroots Republican women's organization in the nation, empowers women from all backgrounds to become involved in the political process and serve as leaders.
"Republican women candidates are offering really politically compelling biographies," said Ann Schockett, the organization's president. "They're also more diverse than ever. We need this diversity. We really need to have these women represent other women."
Schockett said she is optimistic about the party's future, stating they went to work after the poor election results two years ago.
"You found that there was a problem and we really recognized that as well," she said of the midterm election cycle. "We upped our efforts more than ever to be able to encourage women to run. While 2018 was two years ago, we have to talk about today."
But other groups remain skeptical about how much progress will happen this year. Many of the Republican women who won their primaries are now facing tough general election races.
"We're really happy about the record number, you have to have people build the momentum," said Hill-Davis from Republican Women for Progress. "But they don't talk about how many women are likely to win out of those numbers. It's not actually that big."
The outlook also looks grim for the few female conservatives in the upper chamber.
Senate Republicans could lose nearly half of the women currently in their caucus this November as four out of the nine Senate GOP women face competitive races in Arizona, Georgia, Iowa and Maine.
"I said this four years ago, but this is really the last presidential election you can imagine without doing some substantial repair on minorities and women," said Holtz-Eakin, from the American Action Forum.
"This is what it is," he concluded. "I just don't see how this is tenable for the foreseeable future. It's a big challenge for the party."
When asked about the GOP's problems with female voters and political candidates, the Republican National Committee expressed support for the leadership of President Trump and chairwoman Ronna McDaniel.
"President Trump and Republicans have consistently empowered women through more jobs, a better economy, access to school choice, and ensuring that our communities are safe," said Allie Carroll, the RNC's assistant national press secretary.
She pointed to the female leader of the RNC as proof that women are important to the party.
"Similarly, under RNC Chairwoman Ronna McDaniel's leadership, empowering women from the moment they seek office and providing candidates with the tools they need to succeed remains a top priority, she said. "By ensuring that every Republican candidate has access both to WinRed and our GOP Data center, the Chairwoman has lowered two barriers for entry that are key factors when a person, notably women, are deciding whether or not to put their name on a ballot."