Record Number of Guns Caught at U.S. Airports This Year
Passengers are bringing a record number of firearms to U.S. airports this year, according to the Transportation Security Administration (TSA).
The administration announced Wednesday that with three months left in 2021, officers have already stopped 4,495 passengers from bringing guns onto their flights—breaking the administration's previous record of 4,432 firearms caught by TSA agents in all of 2019.
By comparison, in 2009 less than 1,000 guns were seized by officials.
TSA Administrator David Pekoske called the recent figures "alarming."
"Firearms, particularly loaded firearms, introduce an unnecessary risk at checkpoints, have no place in the passenger cabin of an airplane, and represent a very costly mistake for the passengers who attempt to board a flight with them," Pekoske said in a statement.
Guns were found among passengers' belongings in 248 airports across the United States.
The top airports for firearm discoveries are Hartsfield-Jackson Atlanta International Airport (391), Dallas Fort Worth International Airport (232) and George Bush Intercontinental Airport in Texas (168).
The Nashville International Airport, Denver International Airport, Phoenix Sky Harbor International Airport and Fort Lauderdale–Hollywood International Airport also saw more than 100 guns confiscated.
Firearm possession varies state-to-state, but TSA mandates that unloaded firearms are placed in a locked, hard-sided container as checked baggage only. Any guns or ammunition must be declared at check-in.
The penalties for passengers trying to carry prohibited firearms, loaded or unloaded, could face civil penalties upwards of $13,910 plus a criminal referral if possession is against state or local law.
Eleven firearms were discovered in a carry-on bag per every million passengers screened in the U.S. so far this year. In 2019, officials discovered 5 firearms per every million passengers.
Excluded from the TSA's data were improperly packed firearms at checked baggage stations, toys, replicas and BB guns.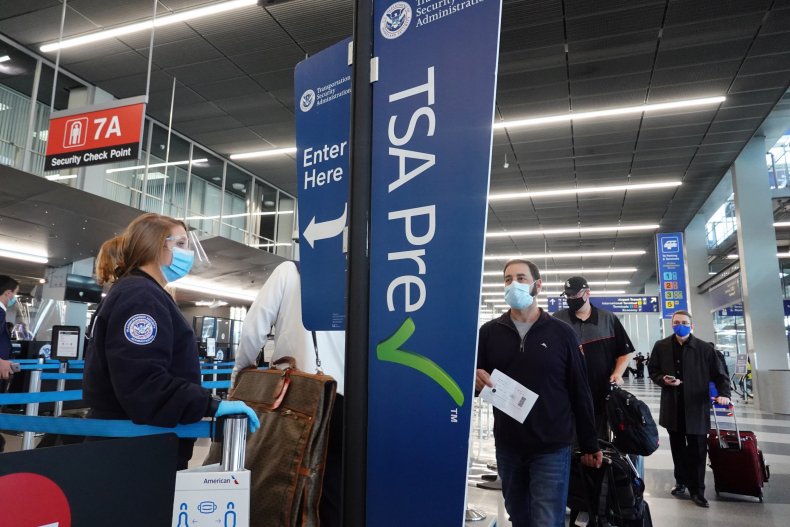 Guns discovered by TSA officials in airports dipped in 2020 as air travel declined due to the coronavirus pandemic. More than 4,000 firearms were found by officers in 2018 and 2019, but in 2020 the figure dipped to 3,257.
Commercial air travel dropped 40 percent in 2020 compared to the year before, according to a report released in February by the Department of Transportation. Airlines operated 4,721,342 flights last year, the lowest amount in a given year since the government began reporting the numbers in 1987.
But those numbers are on the rise again as economies emerge from the pandemic. Nearly 1.7 million people went through TSA checkpoints on Tuesday, according to the administration, marking a 1 million increase from the same date in 2020.
Newsweek reached out to TSA for additional information on guns seized and penalties issued but didn't receive a response before publication.