A Record Number of Native American Candidates Head to the U.S. House of Representatives
Native American congressional candidates made history this Election Day as six of them won their U.S. House seats in a record-breaking number.
Of the six, four representatives won their re-elections in Kansas, New Mexico and Oklahoma.
The first two Native American women elected to Congress will be returning in the 117th Congress. Democratic Representative Sharice Davids, who is a member of the Ho-Chunk Nation of Wisconsin, and Democratic Representative Deb Haaland, who is a member of the Laguna Pueblo people, both won—in Kansas' 3rd congressional district and New Mexico's 1st congressional district, respectively.
In Oklahoma, Representative Tom Cole and Representative Markwayne Mullin, both Republicans, also won re-election in their districts on Tuesday night. Cole is a member of the Chickasaw Nation and Mullin is a member of the Cherokee Nation.
Joining the four incumbents are Republican Representative-elect Yvette Herrell of New Mexico and Democratic Representative-elect Kai Kahele of Hawaii.
Herrell's election makes her the third Native American woman elected to Congress. She is a member of the Cherokee Nation. Her victory, as well as Haaland's, means both Native candidates in New Mexico won their races.
Herrell, who was endorsed by President Donald Trump, won the historically Republican 2nd congressional district of New Mexico, which sits along the U.S.-Mexico border.
Kahele's win in Hawaii gives the state its second Native Hawaiian in Congress since Hawaii's statehood in 1959. Late Senator Daniel Akaka, who left office in 2013, was the first.
Kahele, who was endorsed by both Democratic nominee Joe Biden and former president Barack Obama, will fill the open seat left by outgoing Representative Tulsi Gabbard, who decided not to seek re-election.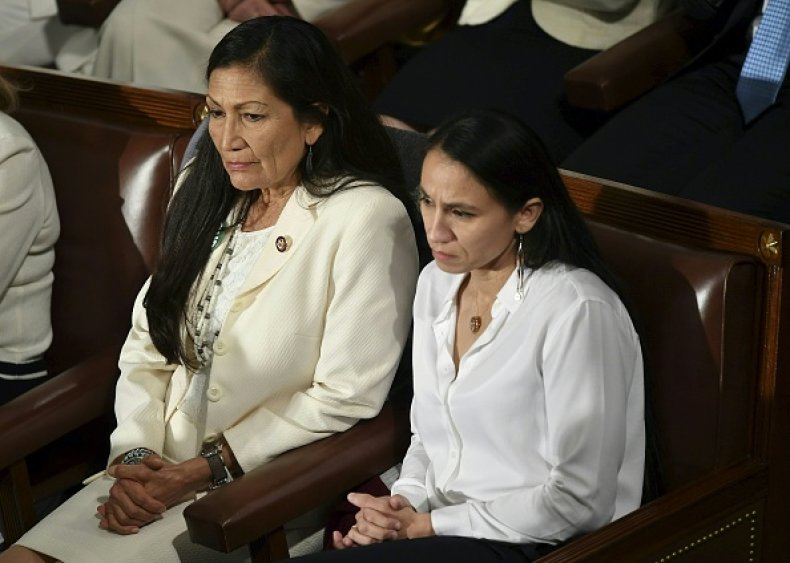 Despite party politics, Haaland emphasized that it is representation that matters.
"I was pleased to know that we had so many Native American candidates running across the country, not just for Congress or the Senate, but in House and Senate districts across the country, and local, that's what we need. We need representation in elected office," Haaland told Indian Country Today.
"We need to be where folks are making decisions. We need to be a voice at the table, regardless of what table it is but making decisions for our people, for our constituents, for our country. It's absolutely important," she added.
Native American congressional candidates achieved historic wins during the 2018 midterm elections. Haaland and Davids' victories doubled the number of Native Americans in Congress. This year's election results will once again bump up their representation in Washington.
Newsweek reached out to Herrell and Kahele for comment but did not hear back before publication.