Women Candidates Aren't All Running Against Trump—Republicans Say They Are Answering A Different Call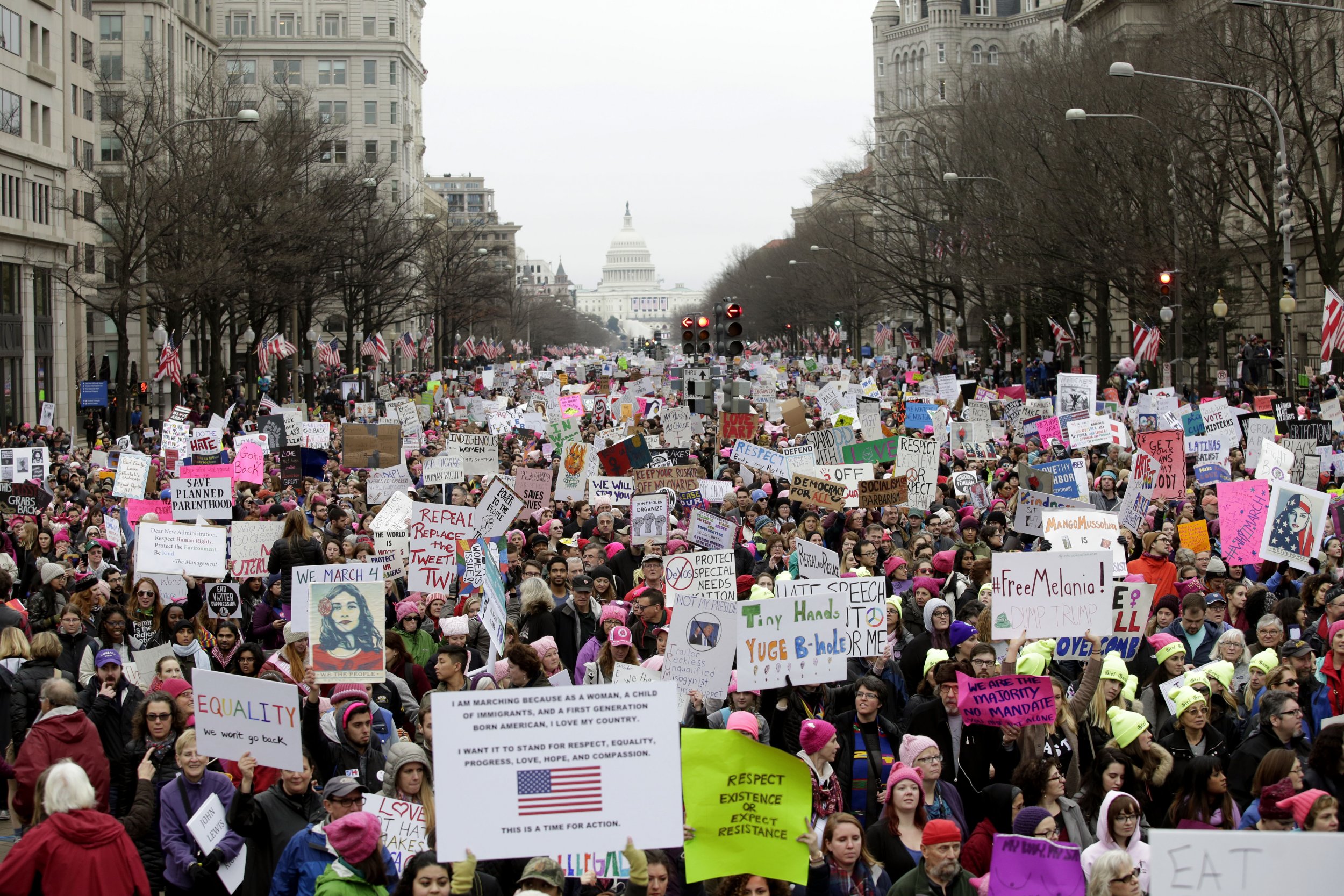 Women running for office in 2018 aren't all part of the resistance.
President Donald Trump's victory caused a formidable uprising of progressive women on the ballot, many of whom decided to run for the first time out of sheer outrage over the election results. But alongside them is a wave of Republican women whose first-time campaigns answer a far more sophisticated call to action, supporters say.
"Republican women aren't running out of anger; we're running out of principle," said Missy Shorey, the national executive director at Maggie's List, which funds conservative women's campaigns. "And there's a very big difference. People are much more drawn to women standing with a purpose as opposed to a reactionary force."
Some women have embraced this alleged higher purpose, even coming up with their own guiding maxim in response to the left's shouts of "resist"—a rallying cry many of them don't identify with.
"Instead of 'resist,' the key defining word for me is 'resilience,'" Jinyoung Englund, who ran for the first time last year in Washington's special senate election, told Newsweek. Englund, who had worked on congressional and presidential campaigns before yet never considered putting her own name on a ballot, lost the seat in a majority Democratic district, but still feels her campaign, and others like it, will spread a different message.
"There are Republican women running for office for all different reasons and no one is telling their story," she said. "And that's doing a disservice to them."
No matter how strong their resolve, Republican women no doubt face a greater challenge in 2018 than their Democratic counterparts, who have shown already—like the women who defeated 11 Republican male incumbents last year in Virginia's House of Delegates—that they can win what were once considered unwinnable seats.
Democratic women also appear to make up the majority of the record number of women who've expressed interest in running for office for the first time this year, and can count on, to some degree, the growing opposition to Trump to help them to victory.
Running Start, a nonpartisan group recuiting women of all political affiliations, told Newsweek that of the over 12,500 women the organization has trained, just 10 percent of them identify as Republicans, while 64 percent are Democrats and 18 are Independents. Meanwhile, EMILY's List, which only courts progressive female candidates, says its army of recruits is 20,000 strong.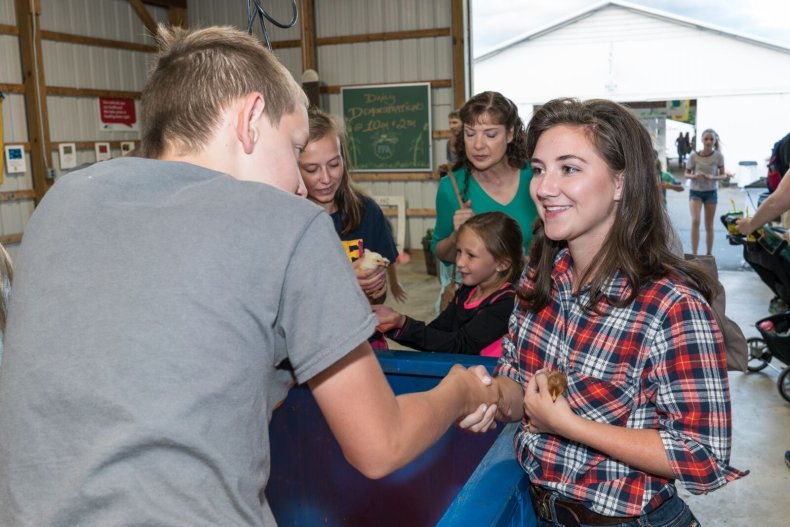 Republican women not only find themselves underrepresented in the number of women signing up to run for the first time, but also written out of a dominant narrative that makes assumptions about women's political ambitions in the Trump era.
"There have been a lot of stories about the blue wave," said Jenifer Sarver, who's vying to become Texas's first newly elected female Congresswoman in over two decades. "There is a feeling among conservative women that women on the left are getting a lot of attention, and we often feel left out. I think there's something happening on the other side of the aisle as well that I think is exciting for different reasons."
Sarver, another first-time Republican candidate, said she's motivated to run because she disagrees with her party's current direction and leadership, which she says has devolved into tribal politics and personal attacks. She wants to see the GOP return to "vintage Republican values," like limited government and fiscal responsibility.
They may shy away from calling it such, but Republican women like Sarver are forming their own kind of "resistance" within the GOP, campaigning on messages about "principles" and "core values" that indict Trump and his surrogates without ever mentioning them by name. They believe women are ideally suited to get the party back on track.
"Women are natural problem solvers and collaborators," she said. "We don't grandstand; we want to get our hands dirty and get things done."
There aren't many groups, however, that actively recruit—or even welcome—Republican women who want to distance themselves from Trump's agenda, which could account for the lagging number of Republican women running for the first time this year. On Friday, Maggie's List announced its endorsement of Arizona Senate candidate Martha McSally, who has aligned herself closely with Trump and shares his attitudes about political correctness and Sharia law, for example. The National Federation for Republican Women, founded in 1938, counts women in the Trump administration like Secretary of Education Betsy DeVos, Secretary of Transportation Elaine Chao and Small Business Administration head Linda McMahon among its prominent members.
"Democratic women were able to find well-established groups ready to help them run," Jennifer Pierotti Lim, the cofounder of Republican Women for Progress, told Newsweek. "There weren't that many groups in place to support Republican women, and definitely none that had already decided they were anti-Trump."
Lim, along with fellow cofounder Meghan Milloy, the duo behind Republican Women for Hillary, launched Republican Women for Progress to fill in the gap: The group provides political training and networking opportunities for conservative women skeptical of Trump and the GOP's current agenda.
"Republican women want to be more engaged and ride this wave, but they don't have the same support system, and they still don't know what to do with the 2016 election," Lim said.
But conservative women found lessons in the 2016 election too that encouraged them to run for the first time, though they may differ from their Democratic counterparts.
"Whether you were for Bernie Sanders or Trump, people wanted something different, and it encouraged people to think, 'I'd be good for this too,'" Morgan Zegers, a 21-year-old running for the first time in the New York State Assembly's 2018 race, told Newsweek. "I thought, 'I may not look like the usual politician, but people want something out of the box.'"
There's something in the 2016 election, Shorey said, that proved revelatory about Republican women's role in the country's shifting political climate. While most of the country was stunned when Trump clinched the presidency in a historic upset, conservative women weren't—53 percent of white women voted for him. Now, many of them look up to women like Kellyanne Conway, the first woman to run a winning presidential campaign, and White House press secretary Sarah Huckabee Sanders as models for the kinds of leaders they hope to be in Trump's America.
"Ignore women on the right at your own peril," Shorey said. "Just because we don't have pink hats and aren't screaming in the streets doesn't mean we don't exist."