Record Producer David Foster's 50-Year Career of Hits Is Told in Candid New Documentary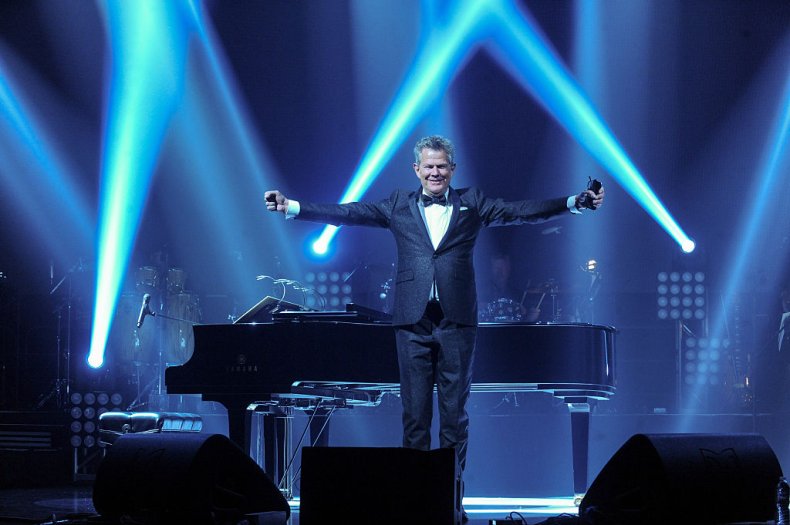 Those in the music industry probably know that legendary record producer David Foster is driven by painstaking perfection when it comes to producing, arranging and writing memorable hit songs. It explains for his collaborations with a virtual who's who in pop music from the last five decades: among them Barbra Streisand, Celine Dion, Whitney Houston, Chicago, Michael Bublé, Madonna, Michael Jackson, Lionel Richie, Josh Groban, Andrea Bocelli, Natalie Cole, Earth, Wind & Fire and many others.
But when it came to a new documentary about his life and career, David Foster: Off the Record, directed by Canadian filmmaker Barry Avrich, the 16-time Grammy winner was actually hands off when it came to telling his story. "I really let [Barry] do his thing," Foster tells Newsweek, "because I learned from the studio that I do my best work when I'm left alone. So I wanted to leave Barry alone. It's actually contradictory in the film, in the very beginning, when I said: 'You think you're gonna do whatever you want, and I'm not gonna have any say about?'"
Off the Record, which was recently released on Netflix, chronicles Foster's journey to stardom: from his childhood upbringing in Victoria, British Columbia to him presently mounting a Broadway musical. In between are the stories behind some of the most famous hits he produced, accompanied by interviews with a bevy of those aforementioned artists.
"I just felt that this needed to be done, and that the world really needs to understand what motivated David," Avrich says about why he wanted to do the film, "this relentless yield of creativity and work."
The film is an examination of what makes Foster tick in the studio as he applies his gifts in bringing out the best out of the artists and the material—a subject often brought up during Avrich's conversations with his interviewees. "The common thread was just how quickly he could see a music phrase, an orchestration or a solution to a song or piece of music," says Avrich. "Everybody talk to how quickly he can unlock a great in, out or middle of a piece of music, and that's amazing."
"It is true that I could in real time solve musical problems," Foster adds, "and I've had people tell me that before. And I think they're right. But on the flip side of that, when you see a singer like Celine and you believe that the whole world is gonna love them, I don't think that takes a genius mind. I can separate myself from my musical abilities and just being able to sit and listen to a song...When I get these gifts of hearing the arrangement of a song in my head, I know how the song is gonna finish before I even start the arrangement."
As told in the film, Foster's insatiable desire to succeed is apparent on many of his multi-platinum projects from the last five decades, including his work with the group Chicago. By the early 1980s, Chicago's commercial fortunes were in decline until Foster came in and revived the band's career by producing and co-writing their hit songs such as "Hard to Say I'm Sorry" and "You're the Inspiration." However, it led to creative tensions between Foster and the other members of the group. "I understand why they were upset, I get it," Foster says. "I didn't understand it then. One of the few requests I had for Barry was, 'You've got to interview Chicago because they really don't like me, and they don't like what I did to their sound.' True, I resurrected them through my fingers, not through their fingers, and to this day, they're upset."
Foster also produced Whitney Houston's iconic cover of Dolly Parton's "I Will Always Love You" from The Bodyguard soundtrack. In Off the Record, it is revealed that Foster did not want the a capella part that begins the song, while Houston's producer Clive Davis and the film's star Kevin Costner pressed for its inclusion. That resulted in a heated phone conversation between Foster and Davis. In the end, the song became a massive and unforgettable smash hit. "I think it strengthens my point about making records is not a democracy," Foster says. "You can't compromise. So in that case we battled, and Clive and Kevin Costner won and I lost. What could have happened is I say, 'Well, let me just put a little bit of music behind in the a capella part as a compromise.' But I knew that it was either they were gonna win or I was gonna win. And of course, they were right. You can't imagine that song in any other way."
After successes with Celine Dion, Toni Braxton and Natalie Cole and others during the 1990s, Foster continued his winning streak into the early 2000s. "I always wanted to leave the music business before it made me leave," he says. "I found myself not being able to write Top 40 hits anymore. Bocelli came into my life, [and so did] Michael Bublé and Josh Groban. We had a great 15-year run, selling more CDs than anybody. Television became our radio. Michael Bublé would go on The Today Show, and we'd move like 75,000 albums that week from him being on the show. Had I banged my head against the brick wall trying to write another song for him to sing, I'd probably be in a mental institution right now."
While it is a compilation of Foster's many accomplishments in the studio, Off the Record is very candid about his personal life. The most poignant moment in the film occurs when Foster's grown daughters talk about their complex relationships with him. (Foster has been married five times and had step-children from the Jenner-Thompson and Hadid families). "Every one of those [musical] stories I knew," he says of what was depicted in the documentary. "But the relationship with my children, I didn't really fully understand it. The movie helped me understand that, because when you sit in the room with anybody for a few hours, they just start going. That's what Barry did with my children, and it was interesting."
"I think it was even cathartic not only for David, but for the kids," Avrich adds. "It said something about the mixture of love, admiration and complexity of their relationships [and] having a very famous and busy father. But at the same time, there is a happy ending. It's not that typical Hollywood story of drugs and rejection. These kids have all managed to do very well. They've had complex relationships with their father, but fascinating outcomes."
By his own admission in the film, Foster wouldn't have liked the younger brash and cocky version of himself back in the 1980s. Married to singer/actress Katharine McPhee, he says he is much more mellow now. "I've had so many, unbelievable texts and emails," Foster says about the reaction to the documentary, "and more so than anything by far of anything I've ever done. The takeaway is the honesty. People are responding to that more than 'Oh, I didn't know you did that song?'"
David Foster: Off the Record is now streaming on Netflix.