Record-Setting, Category 5 Hurricane Patricia Nears 'Potentially Catastrophic' Landfall in Mexico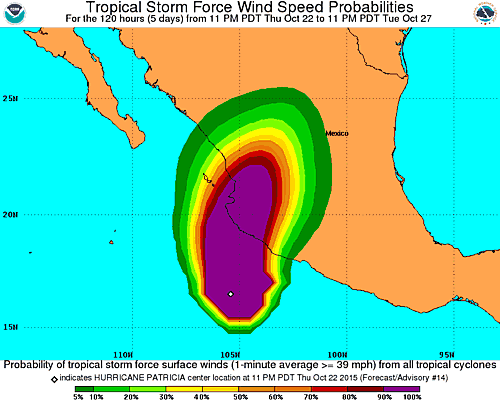 Updated | Hurricane Patricia is expected to make landfall on Friday afternoon in southwest Mexico, bringing "potentially catastrophic" damage to the country, the National Weather Service said in an advisory.
Described as "the strongest eastern North Pacific hurricane on record," Patricia has maximum sustained winds of 200 miles per hour and could result in as much as 20 inches of rain.
As the hurricane moves closer toward land, it has not changed notably in strength. The hurricane is moving at a rate of 12 miles per hour. When the storm hits land, it is expected to move more quickly through Mexico.
A hurricane warning is in effect from San Blas to Punta San Telmo and east of Punta San Telmo to Lazaro Cardenas. A state of emergency has been declared in areas expected to be hit by the storm. "Preparations to protect life and property should be rushed to completion," the weather agency added.
Hurricane Patricia is a Category 5 storm on the Saffir-Simpson Hurricane Wind Scale. The National Oceanic and Atmospheric Administration describes the aftermath of a Category 5: "A high percentage of framed homes will be destroyed, with total roof failure and wall collapse. Fallen trees and power poles will isolate residential areas. Power outages will last for weeks to possibly months. Most of the area will be uninhabitable for weeks or months."
Patricia has already caused swells and rip tide conditions that make the water dangerous.
The worst of Patricia's winds will hit Mexico on Friday afternoon and into the evening. Damage reports are already coming in:
Parts of Mexico could get 20 inches of rain, and much of the rest of the country will face 8 to 12 inches. Heavy rain can cause dangerous flash flooding, coastal flooding and mud slides.
The potential for heavy rain extends into parts of the United States, including Texas, which has faced serious droughts. Storms are also expected in Oklahoma, Arkansas and Louisiana.
As a result of Hurricane Patricia, 10 million people are facing a flash flood watch.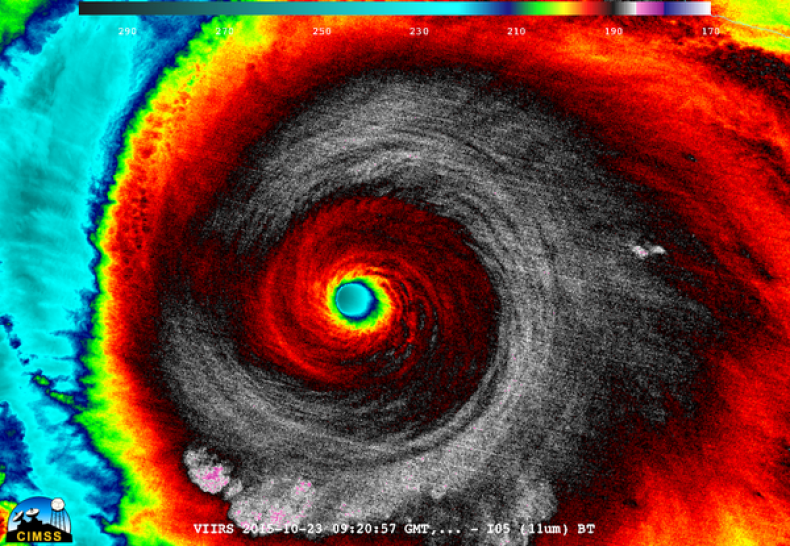 This story has been updated to include new information about the hurricane.